Arts
Roller disco boogies abound in swirling 'Xanadu' at Ithaca theater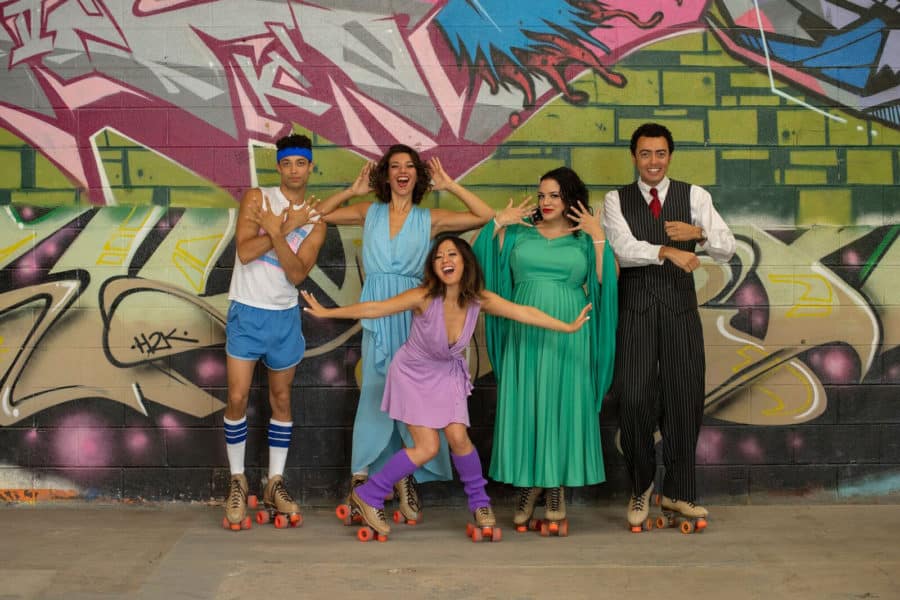 The time of roller disco, legwarmers, rainbows and unicorns may not have lasted long, but it continues to be celebrated in popular culture as if it were the Regency era. Consider the afterlife of legendary movie flop Xanadu (1980) a monument to that fleeting moment. The musical fantasy with Olivia Newton-John and Gene Kelly was so reviled in its day that its reception prompted the creation of the dystopic Oscars known as the Golden Raspberry Awards or Razzies, which it "won" for best director (Robert Greenwald).
The reception of the soundtrack album, however, was entirely different. Teeny- boppers of the day swooned over it. That's how cults are made. Thirty-eight years later, those kids are grown and they buy tickets to musical shows like the stage adaptation of Xanadu, which closes the summer season at Ithaca's Hangar Theatre with productions running through Sept. 1.
Against even his own better judgment, comic playwright Douglas Carter Beane rescued Xanadu in 2007, retaining many of the original Jeff Lynne-John Farrar songs like "I'm Alive," "Magic, "Suddenly" and "Dancin'," as well as several numbers from the Electric Light Orchestra, "Strange Magic" and "Evil Woman." Beane has had a taste for camp, such as the script for the 1995 Patrick Swayze movie To Wong Foo, Thanks for Everything, Julie Newmar as well as upmarket wit like The Little Dog Laughed. His Xanadu adaptation, which includes parody references to the film and the 1981 special-effects fantasy flick Clash of the Titans, ran for 500 performances on Broadway but has been little seen in these parts.
Chalk artist Sonny Malone (Adante Carter) is putting the finishing touches on his mural of the Greek Muses (one blonde being much out of place) on California's Venice Beach. Suddenly, the figures in the mural come alive and that blonde, the youngest of the muses, Clio (Diana Huey), cheers Sonny on. Although an Olympian, she's folksy and approachable: "Call me Kira." She speaks with an Australian accent (a nod to the movie's Newton-John) and wants to help build a roller disco to be called Xanadu.
In 90 minutes with no intermission the show spins out a shape-shifting, time-traveling plot too swirling to be retold. Strange to say, it derives from the 1947 Rita Hayworth movie vehicle titled Down to Earth, an aspect that put off some critics of the 1980 film. Most players have multiple identities, sometimes crossing gender with and without costume changes. Clio's oldest sister, Melpomene (excellent, dark-browed Desiree Rodriguez), also appears as Hera, wife of Zeus, the male god Hermes and an Andrews Sister in a World War II outfit.
In a mostly talking scene, the street artist meets cold-hearted businessman Danny (Graham Stevens, who also plays Zeus) about turning over an abandoned theater in the Fairfax district for the roller disco, possibly raising local real estate values. But he softens when he remembers his lost love Kitty (Diana Huey, yet again), and gives in.
Widely celebrated director-choreographer Devanand Janki fully captures the evanescent and intoxicating tone. It's tough to resist when the band gets up to join the dancing and keyboard player Emani Barber turns into a centaur.
[fbcomments url="" width="100%" count="on"]