Police officer Lonnie Zamora was on patrol on Friday, April 24, 1964, at about 5:50 p.m. in the outskirts of his jurisdiction in Socorro County, New Mexico, when he witnessed the approach of an egg-shaped craft where he was driving. The craft was spewing great amounts of flames just before it landed in the desert. The UFO sighting and landing event was thoroughly investigated back in the day by the U.S. Army, U.S. Air Force, the FBI and various civilian groups. To this day, it's a famous event in UFO history.
In recent years the case was reopened and carefully re-examined by Virginia's chief Mutual UFO Network (MUFON) investigator Ben Moss and fellow investigator Tony Angiola. They mounted their project in 2014 after meeting Ray Stanford, the original National Investigations Committee on Aerial Phenomena (NICAP) investigator at Socorro in 1964. Ben and Tony's forthcoming book on their investigation is still a work in progress, and I suspect it's going to be eye-opening.
Related: Diversity in UFO Statistics: The Truth is in the Shapes
What I find fascinating is the fact that egg-shaped UFOs are exceedingly rare! Between 2001 and 2017, all 50 states and Washington, D.C., logged at least one sighting of the egg-shaped UFOs. But the total for the period was a measly 1,263 reported sightings, barely 1 percent of the 139,876 national all-types sighting reports for the period.
With such small national numbers, is it any wonder that only 583 counties of 3,242 nationwide reported sightings, or about 18 percent of the nation's total counties. In terms of egg UFOs sighting reports at the local level, only 906 towns and cities or 6 percent reported egg UFOs of the 15,295 municipalities listed in our data base. Nationally, there are 16,519 local municipalities or 92 percent are represented in our data base.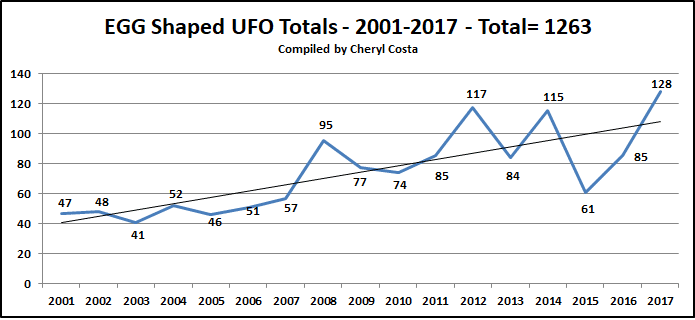 As can be seen by the chart, egg UFOs have had a minimum of sightings in 2003 and a maximum of sightings in 2017, with an average of about 74 yearly. With such tiny sighting report numbers, some readers may surmise, what's the big deal? So please make note of the peak years and the increasing sighting volumes: 2004, 2008, 2012, 2014 and 2017.
Many social media readers have asked me to "show them a trend." OK, note the black line suggesting more than a 300 percent increase of these egg UFO sightings in the past 17 years. It's something to think about, especially when you consider that of 28 of the known UFO shape categories, 25 are in steep decline these past three years.
Related: The mystery of Changing UFOs: The prize is hiding in the details
That said, Saturn, Teardrop and Egg are on a steep increase.
Finally, with regard to New Mexico, where the Socorro event took place. In the 17 years of my study; New Mexico had 1,707 total UFO sighting reports representing all known UFO shapes. During that same period the state only had only 20 egg UFO reports. These egg UFO sightings were in the following counties: Bernalillo, 5; McKinley, 3; Dona Ana, 3; Santa Fe, 3; Chaves, 2; Luna, 1; Catron, 1; Rio Arriba, 1; San Juan, 1.
On the Road in 2019
Duke University, Durham, North Carolina, March 19-20
UFO MEGA CON, Laughlin, Nevada, March 24-30
Ozark Mountains UFO Conference, Eureka Springs, Arkansas, April 12-14
Phoenix MUFON, Tempe, Arizona, May 11
Pine Bush UFO Festival, Pine Bush, New York, May 18
Michigan UFO Con-Tact, Houghton Lake, Michigan, Sept. 20-21
Greater New England UFO Conference, Leominster, Massachusetts, Oct. 4-5
comments