Arts
Mash notes on the end of another year in local theater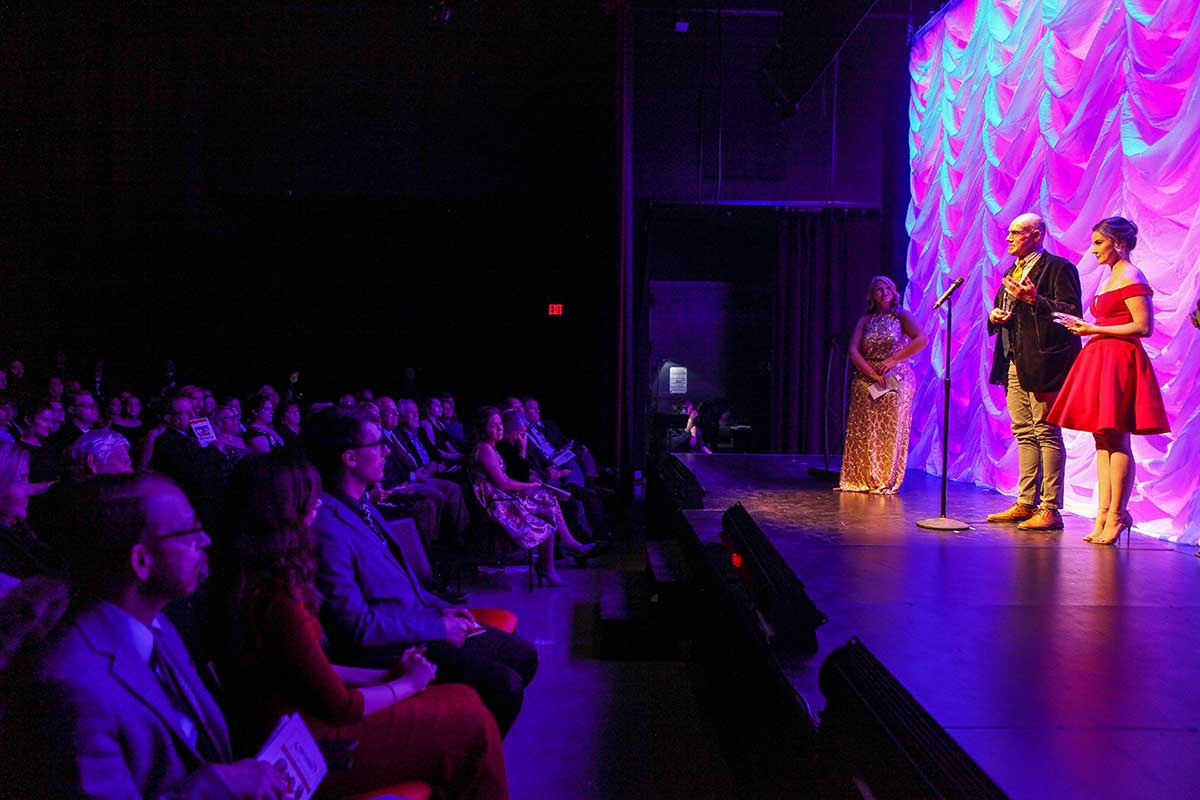 The new Redhouse venue dominated local stage news stories all year. The kickoff was the move to new quarters in the 400 block of South Salina Street, now called City Center, and possibly shifting the center of the Armory Square subculture. Working at breakneck speed, the company opened its first production, On Golden Pond, starring TV veteran Fred Grandy, on March 8, in the Austin-Allyn Theater. The first name commemorates Laura Austin, a driving force and benefactor of the Redhouse for 15 years. In a private email to friends June 25, she announced that the board had asked her to step down over "our difference in vision regarding the mission and management of the organization." She added that change is "ultimately healthy."
A clearer indication of the Redhouse's new direction came with the appointment in November of Hunter Foster as artistic director. Foster's golden credits include writing, directing and acting, especially in musicals: He was nominated for a Tony Award as the lead in Urinetown. As an artistic associate at Pennsylvania's Bucks County Playhouse, he brings experience in running things. As a bonus, he embraces upstate New York, having appeared on stage with Rochester's GeVa Theatre. Foster said he was going to live in the neighborhood so he could walk to work.
Related: Winners! Laughs, tears, more highlight 2018 SALT Awards ceremony
Also in 2018, Le Moyne College's Matt Chiorini wrote, directed and performed in Kafka's Metamorphosis: The Many-Legged Musical (June). Alex Lablond took the dual role of Kafka and Gregor the Cockroach. He suffered but he sang. Witty lyrics evoked Tom Lehrer in prime form. After three performances in town, the show went to the Montreal Fringe Festival.
Veteran troupers Leslie Noble and Patricia Buckley, once the core of the Gams on the Lam outfit, reunited last summer to run the venerable Franklin Stage Company in Delaware County, two hours southeast of Syracuse. They produced John Patrick Shanley's Doubt and Lee Blessing's Cold War two-hander, A Walk in the Woods, only this time one of the diplomats was female.
The single most hilarious moment of the year came during director David Lowenstein's reinterpretation of the Stephen Sondheim musical Into the Woods for the Syracuse University Drama Department. To play the frightening witch, Lowenstein got lovely undergraduate Stephanie Craven to put on a blue suit, white toupee and jowl mask to look like Kate McKinnon impersonating Jeff Sessions. To become the good witch, Craven donned a blonde wig and red pantsuit to become the candidate who won the popular vote in the 2016 presidential election.
When the word "Syracuse" was uttered on stage for the first time in 44 years during Kyle Bass' world premiere of Possessing Harriet at Syracuse Stage, an audible wave of approval passed through the audience. Bass constructed a taut 90-minute drama from a little-known episode of an escaped slave in 1839. To do this he drew on memories of his own family's history to put flesh on what had been the most invisible of the historical figures. A world premiere for a local playwright was the biggest risk yet for artistic director Robert Hupp. Happily, it was a box office bonanza, with a surplus filling in for shortfalls elsewhere.
Elf: The Musical, Syracuse Stage's holiday collaboration with the Syracuse University Drama Department, confirmed an 18-year history of making families happy. Director Donna Drake, returned from last year's The Wizard of Oz, just couldn't miss. Set designer Czerton Lim zipped the action from the North Pole to Macy's in an instant. Choreographer Brian J. Marcum had skaters on the ice rink at Rockefeller Center. In the title role, Chris Stevens was the guileless Johnny Appleseed of Christmas joy.
Lorraine Hansberry's A Raisin in the Sun was 58 years old and looked to be squeezed dry by a million term papers. Veteran director Timothy Douglas plumbed the vein of fiery blood at the heart of the drama by reminding us it was a family drama of competing dreams overriding its social concerns. Chiké Johnson as the wounded son and Kim Staunton as the force-of-nature mother both embodied aspirations we could cheer but were necessarily in conflict.
Next to Normal, the musical about bipolar disorder, was so dark that it could only run in the "risk slot" in January. Yet director Robert Hupp astutely recognized that Normal is redefining the entire genre, and has to be presented. Blessed with a sunny-looking but subtle leading lady, Judy McLane as Diana, Hupp gracefully navigated the rapidly shifting tone. For all the moments of lightness, including a riff on The Sound of Music, the show is about human suffering.
After having been stomped through community theater boards for decades, Michael Frayn's ultra-farce Noises Off kicked off the fall season at Syracuse Stage. There was so much talent that acclaimed young playwright Kate Hamill was in the supporting role of Poppy, the assistant stage manager. Director Robert Hupp had rehearsed the cast so thoroughly that some in the audience felt he had dampened spontaneity, but such discipline allowed Seth Allen Bridges to take a nosedive down the staircase.
Before Hunter Foster took the reins, one of the last shows of the Redhouse's previous era was Robert Harling's 31-year-old tearjerker Steel Magnolias. Director Temar Underwood assured a professional gloss and imported two Equity players, Magdalyn Donnelly as Truvy the shop owner and Caroline Strang as Annelle the fundamentalist. The production also allowed top local players to look their best in a professional setting. Marguerite Mitchell (transformed by a blonde wig) glowed as the tragic diabetic Shelby, and Marcia Mele blazed as the irascible Ouiser, who's been in a bad mood for 40 years.
Although playwright, director, actor, producer and costumer Garrett Heater gives most of his time to running Syracuse Opera these days, his annual summer production at the Mulroy Civic Center's BeVard Room always commands attention. His July mounting of the Stephen Schwartz-Bob Fosse hit Pippin reminded us that this saga of maturation is not a show for kids. This vital collaboration with music director Dan Williams and choreographer Jodi Bova-Mele provided great roles for lead Liam Collins, narrator Joshua Kimball, and bully patriarch Bruce Paulsen.
Ronnie Bell's Syracuse Shakespeare In-the-Park assembled an unusually strong cast, including Tony Brown and Kimberly Grader, for the area premiere of Tracy Letts' Pulitzer Prize–winning August: Osage County in February. Although shaky overall, it came dynamically alive in the interplay between the dying, harridan- matriarch (Binaifer Dabu) and her three daughters (Shannon Tompkins, Marguerite Mitchell and Julia Berger).
Appearing as an aging Okie in August: Osage County was Simon Moody, one of the busiest performers of the year. With his shorn pate, assertive (but protean) white beard and Stratford Festival diction, Moody is always instantly recognizable but still different in every role. For Central New York Playhouse, his Paravacini in The Mousetrap was menacingly classy as well as florid, and his Van Helsing was a triumph in director Korrie Taylor's no-camp, no-nonsense Dracula for Baldwinsville Theater Guild.
Flame-haired Aubry Panek has been a welcome presence on local stages for two decades, usually in glamorous or comic roles. In Appleseed Productions' The Bridges of Madison County, she dazzled as the drab, middle-aged adulteress Francesca, literally barefoot in the kitchen. Her second-act solo, "Almost Real," composed by Jason Robert Brown, was one of the top musical highlights of the year. A few weeks later Panek resumed her more familiar persona as Jacqueline, the rival nightclub owner in the Redhouse's La Cage aux Folles. 
Jut-jawed Christopher Lupia, once a featured player for Matt Chiorini at Le Moyne College, keeps flexing his versatility for Central New York Playhouse. In January for Boeing, Boeing he was a clownish schlemiel who catches all the grief when his lothario roommate's philandering plans go awry. Five weeks later he frightened as a murderous Prussian Marine in A Few Good Men. 
William Finn and James Lapine's Falsettos has been a Rarely Done favorite for quite some time, with a rich array of numbers for four male voices: the husband (Peter Irwin), the lover he leaves his wife for (Jonathan Fleischman), his psychiatrist (Justin Bird) and his precocious, observant son (Alex Burnett). In the April production, Lilli Komurek as the wronged wife stole the show with "I'm Breaking Down," a manic cry of pain, during which she chops up phallic-looking bananas and carrots.
Robert G. Searle has been the go-to man for demanding male roles in Central New York Playhouse musicals such as Evita and Nine to Five. His payoff was a rare directing venture, the fulfillment of a long-nurtured labor of love: a revival of the cult musical Chess by Tim Rice and ABBA. It's a rock opera with a checkered history that calls for big voices. He got them in baritone Benjamin Sills as the ironically sympathetic Russian master, tenor Paul Thompson as the loutish American and dynamo Ceara Windhausen as the woman who trades one for the other.
In a loving work of theatrical archaeology, Dan Stevens resurrected the 1928 Marx Brothers musical comedy Animal Crackers last spring for Baldwinsville Theater Guild. Doug Rougeaux, the Bubblemania magician, turned Groucho's salty gags into a feast, as the pith-helmeted Col Spaulding. Skilled harpist Jennifer Staples, crossing gender roles in a trousers part, was indeed a force of riotous upheaval as "The Professor" (i.e. Harpo).
At Central New York Playhouse, Dan Rowlands' direction of the summer hit Rock of Ages cast many familiar faces against type and put former supporting players in the spotlight. Lovely Hali Greenhouse was a house on fire lead as Sherrie, the girl from the boonies trying to make it in the big city. Similarly, Tyler Ianuzi, despite being blessed with leading-man looks, had been noted mostly for disposable bullies, like Curly in Of Mice and Men. Along with the required charisma, they had superlative voices in a string of duets, like "High Enough" and "Oh Sherrie."
Oscar Wilde came alive in the person of veteran player Josh Mele for the world premiere of The Picture of Oscar Wilde by newcomer Tanner Efinger, presented by the new company Breadcrumbs Productions. What Efinger lacked in financial resources he made up in name recognition, not only Mele but frequent leading man Derek Powell as the lover Bosie and Equity member Louis Balestra as a gun-slinging Marquis of Queensbury. The show appeared in the comfy Open Hand Theater space in Shoppingtown in September on the weekend the town of DeWitt questioned the future of the mall.
Dan Tursi's 50th-anniversary revival of Mart Crowley's Boys in the Band brought a flood of conflicting emotions. The fey gags of mincing designer Emory (Michael Stephan) are consistently hilarious, even though they're supposed to embarrass the audience and annoy other members of the cast. Most striking is the show's mordant anxiety and self-loathing, now disappeared like the 1968-model heavy Western Electric telephones with long wires. Jason Timothy as the host and David Minikheim as the guest of honor were in top form.
Playwright Terrence McNally rewrote the in-joke theater comedy It's Only a Play four times over more than 30 years to get it right. Choreographer-performer Stephfond Brunson seized upon the moment with some innovative casting choices, starting with Donnie Williams in the bitchy Nathan Lane part. For this Central New York Playhouse production, Isaac Betters capped a good year that also included Chess, while longtime backstage presence Heather Jensen was in peak form as the bubble-headed moneybags.
Two kids made it big last summer in Auburn. Wordsmith Matte O'Brien and musician Matt Vinson had some minor successes until they auditioned their Anne of Green Gables: A New Folk Rock Musical in 2017 for The Pitch, the Finger Lakes Musical Theatre Festival's incubator for new musicals. Wowing audiences and judges, it moved on to a fully staged production at the Merry-Go-Round Playhouse last July. A graduate of the Syracuse University Drama Department, O'Brien had been a protégé of Marie Kemp.
The love story in Alan Menken's Newsies (presented in July at Cortland Repertory Theatre), which links a striking street urchin with the publisher's daughter, begged plausibility. Matthew Couvillon's choreography of the large, youthful male chorus made more sense. Rarely have hoofing men expressed so compellingly their testosterone-driven resolve against injustice. They were better at bringing history alive than any of the dialogue.
Kate Hamill's frolicsome, rapid-paced adaptations have been produced everywhere since she first emerged at the Hudson Valley Shakespeare Festival in July 2017. Suzanne Agins' direction of Pride and Prejudice for Ithaca's Hangar Theatre was as much fun as any show anywhere over the last 12 months. Veteran player Soccoro Santiago scored in dual roles, as flibbertigibbet Mrs. Bennet and the august Lady Catherine De Burgh; by simply changing hats and vocal range, Santiago could have the two characters talk to one another.
When Gordon Greenburg and Chad Hodge reshaped the 1942 Bing Crosby movie Holiday Inn into a contemporary dance musical, they moved the action forward five years to 1947. This invited Merry-Go-Round costumer Tiffany Howard to make the big production number "Easter Parade" a meticulous recreation of the Christian Dior "New Look," which indeed appeared that year. Hers were the most dazzling duds seen on any stage this year.
ABBA's Mamma Mia! has been popular with audiences for nearly two decades, but no local companies wanted to take it on until Auburn's Merry-Go-Round decided to invest in an acre of silver spandex for the lush June opening. Director-choreographer Brett Smock led a huge cast and even brought the male chorus on prancing in flippers.
At first glance Wendy MacLeod's Women in Jeopardy! at Cortland Repertory looked like a machine-tooled sitcom, a conveyor belt of laughs. On closer scrutiny, we could see that MacLeod, a onetime off-Broadway darling, had come up with a subtle subversion of the form. All the lovers, young and middle-aged, are self-deceivers, and the plain, middle-aged housewives (Charlie Jhay and Stefanie Londino) come out on top at the end.
For the Hangar, Michael Barakiva's explosive direction of Kander and Ebb's Chicago reinvented the musical that had perhaps become too familiar. Murderess Velma Kelly (Lauren Sprague) was a blonde Viking in "All That Jazz," while much riotous humor included Roxie (Kate Loprest) singing about a fake pregnancy, "Me and My Baby." Barakiva and choreographer Mimi Quillin even put the hairy-legged male chorus in diapers.
2018 also had a few curtain calls. Veteran Syracuse New Times theater critic David Feldman spent his last years in Philadelphia but is vividly remembered here.
John Anthony LoFaro was a muscular guy who knew how to tell a joke. Absent from the scene for two decades, he was a longtime member of AFTRA, the Screen Actors' Guild. Earlier he made memorable contributions to several local companies, like Bob Brown's Opening Night Productions. One standout was the lead in Clifford Odets' Golden Boy at Salt City Center in 1994.
With her luscious, expressive voice, Lee Dreamer was a welcome presence at many prestige venues, with some musical theater on the side. Her "Something Wonderful" as Lady Thiang in a 1988 Salt City Center production of The King and I still resonates.
[fbcomments url="" width="100%" count="on"]