Someday this plot might make a good movie.
A bunch of hackers infiltrate the innermost sanctum of the major Hollywood studio's digital system and gather all sorts of private information about stars and honchos, the kind of stuff the celebrity-mad public is just dying to know. So they leak it to the press, which studio heads then try to prevent from making public.
Movies not yet released are made available for people to pirate.
A comedy with political ramifications on the eve of release earns the ire of the hackers, who deliver threats inferring that deeds of 9/11 proportions will come upon anybody who dares proceed with showings.
I wonder if Sony's top brass think it could make any money down the road with a story along those lines?
Of course, that would be art imitating life because all of the above has been building momentum in front of our eyes these past weeks.
What started as a bad scene for the movie world when it was first reported on Nov. 24 that Sony Pictures got hacked has cascaded down the mountain like an avalanche.
Now the threats from the hackers center the release of The Interview, a comedy that stars Seth Rogen and James Franco as a loopy anchorman and producer who score an interview with North Korean leader Kim Jong-un — and then are requested by the U.S. government to assassinate him. The film was screened in L.A. on Dec. 11 without incident, but hackers threatened violence if the New York City screening were held today in emails sent to various media outlets, according to a Tuesday story by Variety. Theater officials canceled that screening Tuesday night, according to a Wednesday story by USA Today.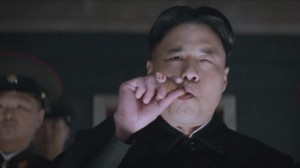 Rogen and Franco have also canceled all media appearances to promote the film.
The wide release of the film was scheduled for Christmas Day, and Sony stuck up for its film as long as it could, refusing to pull the plug. But then the five major film chains, including Regal, which owns the mega-complexes in Destiny USA, Shoppingtown and Great Northern, all said they would not show The Interview, according to a report I saw on NBC Nightly News Wednesday night and a Wednesday story in Variety, forcing Sony Pictures' hand. The studio canceled the film's opening. The stories also say that the hacking and threats have been linked by law enforcement to the North Korean government.
All this for a comedy . . . that the studio won't get to show in theaters despite gaining more mainstream pre-release news cycle free publicity than any film in ages.
Some plot, huh?
Oh, and back to what would have would have been of major import to movie lovers before the political ramifications shook loose:
A story in the New York Times also calls the situation a possible game-changer regarding the climate of first-release to theaters vs. at-home outlets.

comments