The second annual CNY Sole Jam took place on Sunday March 29 at the OnCenter. As soon as the doors of the event center were opened, a blast of beats being spun by Da Chef emanated from the space like heat waves off the hot summer pavement.
As I descended the stairs, I looked down at my Converse low tops, which suddenly felt cliché.
The return of this "sneakerhead" event just ran through its second year. Venturing from a vacant retail store on Warren Street in 2014 to the OnCenter in 2015 – quite the jump.
Of course, with any if-you-build-it scenario there is a reason behind every great idea.
Eric Brush, the manager of The Sound Garden and the organizer of Sole Jam, walked up to me in good spirits. Brush, of course, loved sneakers as a kid.
"There was a niche here (in Syracuse) that the sneaker community created, but there was a void," Brush said.
Most sneaker conventions appear in larger markets: New York, Philadelphia, Miami, Boston, and other cities along the east coast.
"What a better way to do this myself and bring people here?" If Syracuse can have a big city-inspired skating rink, why not have a sneaker convention? It's this type of against the grain thinking that should be applauded in Central New York.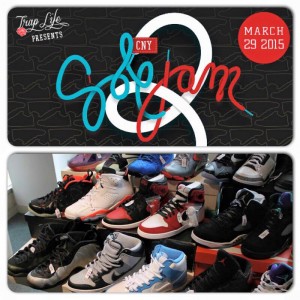 In a medium-sized city such as Syracuse, there are plenty of people that propel their business through the use of social media. This is where the light bulb went off above Brush's head. The sneaker fashion/collection niche may not be mainstream, but the people involved make an effort. Through Facebook, Instagram and other social media outlets, sneaker aficionados and collectors have the ability to buy, sell, and trade throughout the region, state, and even the world.
Of the 40 vendors at the show, many come from the upstate region, including: Buffalo, Rochester, Utica, and Albany. Brush stated that many of the vendors were from the Syracuse area. People were allowed to bring in three pairs of sneakers.
Of these vendors is Carlo Tamilia, owner of Kicks and Cakes. The Liverpool native has made his second appearance at the CNY Sole Jam, featuring his multi-layered, local company. His quasi-superhero tagline defines him as a pastry chef by day and a customized shoe designer by night.
"I wanted to design my own shoes, and I didn't want to have what everyone else had." So, he did it. Instead of waiting months for shoes that could easily run from $500-700 dollars, Tamilia decided to venture into a new hobby that is gaining him some street credit.
One of his hot items is his Buzz Lightyear footwear. Depending on the shoe and design, a pair of shoes could take him from at least 8 hours to over 16 hours to complete. "One shoe took me over 10 hours, because I engraved it all by hand." He said someone was wearing that particular pair at the show and explained that there is a lot of pride seeing someone enjoy something he's made.
He started the business for himself, but then he opened himself up to take requests from friends. The rest, a notoriety that speaks for itself, is history.
AJ Henty of Sole Nation was this year's host for the event – I caught up with him as he was meandering around. "It's an amazing sight," he said. "When I walked through these doors, my breath was taken away. I haven't seen anyone without a smiles on their faces."
Specialized events like these play a critical role in the community. "There is unnecessary hate sometimes or negative connotations attached to certain things, but when people come together and partner and communicate about it, only good things can happen," said Henty, a Liverpool native.
Sharda' Beverly owns and designs at Inovation3, which is based in Rochester. Beverly, who is making a second Sole Jam appearance, partnered for last year's event. Although she is from the 585 area code, she doesn't sit still: "I travel the country and sell sneakers and my clothing line."
On April 12, 2015, she is hosting her own Soul Searchin' Shoe Expo at the Main Street Armory in Rochester. "This is huge! I don't think people realize how big our sneaker collection is. Our events open up a lot of doors to allow people to connect and get items they normally cannot find."
As part of the Upstate New York sneaker and fashion scene, Beverly was more excited than last year's pilot. "There is much more space, more networking opportunities."
April 8 to 12, 2015, is the first Syracuse Fashion Week of the year. Similarly to Syracuse, Bevery said that Rochester also has a fashion week that she participates in. As an entrepreneur, she is a firm believer in supporting independent fashion and small business. Her customers applaud her sustainable and "green" clothing.
Will some of these shoes leave their mark on the local runways?
"New York and Los Angeles are two huge fashion hubs that affect the cities around them," Henty said. The fashion quakes that emanate from the cities in regard to sneakers and other fashions is clear. "Tapered jeans, joggers, Stance socks, Nike Elite socks … Shoes are becoming such a major piece of fashion now." He continued, saying that we — Syracuse — can easily pull from New York City due to our proximity.
And we should.
"People are calling it hypes," Tamilia added. "Kids that are younger are seeing everyone else do it, and they want to the same thing."  But he didn't leave out the older crowd, mentioning the nostalgia of seeing Air Jordans that bring some people back to their childhood.
Making a statement and walking around in comfort and maintaining quality says a lot about a person — it is said — they are the first thing people notice when walking into a room.
Eric Brush summed it up. "It's a fashion statement. Everybody likes to wear something nice on their feet."
Christopher Malone plays with more thoughts and words at his blog, The Infinite Abyss(es). He also writes for the Skaneateles Journal.  Feel free to tweet at @Chris___Malone, or email him at [email protected].

comments