It's a weird time of year for television.
The fall season is over for most (though not all) new series, many of which won't return until January (or at all). I am personally working hard to fend off symptoms of withdrawal, while I wait a solid six weeks to find out what Annalise knew and when.
For students, the semester is over. For corporate folks, business is slow. It's the holiday season! Whether or not you're religious, it's time to enjoy some good cheer, stare through the steam on a cup of tea at the lights on the Christmas tree, the solstice tree, the menorah or the kinara, and enjoy the company of friends and family.
While some of us soak up holiday TV fare like it will never come again, those who work in industries that thrive on cheer (ahem, retail) may not want to come home and watch Elf for the fourteen bajillionth time. But there's still plenty of good TV out there this week if you know where to look.
Monday, December 15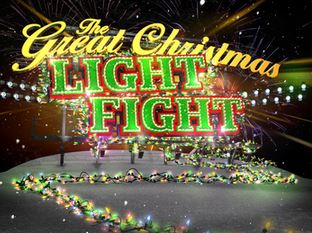 On ABC, The Great Christmas Light Fight (8 p.m.) is back for a second season. This yearly short-run reality show features 24 families from across the United States competing to assemble the greatest holiday home lightshow. Catch up on last week's season premiere online at ABC.com or on Hulu Plus before you tune in.
For the Scrooges, there's a new episodes of Jane the Virgin on The CW at 9 p.m. Based on a Venezuelan telenovela, this show, despite its still struggling viewership, has received rave reviews. Plus, it continues through the new year – no mid-season break! There's plenty of time to catch up and get on board before the finale.
Bonus: For those who get truTV, our neighbors to the west will see some hometown heros on the new series, Fake Off. Rochester's PUSH Physical Theatre will be competing in the final round of this creative pop culture reconstruction show at 10 p.m. Catch up on their earlier performances with season reruns all afternoon.
Tuesday, December 16
Filmed in 1947, the classic flick Miracle on 34th Street received a worthy reboot in 1994 starring Mara Wilson and Richard Attenborough (AMC 8 p.m.). If you're not in a mood to believe in Santa, the MasterChef Junior finale will air on Fox at 8 p.m. Gordon Ramsay is shockingly charming on this entertaining show, but he doesn't hold a candle to its adorable kid stars.
Wednesday, December 17
In a nostalgic and raucous night of back-to-back cheer, ABC Family is airing Home Alone (1990) followed by The Santa Clause (1994), beginning at 6:30 p.m. For those who'd rather see friction than farce, the 29th season of Survivor concludes Thursday night. The Survivor: San Juan del Sur – Blood vs. Water finale will air on CBS at 8 p.m.
Thursday, December 18
Each year, iHeartRadio celebrates the year's best in pop music with the Jingle Ball. The annual holiday concert, formerly hosted by NYC's Z100, was filmed this past Friday at Madison Square Garden in New York City. This year features a host of powerful young ladies (Taylor Swift, Iggy Azalea, Meghan Trainor, and Ariana Grande) and a few fellas (Maroon 5, Nick Jonas, Pharrell Williams, OneRepublic). It will air on The CW at 8 p.m. Thursday. Not too in tune with the current pop sugar? Still get a little nostalgic when it snows, sighing Matthew's proposal to Mary? Never fear – PBS will air a Downton Abbey Recap at 9 p.m., looking back at the first four seasons. It's just in time, too – the fifth season will finally come stateside on January 4.
Friday, December 19
Who doesn't love Buddy the Elf? Well, I'm not a huge Will Farrell fan (sorry, not sorry), but a lot of people are! So, for their sake, I'm happy to say that Buddy will grace your screen once again this year as Elf airs on ABC Family on Friday at 8 p.m. If you're in the mood for more serious holiday fare, or have seen squeal one too many times, turn over to CBS for A Home for the Holidays at 9 p.m. The annual telecast raises awareness and funds for foster and adoption programs, this year with performances by Jennifer Judson, Katharine McPhee, Train, Earth, Wind and Fire, and others. This year among the uplifting adoption stories will be the story of Rich Valenza and Jared Gee, a gay couple with two adopted children.
Five days away and still not feeling the cheer? Check out the series premiere of Caught on Camera with Nick Cannon (8 p.m.), NBC's answer to Tosh.0.
Saturday, December 20
Saturday night, gather your family – Mom, Dad, Gramps, Cousin Mary and the kids – all of whom have come to town a week early (surprise!), and settle in for an evening of fun for the whole gang. Dr. Suess' How The Grinch Stole Christmas (2000, the Jim Carrey version) on ABC Family at 8 p.m. might make Uncle Lou's cold, cold heart grow three sizes. Alternately, in case you missed it, NBC is re-airing last year's live musical disaster The Sound of Music Live! at 8 p.m.
Sunday, December 21
Especially if you caught The Santa Clause on Wednesday, catch The Santa Clause 2 (2002) on AMC at 8 p.m. Sunday.
If not, or if your Scroogy side is starting to show and you're sick of all this cheer business, why not check out what TV was like when it first started? The Disneyland TV series is a multi-format anthology series that has aired consistently, under different names, since 1954. It remains one of the longest-running television series in history. On Sunday night, TCM will air the 1954 special Walt Disney Presents (8:30 p.m.), featuring Walt Disney himself, unveiling the upcoming series.
Monday, December 22
By now, you'll obviously be hooked on The Great Christmas Light Fight. The season finale airs on ABC 8 p.m. Let there be light! No? Well, Monday has plenty more to offer. Try NBC, where A Saturday Night Live Christmas (originally aired on December 3) will revisit the series' best holiday sketches throughout its 40 seasons. You might also catch a rerun of The iHeartRadio Jingle Ball on The CW at 8 p.m., or have another hot cocoa with The Santa Clause on ABC Family at 8:30 p.m. On AMC, the original 1947 Miracle on 34th Street with Natalie Wood and Edmund Gwenn starts at 6:30 p.m. immediately followed by the 1994 remake at 8:45 p.m.
Not interested in lights, miracles or pop stars? The Syracuse v. Colgate men's basketball game will surely be on at every bar in Syracuse. Tipoff is at 7 p.m.
Tuesday, December 23
Two nights before Christmas and all through the house, not a creature will be stirring – except for me, with excitement, because Nickelodeon has a classic Full House Christmas double feature. First at 8 p.m., "A Very Tanner Christmas" (1992), when Steve and DJ break up. Next, "Our Very First Christmas Show" (1988) when the Tanners get snowed in at the airport.
Over at ABC, Robin Roberts will host The Year: 2014 (9 p.m.), a retrospective on the past year in news and pop culture.
Wednesday, December 24
Sorry Scrooges, TV doesn't have much to offer you on Christmas Eve. The airwaves are chock full of classics: It's A Wonderful Life (1946) on both NBC and USA at 8 p.m.; A Christmas Story (1983) on both TBS and TNT at 8 p.m.; and the I Love Lucy (1956) Christmas special on CBS at 8 p.m. For a less savory evening, put the kids to bed early, grab some liquor and watch Billy Bob Thornton at (arguably) his slimiest in Bad Santa (2003) on MTV at 8 p.m.
By the time 11 p.m. rolls around, it'll be time to turn off the TV and put out the cookies and milk. Don't forget to leave the bedroom door cracked so you can listen for sleigh bells on the roof.
And hey, even if you're not into holiday cheer, there's cause to be glad: on Sunday the 21st, these dark Syracuse days start getting longer, and we begin the long journey to springtime.
Happy watching and happy holidays to all!
Header image render by zeroX3A on Deviant Art.

[fbcomments url="" width="100%" count="on"]