Earlier this month the Syracuse International Film Festival placed an accent on "international." Award-winning Iranian filmmaker, photographer, video artist and poet Abbas Kiarostami visited Syracuse University's College of Visual and Performing Arts (VPA), as he conducted workshops with students and presented screenings of his features at several venues. During his two-week stay Kiarostami even squeezed in some time to read his poetry at the SU Warehouse's Point of Contact Gallery.
This weekend the organization will emphasize all things Syracuse with its inaugural Spring Fest. (Actually, the festival, which began a decade earlier as the Syracuse International Film and Video Festival, was once part of the Central New York springtime calendar until it was relocated to October earlier this decade.) Moviemakers with local connections, either as native Central New Yorkers or having gone to school here, will be in the spotlight, and they'll all be coming home to present their product and host question-answer sessions.
Eastwood's Palace Theatre, 2384 James St., will serve as the Spring Fest screening room on Friday, April 25, and Saturday, April 26. The venue will also hold displays of works from Central New York artists, local musicians will perform both nights and area wineries will offer tastings.
The first movie to unspool is director Julia Wrona's The Long Bike Back (Friday, 6:30 p.m.). It begins with the 2006 events concerning her husband, percussionist Pearson Constantino (formerly of Skaneateles), who while riding his bicycle was sideswiped by a hit-and-run driver, an incident that resulted in Constantino's broken femur and pelvis, shattered vertebrae and a concussion. Wrona's work follows her husband's extensive rehabilitation process and the 2008 cross-country bike ride he embarked on with his brother Pete Constantino, a route that stretched from Oregon to Cape Cod. Since its completion in 2013, the documentary has often been screened to promote bicycle safety.
Writer-director J.R. Hughto, who grew up in Canastota, brings his hotsy provocative drama Diamond on Vinyl (Friday, 8:45 p.m.), which merited conspicuous buzz at last year's Slamdance Film Festival, where it was hailed as a successor to pioneering indie efforts like Steven Soderbergh's sex, lies and videotape. Secrets are spilled that damage the relationship between a recently engaged couple (Brian McGuire and Nina Millin), and matters only get more complicated when a Los Angeles photographer named Charlie (Sonja Kinski, daughter of Nastassja Kinski and granddaughter of Klaus Kinski) enters the picture. Incidentally, Dalton's American Decorative Arts, 1931 James St., is displaying and selling Hughto's photographs through June 14.
The Saturday shows start with From the Wings (12:30 p.m.), a 30-minute documentary from Paul Capostosto, a graduate student of SU's VPA program. The film offers a backstage profile of the Syracuse City Ballet Company as it gears up for a 2013 production of The Nutcracker.
Next is executive producer Cassidy Dimon's Barzan (1:30 p.m.), about one man's troubles following some unexpected fallout from the 9/11 Commission Report. When Iraqi immigrant Sam "Barzan" Malkandi's name turns up on the report, he is wrongly arrested as a terrorist and must fight threats of deportation as a result of homeland security. Barzan, partially funded with Kickstarter bucks, played at last year's Woodstock Film Festival.
John Bevilacqua, who grew up in Syracuse, wears many hats as writer, producer and director of My Funny Valentine (3:30 p.m.). It's a quirky romcom out of Los Angeles, in which a lovelorn writer (Tom Payne) attempts to shoehorn the prospective woman of his dreams (Pippa Black) into his life's script.
Stuart Connelly, an SU graduate, weighs in with The Suspect (6 p.m.), acclaimed as an impressive debut from the budding writer-director. A small-town sheriff (William Sadler) copes with the aftermath of an armed bank robbery, with the race card entering the picture when two African-Americans (Mehki Phifer and Sterling K. Brown) are implicated. Connelly, who makes his first triumphant return to Syracuse in the 21st century, allows that "like the movie Memento, The Suspect rewards a second viewing."
Wrapping Spring Fest is the comical documentary CowJews and Indians (8:15 p.m.), which actually has a longer subtitle: How Hitler Scared My Family — and I Woke Up in an Iroquois Longhouse with a Picture of Jesus, Reminding Me — for the Wrong Reason — That I Owe the Mohawks Rent. Writer-director Marc Halberstadt details his initial attempts to gain reparations from Germany long after the Nazis took his Jewish grandfather's property, but then he realizes that maybe the Germans should instead be making reparations to the Mohawks because he is living on what was once their land. Legal complexities aside, Halberstadt will be joined by Oren Lyons, faithkeeper for the Onondaga Nation, for a lively discussion regarding the theft of cultural heritages.
Admission to the Syracuse International Film Festival Spring Fest features several price points. All single-admission ducats will be $10. Tickets for both films on Friday, April 25, are $15, as well as the Saturday afternoon program on April 26. Saturday evening's shows will be $20 for both. An all-day Saturday ticket is $25. And expect to pay $30 for both days. Call 671-2188 for details.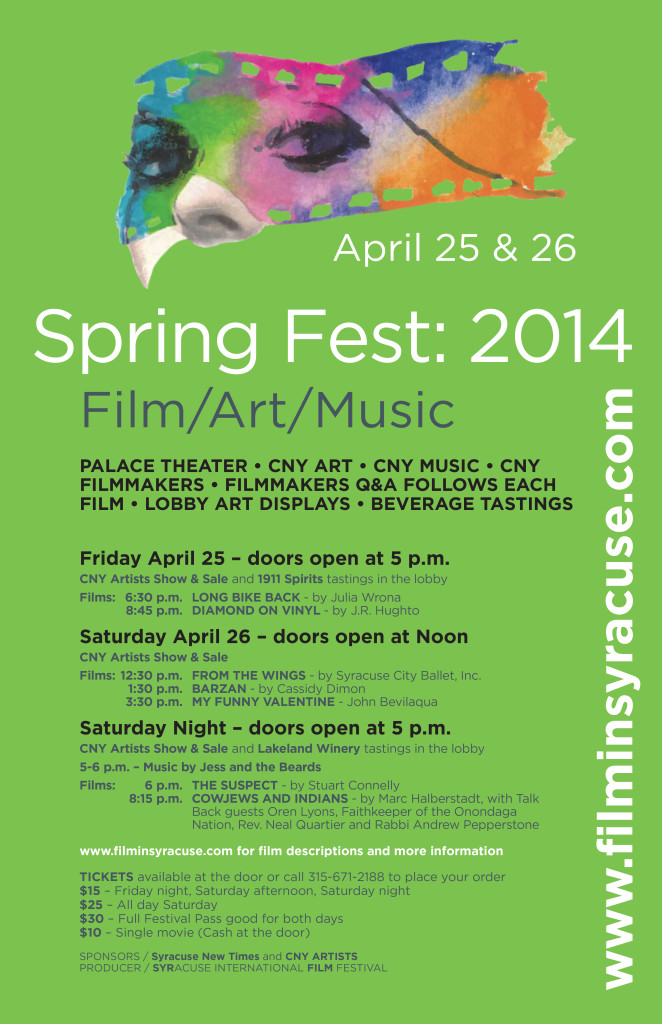 comments