Arts
See the nominees for the 2018 Syracuse Area Live Theater Awards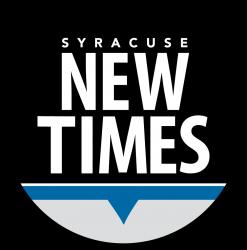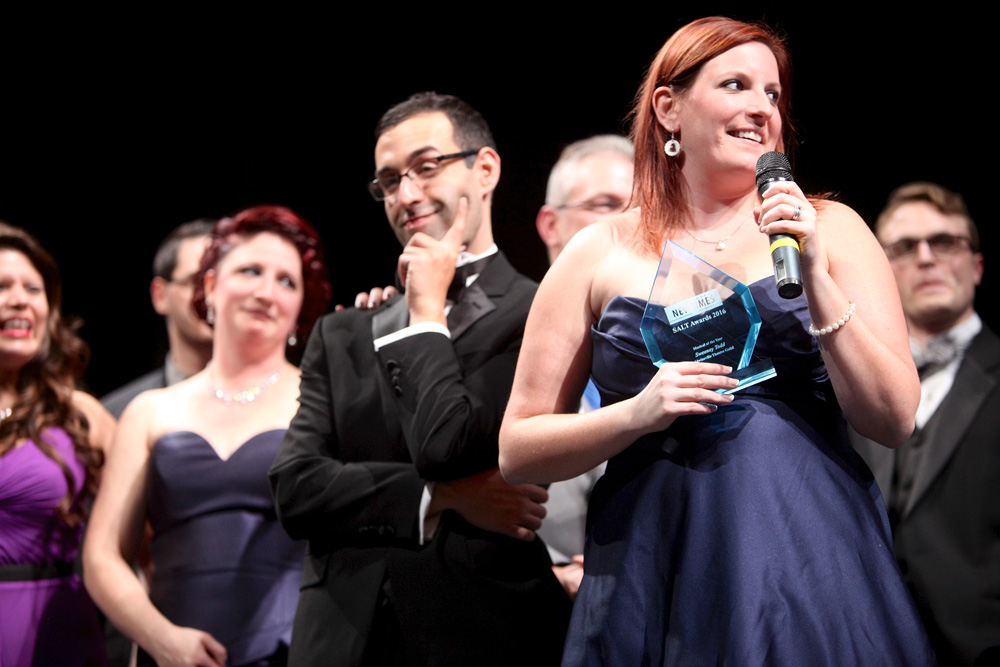 The nominations have been tallied for the 14th annual Syracuse New Times Syracuse Area Live Theater (SALT) Awards, which honor performances and behind-the-scenes work by area professional, regional and community theater companies. The SALT winners will be announced during a ceremony to be held Sunday, Nov. 11, 6:30 p.m., at the Redhouse Arts Center, 400 S. Salina St.
The show's presenting sponsor is Empower Federal Credit Union. This year's co-hosts will be WSYR-Channel 9's Bridge Street personality TeNesha Murphy and actress (and former Rockette) Bradley Benjamin. Cocktails and light fare will be available.
Discounted pre-sale tickets are available for $22 until Saturday, Nov. 10, midnight. Tickets at the door will be $25. Visit CNY Tix to purchase tickets. And follow the SALTs on Facebook, Instagram and Twitter for regular event updates: @SALTS2018.
Play of the Year
Professional Theater Companies
Brawler (Kitchen Theatre Company)
The Curious Incident of the Dog in the Night-Time (Syracuse Stage)
Every Brilliant Thing (Kitchen Theatre)
The Magic Play (Syracuse Stage)
Matt and Ben (Kitchen Theatre)
A Raisin in the Sun (Syracuse Stage)
The Three Musketeers (Syracuse Stage)
Regional Theater Companies
A Doll's House, Part 2 (Hangar Theatre)
Fortune (Hangar Theatre)
The Little Dog Laughed (Redhouse Arts Center)
On Golden Pond (Redhouse Arts Center)
Our Town (Cortland Repertory Theatre)
Rough Crossing (Cortland Repertory)
Women in Jeopardy (Cortland Repertory)
Community Theater Companies
The Crucible (Central New York Playhouse)
The Color of Friendship (Encore Presentations)
A Few Good Men (CNY Playhouse)
Frost/Nixon (CNY Playhouse)
November's Song (St. Marianne Cope Shrine & Museum)
Leading Actress in a Play
Professional Theater Companies
Nikki Coble, The Three Musketeers (Syracuse Stage)
Elizabeth Ledo, The Curious Incident of the Dog in the Night-Time (Syracuse Stage)
Constance Macy, The Curious Incident of the Dog in the Night-Time (Syracuse Stage)
Dorcas Sowunmi, A Raisin in the Sun (Syracuse Stage)
Kim Staunton, A Raisin in the Sun (Syracuse Stage)
Regional Theater Companies
Heather Arney, Our Town (Cortland Repertory)
Laura Austin, The Little Dog Laughed (Redhouse)
Briana Gantsweg, Rough Crossing (Cortland Repertory)
Charlie Jhaye, Women in Jeopardy (Cortland Repertory)
Jan Radcliff, On Golden Pond (Redhouse)
Community Theater Companies
Binaifer Dabu, August: Osage County (Syracuse Shakespeare in the Park)
Mia Degironimo, The Crucible (CNY Playhouse)
Anne Fitzgerald, It's Only a Play (CNY Playhouse)
Catherine Gudaitis, Radium Girls (Rome Community Theater)
Jennifer Herzog, What Happens Next (Cherry Arts)
Chelsea Lembo, The Merry Wives of Windsor (Syracuse Shakespeare)
Aubry Ludington Panek, November's Song (St. Marianne Cope Shrine & Museum)
Shannon Tompkins, August: Osage County (Syracuse Shakespeare)
Kristin Walker, Always a Bridesmaid (Rome Community Theater)
Leading Actor in a Play
Professional Theater Companies
Karl Gregory, Every Brilliant Thing (Kitchen Theatre)
Chike Johnson, A Raisin in the Sun (Syracuse Stage)
Mickey Rowe, The Curious Incident of the Dog in the Night-Time (Syracuse Stage)
Brett Schneider, The Magic Play (Syracuse Stage)
Travis Staton-Marrero, The Three Musketeers (Syracuse Stage)
Regional Theater Companies
Max Emerson, The Little Dog Laughed (Redhouse)
Fred Grandy, On Golden Pond (Redhouse)
James Taylor Odom, Rough Crossing (Cortland Repertory)
Jason M. Shipman, Our Town (Cortland Repertory)
Nicholas Wilder, Women in Jeopardy (Cortland Repertory)
Community Theater Companies
Aaron Alexander, Julius Caesar (Syracuse Shakespeare)
Tom Minion, Frost/Nixon (CNY Playhouse)
Simon Moody, Julius Caesar (Syracuse Shakespeare)
Ben Sills, The Crucible (CNY Playhouse)
Jeremiah Thompson, Frost/Nixon (CNY Playhouse)
Director of a Play
Professional Theater Companies
Rita Brainin, The Curious Incident of the Dog in the Night-Time (Syracuse Stage)
Timothy Douglas, A Raisin in the Sun (Syracuse Stage)
Shana Gozansky, Matt and Ben (Kitchen Theatre)
Robert Hupp, The Three Musketeers (Syracuse Stage)
Halena Kays, The Magic Play (Syracuse Stage)
Regional Theater Companies
Michael Barakiva, A Doll's House, Part 2 (Hangar)
Vincent J. Cardinal, On Golden Pond (Redhouse)
Vincent J. Cardinal, The Little Dog Laughed (Redhouse)
Trey Compton, Rough Crossing (Cortland Repertory)
Deborah Zoe Laufer, Fortune (Hangar)
Kathryn Markey, Women in Jeopardy (Cortland Repertory)
Kerby Thompson, Our Town (Cortland Repertory)
Community Theater Companies
Stephfond Brunson, It's Only a Play (CNY Playhouse)
Dustin Czarny, A Few Good Men (CNY Playhouse)
Justin Polly, Frost/Nixon (CNY Playhouse)
Shannon Tompkins, The Crucible (CNY Playhouse)
Dan Tursi, As Is (Rarely Done Productions)
Supporting Actress in a Play
Professional Theater Companies
Courtney Green, The Three Musketeers (Syracuse Stage)
Kyra Stevens, The Three Musketeers (Syracuse Stage)
Shannon Tyo, Bright Half Life (Kitchen Theatre)
Shannon Tyo, Smart People (Kitchen Theatre)
Regional Theater Companies
Grace Allyn, The Little Dog Laughed (Redhouse)
Susannah Berryman, A Doll's House, Part 2 (Hangar)
Catherine Gaffney, Our Town (Cortland Repertory)
Marya Grandy, On Golden Pond (Redhouse)
Stefanie Londino, Women in Jeopardy (Cortland Repertory)
Rebecca Mason-Wygal, Women in Jeopardy (Cortland Repertory)
Community Theater Companies
Julia Berger, August: Osage County (Syracuse Shakespeare)
Heather Jensen, It's Only a Play (CNY Playhouse)
Lauren Koss, The Crucible (CNY Playhouse)
Chelsea Lembo, Boeing Boeing (CNY Playhouse)
Kassandra Melendez-Ramirez, August: Osage County (Syracuse Shakespeare)
Supporting Actor in a Play
Professional Theater Companies
Jordan Bellow, A Raisin in the Sun (Syracuse Stage)
Matthew Greer, The Three Musketeers (Syracuse Stage)
Robert Murphy, A Raisin in the Sun (Syracuse Stage)
Robert Neal, The Curious Incident of the Dog in the Night-Time (Syracuse Stage)
Sean Parris, The Magic Play (Syracuse Stage)
Mitch Tebo, The Three Musketeers (Syracuse Stage)
Regional Theater Companies
John Bixler, On Golden Pond (Redhouse)
Jack Cherry, Our Town (Cortland Repertory)
Justin Dunn, On Golden Pond (Redhouse)
Tanner Efinger, Rough Crossing (Cortland Repertory)
Ethan Rich, Women in Jeopardy (Cortland Repertory)
Jason M. Shipman, Rough Crossing (Cortland Repertory)
Community Theater Companies
Isaac Betters, It's Only a Play (CNY Playhouse)
Tyler Ianuzi, Frost/Nixon (CNY Playhouse)
Michael B. King, Hamlet (CNY Playhouse)
Christopher J. Lupia, The Crucible (CNY Playhouse)
Adam Schmidtman, The Color of Forgiveness (Encore Presentations)
Costume Design of a Play
Professional Theater Companies
Marianne Custer, The Three Musketeers (Syracuse Stage)
Kara Harmon, A Raisin in the Sun (Syracuse Stage)
Devon Painter, The Curious Incident of the Dog in the Night-Time (Syracuse Stage)
Megan Parker, Matt and Ben (Kitchen Theatre)
Alison Siple, The Magic Play (Syracuse Stage)
Regional Theater Companies
Jimmy Johansmeyer, Rough Crossing (Cortland Repertory)
Orli Nativ, Women in Jeopardy (Cortland Repertory)
Raven Ong, On Golden Pond (Redhouse)
Donnie Williams, The Little Dog Laughed (Redhouse)
Wendi R. Zea, Our Town (Cortland Repertory)
Community Theater Companies
Harlow Kisselstein, The Crucible (CNY Playhouse)
Kate Kisselstein, Frost/Nixon (CNY Playhouse)
Barbara Toman, The Merry Wives of Windsor (Syracuse Shakespeare)
Barbara Toman & Simon Moody, Julius Caesar (Syracuse Shakespeare)
Donnie Williams, It's Only a Play (CNY Playhouse)
Lighting Design of a Play
Professional Theater Companies
Jesse Belsky, The Magic Play (Syracuse Stage)
Michael Klaers, The Curious Incident of the Dog in the Night-Time (Syracuse Stage)
Yael Luberzky, The Three Musketeers (Syracuse Stage)
Peter Maradudin, A Raisin in the Sun (Syracuse Stage)
Annie Wiegand, Matt and Ben (Kitchen Theatre)
Regional Theater Companies
Eric Behnke, Rough Crossing (Cortland Repertory)
Chuan-Chi Chan, The Little Dog Laughed (Redhouse)
Chuan-Chi Chan, 70 Scenes of Halloween (Redhouse)
Matthew Webb, Our Town (Cortland Repertory)
Marie Yokoyama, On Golden Pond (Redhouse)
Community Theater Companies
Sarah Anson, The Crucible (CNY Playhouse)
Sarah Anson, Frost/Nixon (CNY Playhouse)
Sarah Anson, Noises Off (Baldwinsville Theatre Guild)
E.D. Intemann, What Happens Next (Cherry Arts)
William Edward White, Hamlet (CNY Playhouse)
Set Design of a Play
Professional Theater Companies
Lizzie Bracken, The Magic Play (Syracuse Stage)
Tony Cisek, A Raisin in the Sun (Syracuse Stage)
Anna Grigo, Matt and Ben (Kitchen Theatre)
Russell Metheny, The Curious Incident of the Dog in the Night-Time (Syracuse Stage)
Stanley A. Meyer, The Three Musketeers (Syracuse Stage)
Regional Theater Companies
Shelley Barish, Rough Crossing (Cortland Repertory)
Tim Brown, The Little Dog Laughed (Redhouse)
Tim Brown, On Golden Pond (Redhouse)
Kent Goetz, Fortune (Hangar)
Anna Grigo, Women in Jeopardy (Cortland Repertory)
Dana White Jr., Our Town (Cortland Repertory)
Community Theater Companies
Navroz Dabu, Flowers for Algernon (CNY Playhouse)
Christopher J. Lupia, It's Only a Play (CNY Playhouse)
Josh Taylor, The Crucible (CNY Playhouse)
Josh Taylor, Noises Off (Baldwinsville Guild)
William Edward White, Frost/Nixon (CNY Playhouse)
Sound Design of a Play
Professional Theater Companies
Jonathan Herter, The Three Musketeers (Syracuse Stage)
Rasean Davonte Johnson, Smart People (Kitchen Theatre)
Pornchanok Kanchanabanca, Matt and Ben (Kitchen Theatre Company)
Todd Mack Reischman, The Curious Incident of the Dog in the Night-Time (Syracuse Stage)
Matthew M. Nielson, The Magic Play (Syracuse Stage)
Regional Theater Companies
Joshua Reid, The Little Dog Laughed (Redhouse)
Joshua Reid, 70 Scenes of Halloween (Redhouse)
Seth Asa Sengel, Our Town (Cortland Repertory)
Seth Asa Sengel, Rough Crossing (Cortland Repertory)
Seth Asa Sengel, Women in Jeopardy (Cortland Repertory)
Anthony Vadala, On Golden Pond (Redhouse)
Community Theater Companies
Dusten Blake, The Night Larry Kramer Kissed Me (Rarely Done)
Kasey Polly, Frost/Nixon (CNY Playhouse)
Robert Searle, The Crucible (CNY Playhouse)
Robert Searle & Lizz Allers, It's Only a Play (CNY Playhouse)
Mike Sharp, Always a Bridesmaid (Rome Community Theater)
Musical of the Year
Professional Theater Companies
Always. . . Patsy Cline (Merry-Go-Round Playhouse/Finger Lakes Musical Theatre Festival)
Anne of Green Gables (Merry-Go-Round)
Holiday Inn (Merry-Go-Round)
Mamma Mia! (Merry-Go-Round)
Next to Normal (Syracuse Stage)
The Wizard of Oz (Syracuse Stage)
Regional Theater Companies
Chicago (Hangar)
La Cage aux Folles (Redhouse)
Newsies (Cortland Repertory)
Saturday Night Fever (Cortland Repertory)
Xanadu (Hangar)
Community Theater Companies
The Bridges of Madison County (Appleseed Productions)
Disenchanted (Rarely Done)
Into the Woods (CNY Playhouse)
Pippin (Syracuse Summer Theatre)
Rock of Ages (CNY Playhouse)
Leading Actress in a Musical
Professional Theater Companies
Jennifer Evans, Holiday Inn (Merry-Go-Round)
Kate Jarecki, The Wizard of Oz (Syracuse Stage)
Judy McLane, Next to Normal (Syracuse Stage)
Emily Kristen Morris, Mamma Mia! (Merry-Go-Round)
Sally Wilfert, Mamma Mia! (Merry-Go-Round)
Regional Theater Companies
Emily Janes, Saturday Night Fever (Cortland Repertory)
Kate Loprest, Chicago (Hangar)
Katie Luke, Newsies (Cortland Repertory)
Caroline Strang, I Do! I Do! (Redhouse)
Mari Vial-Golden, Pride and Prejudice (Hangar)
Community Theater Companies
Leila Dean, Into the Woods (CNY Playhouse)
Hali Greenhouse, Rock of Ages (CNY Playhouse)
Amy Just, Legally Blonde (Manlius Musical: Town of Manilus Recreation Department)
Aubry Ludington Panek, The Bridges of Madison County (Appleseed)
Mary Musial, Disenchanted (Rarely Done)
Taylor Peck, The Fantasticks (Oswego Players)
Jennifer Staples, Animal Crackers (Baldwinsville Guild)
Ceara Windhausen, The Hunchback of Notre Dame (Baldwinsville Guild)
Leading Actor in a Musical
Professional Theater Companies
D.C. Anderson, Anne of Green Gables (Merry-Go-Round)
Brian Michael Hoffman, The Wizard of Oz (Syracuse Stage)
Crawford Horton, The Wizard of Oz (Syracuse Stage)
Ben Mayne, Holiday Inn (Merry-Go-Round)
Gary Milner, Mamma Mia! (Merry-Go-Round)
Regional Theater Companies
Luke Hamilton, I Do! I Do! (Redhouse)
Steve Hayes, La Cage aux Folles (Redhouse)
Dirk Lumbard, La Cage aux Folles (Redhouse)
Michael Russell, Saturday Night Fever (Cortland Repertory)
Zack Zaromatidis, Newsies (Cortland Repertory)
Community Theater Companies
Liam Collins, Pippin (Syracuse Summer Theatre)
Peter Irwin, Falsettos (Rarely Done)
Derek Potocki, Little Shop of Horrors (Open Hand Theater)
Ben Sills, Chess (CNY Playhouse)
Josh Taylor, Rock of Ages (CNY Playhouse)
Best Director of a Musical
Professional Theater Companies
Donna Drake, The Wizard of Oz (Syracuse Stage)
Richard J. Hinds, Holiday Inn (Merry-Go-Round)
Robert Hupp, Next to Normal (Syracuse Stage)
Brett Smock, Mamma Mia! (Merry-Go-Round)
Jenn Thompson, Anne of Green Gables (Merry-Go-Round)
Regional Theater Companies
Michael Barakiva, Chicago (Hangar)
Devanand Janki, Xanadu (Hangar)
Mark Reynolds, Newsies (Cortland Repertory)
Kerby Thompson, Saturday Night Fever (Cortland Repertory)
Temar Underwood, The Snow Queen (Redhouse)
Community Theater Companies
Maggie Dougherty, Legally Blonde (Manlius Musical)
Jared Dunn, You're A Good Man, Charlie Brown (At Rise Productions)
Tina Lee, The Bridges of Madison County (Appleseed)
Dan Rowlands, Rock of Ages (CNY Playhouse)
Robert Searle, Chess (CNY Playhouse)
Supporting Actress in a Musical
Professional Theater Companies
Lani Corson, The Wizard of Oz (Syracuse Stage)
Julie Kavanagh, Holiday Inn (Merry-Go-Round)
Sara Masterson, Next to Normal (Syracuse Stage)
Sally Mayes, Always. . .Patsy Cline (Merry-Go-Round)
Michelle Veintimilla, Anne of Green Gables (Merry-Go-Round)
Regional Theater Companies
Laura Austin, La Cage aux Folles (Redhouse)
Stephanie Garofalo, Saturday Night Fever (Cortland Repertory)
Aubry Ludington Panek, La Cage Aux Folles (Redhouse)
Kennedy Salters, Newsies (Cortland Repertory)
Lucia Spina, Chicago (Hangar)
Community Theater Companies
Kristina Abbott, Rock of Ages (CNY Playhouse)
Briana Jesse Duger, Into the Woods (CNY Playhouse)
Ellen Kotzin, Pippin (Syracuse Summer Theater)
Anna Sanzone, Rock of Ages (CNY Playhouse)
Carmen Viviano-Crafts, Disenchanted (Rarely Done)
Supporting Actor in a Musical
Professional Theater Companies
David Lowenstein, The Wizard of Oz (Syracuse Stage)
Benjamin Mapp, Holiday Inn (Merry-Go-Round)
Chris McCarrell, Anne of Green Gables (Merry-Go-Round)
Dillan Smith, Anne of Green Gables (Merry-Go-Round)
Josh Tolle, Next to Normal (Syracuse Stage)
Michael Williams, Mamma Mia! (Merry-Go-Round)
Regional Theater Companies
Sean Patrick Doyle, Chicago (Hangar)
Camden Garcia, Newsies (Cortland Repertory)
Jared Brendon Hopper, Pride and Prejudice (Hangar)
Kyle Knisley, Saturday Night Fever (Cortland Repertory)
Jahmar Ortiz, Saturday Night Fever (Cortland Repertory)
Graham Stevens, Xanadu (Hangar)
Community Theater Companies
Justin Bird, Falsettos (Rarely Done)
Steve Gamba, A Little Night Music (CNY Playhouse)
Joshua Kimball, Pippin (Syracuse Summer Theatre)
Christopher J. Lupia, Rock of Ages (CNY Playhouse)
Derek Potocki, Rock of Ages (CNY Playhouse)
Josh Taylor, The Hunchback of Notre Dame (Baldwinsville Guild)
Best Musical Director
Professional Theater Companies
Corrine Aquilina, Holiday Inn (Merry-Go-Round)
Brian Cimmet, Next to Normal (Syracuse Stage)
Brian Cimmet, The Wizard of Oz (Syracuse Stage)
Jeff Cox, Mamma Mia! (Merry-Go-Round)
Amanda Morton, Anne of Green Gables (Merry-Go-Round)
Regional Theater Companies
Joel Gelpe, Newsies (Cortland Repertory)
Daniel Lincoln, Chicago (Hangar)
Bridget Moriarty, La Cage aux Folles (Redhouse)
Shoshana Seid-Green, Saturday Night Fever (Cortland Repertory)
Zeek Smith, Xanadu (Hangar)
Community Theater Companies
Andrea Ellison, The Hunchback of Notre Dame (Tully Arts Council)
Abel Searor, The Hunchback of Notre Dame (Baldwinsville Guild)
Abel Searor, Into the Woods (CNY Playhouse)
Abel Searor, Rock of Ages (CNY Playhouse)
Dan Williams, Pippin (Syracuse Summer Theatre)
Best Choreographer
Professional Theater Companies
Richard J. Hinds, Holiday Inn (Merry-Go-Round)
Jennifer Jancuska, Anne of Green Gables (Merry-Go-Round)
Anthony Salatino, Next to Normal (Syracuse Stage)
Brett Smock, Mamma Mia! (Merry-Go-Round)
2 Ring Circus, The Wizard of Oz (Syracuse Stage)
Regional Theater Companies
Cassie Abate, La Cage aux Folles (Redhouse)
Matthew Couvillon, Newsies (Cortland Repertory)
Devanand Janki, Xanadu (Hangar)
Bryan Knowlton, Saturday Night Fever (Cortland Repertory)
Mimi Quillin, Chicago (Hangar)
Community Theater Companies
Jodi Bova-Mele, Pippin (Syracuse Summer Theater)
Stephfond Brunson, The Hunchback of Notre Dame (Baldwinsville Guild)
Marisa Guzman-Colegrove, Legally Blonde (Manlius Musical)
Shannon Tompkins, Chess (CNY Playhouse)
Shannon Tompkins, Into the Woods (CNY Playhouse)
Costume Design of a Musical
Professional Theater Companies
Suzanne Chesney, Next to Normal (Syracuse Stage)
Tracy Christensen, Anne of Green Gables (Merry-Go-Round)
Jessica Ford, The Wizard of Oz (Syracuse Stage)
Tiffany Howard, Holiday Inn (Merry-Go-Round)
Tiffany Howard, Mamma Mia! (Merry-Go-Round)
Regional Theater Companies
Camille Charara, I Do! I Do! (Redhouse)
Suzanne Chesney, Chicago (Hangar)
Jimmy Johansmeyer, Newsies (Cortland Repertory)
Jimmy Johansmeyer, Saturday Night Fever (Cortland Repertory)
Raven Ong, La Cage aux Folles (Redhouse)
Community Theater Companies
Cathy Burgett, The Hunchback of Notre Dame (Tully Arts Council)
CNY Costumes, Disenchanted (Rarely Done)
Kate Kisselstein & Sami Eddy, Rock of Ages (CNY Playhouse)
Stephanie Long, The Hunchback of Notre Dame (Baldwinsville Guild)
Stephanie Long, Into the Woods (CNY Playhouse)
Lighting Design of a Musical
Professional Theater Companies
Dawn Chiang, Next to Normal (Syracuse Stage)
Herrick Goldman, The Wizard of Oz (Syracuse Stage)
Philip S. Rosenthal, Anne of Green Gables (Merry-Go-Round)
Jose Santiago, Holiday Inn (Merry-Go-Round)
Jose Santiago, Mamma Mia! (Merry-Go-Round)
Regional Theater Companies
Eric Behnke, Newsies (Cortland Repertory)
Chuan-Chi Chan, La Cage aux Folles (Redhouse)
Dawn Chiang, Chicago (Hangar)
Paul Radassao, Saturday Night Fever (Cortland Repertory)
Marie Yokoyama, I Do! I Do! (Redhouse)
Community Theater Companies
Sarah Anson, Chess (CNY Playhouse)
Xavier Boyer, Pippin (Syracuse Summer Theatre)
Alexandra Christie & Trevor Dewey, The Hunchback of Notre Dame (Tully Arts Council)
Liam Fitzpatrick, The Hunchback of Notre Dame (Baldwinsville Guild)
Liam Fitzpatrick, Into the Woods (CNY Playhouse)
Liam Fitzpatrick, Rock of Ages (CNY Playhouse)
Set Design of a Musical
Professional Theater Companies
Linda Buchanan, The Wizard of Oz (Syracuse Stage)
Wilson Chin, Anne of Green Gables (Merry-Go-Round)
Shoko Kambara, Holiday Inn (Merry-Go-Round)
Shoko Kambara, Next to Normal (Syracuse Stage)
Michael Schweikardt, Mamma Mia! (Merry-Go-Round)
Regional Theater Companies
Shelley Barish, Newsies (Cortland Repertory)
Tim Brown, I Do! I Do! (Redhouse)
Tim Brown, La Cage aux Folles (Redhouse)
Darin Himmerich, Saturday Night Fever (Cortland Repertory)
Shoko Kambara, Chicago (Hangar)
Community Theater Companies
Steve Breitzka, The Hunchback of Notre Dame (Tully Arts Council)
Carol Minkstein, Legally Blonde (Manlius Musical)
Dan Rowlands & Christopher J. Lupia, Rock of Ages (CNY Playhouse)
Josh Taylor, The Hunchback of Notre Dame (Baldwinsville Guild)
Josh Taylor & Korrie Taylor, Into the Woods (CNY Playhouse)
Sound Design of a Musical
Professional Theater Companies
Ed Chapman, Holiday Inn (Merry-Go-Round)
Jonathan Herter, Next to Normal (Syracuse Stage)
Jonathan Herter, The Wizard of Oz (Syracuse Stage)
Miles Polaski, Anne of Green Gables (Merry-Go-Round)
Miles Polaski, Mamma Mia! (Merry-Go-Round)
Regional Theater Companies
Seth Asa Sengel, Newsies (Cortland Repertory)
Seth Asa Sengel, Saturday Night Fever (Cortland Repertory)
Anthony Vadala, I Do! I Do! (Redhouse)
Anthony Vadala, La Cage aux Folles (Redhouse)
Anthony Vadala, The Snow Queen (Redhouse)
Community Theater Companies
Robert Searle, The Hunchback of Notre Dame (Baldwinsville Guild)
Robert Searle, Into the Woods (CNY Playhouse)
Robert Searle & Dan Rowlands, Rock of Ages (CNY Playhouse)
Matthew Slazik, The Hunchback of Notre Dame (Tully Arts Council)
Anthony Vadala, Pippin (Syracuse Summer Theatre)
Best Ensemble in a Musical
Disenchanted (Rarely Done)
The Hunchback of Notre Dame (Tully Arts Council)
Into the Woods (CNY Playhouse)
Pippin (Syracuse Summer Theatre)
Rock of Ages (CNY Playhouse)
Individual Awards
Lifetime Achievement Award: Marie Felice
Hall of Fame Award: Armond Magnarelli
comments