It's been a minute since TV saw pirate action. There was a British miniseries based on Treasure Island in 2012, but here in the states the last great "arrrgh" was on the big screen: Pirates of the Caribbean: On Stranger Tides (2011), the fourth (and worst) in Jerry Bruckheimer's Disney franchise.
When the Pirates movies were good (ahem, pretty much only the first one, in my opinion), they seemed to saturate the culture. Who didn't see one of those dread lock wigs during Halloween 2003? Now in 2014, pirates are boarding TV's proverbial deck. But the success of their conquest is uncertain.
Starz's 8-episode series Black Sails debuted in January to mixed reviews. Currently, it's Metacritic score is only a 57. It was renewed for a second season early, following a positive response at the 2013 San Diego Comic Con. If you want to give it a shot, it comes back sometime next year.
But we might have forgotten about it by then. Cable normally dominates summer TV, but this year it faces a formidable network rival brandishing a surprisingly sharp sword.
Crossbones, the latest from NBC (whose recent victories with Hannibal and The Blacklist bode well for another dramatic success) premiered on Friday night. The adventure drama stars John Malkovich as the notorious pirate overlord, Blackbeard.
In Friday's pilot, the HMS Petrel, sailing near the Bahamas, is overrun with pirates looking to steal the secrets of an important passenger: the inventor of a complex navigational device that will help the British Navy evade pirates.
The ship is lost and the device destroyed by one of its own passengers, Tom Lowe (Richard Coyle), a spy posing as a doctor. Lowe is taken prisoner by Blackbeard, who thinks him the only one capable of saving the gravely injured inventor. It is soon revealed that Lowe is on a mission to kill Blackbeard – something he attempts toward the pilot's end, leading to a mildly intriguing twist and cliff-hanger.
For network television, Crossbones is quite compelling. The story isn't intellectually challenging, but it's also not as smash-you-over-the-head-obvious as network dramas can be. The production values are top-notch, and the dramatic sense is superb.
Despite its late Friday night timeslot, the raciness is kept to a PG-13 minimum. It's no Game of Thrones. That's not to say that good drama requires lots of blood and sex, but in today's competitive market, a lack of salt can lead to an awkward attempt to create the same openness. Like when a woman is shown nude on the beach, walking toward the camera, but is kept out of focus until she is within a head-and-shoulders shot. I had to check if my glasses were still on. It was awkward, but I get what they're going for and they're not doing too poor a job.
Malkovich is definitely the draw. His accent is fun – I peg it somewhere between Depp's drunken Jack Sparrow, Peter Dinklage's Tyrion Lannister, and John Malkovich.
The ten-episode series runs Fridays at 10 pm through August on NBC. There are probably a hundred more fun things you could do on a Friday night, but DVR-it and watch it while you're doing your Sunday chores. It's a silly romp with plenty of room to grow, once it gets its sea legs.
Other new summer programs that might be worth calling up on your tablet, poolside:
Halt and Catch Fire is a 1980s period drama about the invention of the first personal computer. It premiered Sunday night, June 1 at 10pm on AMC.
Orange is the New Black's second season drops – in all of its 13 episode glory – on Friday, June 6 on Netflix.
True Blood's seventh and final season begins Sunday, June 22 at 9pm on HBO.
Girl Meets World, the long-awaited sequel to Disney's long-running hit series Boy Meets World, premieres Friday, June 27 at 7:45pm on Disney Channel.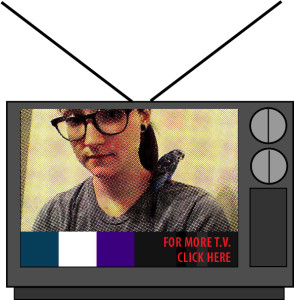 Sarah Hope is a graduate student in the Goldring Arts Journalism Program at the Newhouse School at Syracuse University, where she focuses on television, entertainment history and classical music. In her free time, she also experiments with vegan and gluten free baking, and tries to teach her parakeet to sing TV theme songs. Find her on Twitter @sarahmusing.
comments