For years that span from childhood until the present, I've enjoyed The Joy of Painting, but I've never experienced the joy of actually painting. It's not the worst artistic outlet, but there is a personal awkwardness that presents itself when confronting the concept. Whether it was sitting on my grandmother's couch or the couch in the SUNY Oneonta Blodgett Hall suite, I received much enjoyment from that afro-topped Bob Ross. He was doing what he loved: painting, entertaining, teaching. He died of lymphoma in 1995.
Bob Ross constantly reminded everyone to pursue their passion. He painted "happy little" everythings. He would begin painting on that blank canvas and something indescribably uncertain blossomed into something amazing. And that's a metaphor for life.
My '04-'05 college roommate, Ross, would sit the couch and watch The Joy of Painting, and I'd join him often. At the end of each show, immediately after the artist would personalize art with his surname, my roommate would exhale and lean back. His head would rest against the back of the couch, and he'd look over at me. This would be a consistent routine: My friend would look at me with an exaggerated smile and utter: That's me. [Pointing at the television] He wrote my name.
Flash-forward to 2014. While I was writing, my Twitter and Instagram notifications began to glow. The Instant Artist (@ArtistInstant) opted to follow. I don't normally hesitate when I see Syracuse or an Upstate and Central New York locale written in the location, so I did a quick research session and followed. The business sought me out, because Marty Butts (@SmallPotatoes42) said they should. Marty is someone I attentively listen to.
Melissa Smith is the owner and creative brain behind The Instant Artist, and she returned to her Central New York hometown in May of this year. She asked me if I wanted to come to one of her painting workshops, and without hesitation I agreed to it. It was after the fact that I did the research about Melissa's workshops; after all, I should've had an understanding of I agreed to.
After a telecommunications job took her to Dallas, Melissa began a business in pet portraits. Her first rescue dog inspired her, and her friends began to have her paint their animals as well. With word of mouth, popularity, and her increasing passion for painting others' beloved animals, she started a business and website. Her business accepted commissions nationwide. However, being closer family was preferred and life in a smaller community was missed and she returned to Homer, New York.
On October 28, the two-hour painting workshop was held at Sparky Town (@Sparkytown) in the historic Hawley-Green nook of the city. From 6:30 to  8:30 p.m., the painting outing and social workshop took place, and my confidence and creativity were definitely challenged. I even spent five minutes psyching myself up in my parked car; I'm shy, and sometimes it takes a little coaxing to get me revved up. And I entered, and smiling faces of the Sparky Town crew greeted me. Melissa, who was in the dining room threshold, immediately came over and said hello.
My order was taken, and my Southern Tier Porter was handed to me in a glass. My stomach grumbled impatiently for the Jocko: the vegan sandwich constructed with grilled tempeh, roasted red pepper, black bean sauce, avocado, red onion, and sun dried tomatoes was difficult to pass up. After taking the first bite, the life span of the food was projected to about 10 minutes; unfortunately, my attention was heavily paid to the painting, and the sandwich was savored for an hour. I looked at the last bite and reminded myself of how lucky I was.
Melissa returned to the type of community she loves and values. The Instant Artist boasts a "local friendly" attitude on the website, and there is a push to hold events in smaller, locally-owned businesses. "Supporting a local business is a huge passion of mine," she told me. "Supporting those around me continues to strengthen the economic base of the community and invests in our future." She appreciated the set up at Sparky Town, and she aims to spread to a variety of places in the Syracuse area. Her business also ventures into Cortland, Binghamton, and Ithaca.  When it comes to finding places to set up the events, there is an even split between Melissa taking the initiative and business coming to her. She would prefer venues to contact her if they are looking for an event to help better the business and bring people in.
Melissa donned her cordless microphone and introduced herself. After explaining the brushes and the paint and the picture, the night was kicked off by saying hello to others and connecting with the canvas. Like the rest, I placed my hand upon the white space and repeated a pledge that prohibited the group to say anything negative about personal beliefs or lack of abilities. She reminded us: "Make your own interpretations. There are no mistakes." Although I may not have the everyday ability to paint, I wasn't terrible at it. None of us were terrible.
A good five minutes or so was spent intermittently staring down into the pores of the blank canvas. My eyes would stare down the picture of the waterfall and scenery to be painted (check out Facebook for the gallery). The paint used was acrylic, which means "duplicitous." It will wash off your hands, but it will haunt clothes for eternity. Luckily, we were given smocks to wear. After seven minutes or so, I had effectively painted what appeared to be the monolith from 2001: A Space Odyssey.
Melissa took us through each step, but she didn't babysit us. She spent more time walking around, checking in and complimenting us, than standing at the front. Melissa was readily available for helping out those who thought they may have been in a bind. The approximated 15 of us all followed the directions for tactics when creating ripples and ridges and leaves and spritzing water, but all of the aspects turned out unique. We all had the same picture, but the results were personally distinct.
I, being a non-painter, asked her if she had advice for the like-minded. "Let loose, have fun, don't be afraid to express yourself, and let the paint take you wherever it takes you." Melissa feels that the a mind should not be restrained and that a person should not stop creating whatever makes them happy. One of the purposes of The Instant Artist is to invoke confidence in a person. I still walk by my picture, looking at it with disbelief, but I couldn't be more proud of myself.
The reception was very positive. The young woman next to me mentioned she'd be telling her Maid of Honor about this event. The Instant Artist participates in many events: business and corporate team building, all the varieties of showers, birthday parties for young and old, and fundraisers. Prices vary depending on the event and number of guests, a standard private party is $30 per person, and other rates can be found on the website.
Melissa's next event is Tuesday Nov. 4 at the Cortland Beer Company, but it's sold out. Her next event, a S.N.O.R.T Rescue Fundraiser, is also sold out. However, don't fret, she does have event openings later this month and time available to book a private party.
***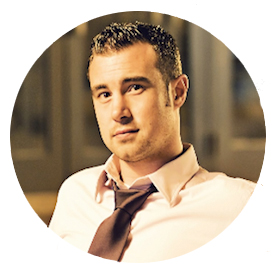 Christopher Malone plays with more thoughts and words at his blog, The Infinite Abyss(es), and at Kinani Blue. He can also be found creating worlds and playing with invisible objects with the Syracuse Improv Collective.  Feel free to tweet at @Chris___Malone, or email him at [email protected].

[fbcomments url="" width="100%" count="on"]