77% of Americans admit to texting and driving, which is also the number one killer of American teens.
West Genesee graduate, Aaron Speach decided it was time to change that.
Speach was studying economics at Seton Hall and pursuing a law degree in 2009 when the financial crash hit. His student loans were denied. So, he moved to San Diego and got a job at Best Buy and worked his way up to a supervisor position. At the time, new smartphones were coming out: the iPhone 4, the Samsung HG. The trend was to integrate products with the way people were using cell phones while driving: mounts, window sticks, etc.
"There didn't seem to be a product out there to integrate the cell phone to a car in a safe and easy way," said Speach. He was looking for a product he could use himself.
Speach left Best Buy and started developing a prototype, which acted, essentially, like a car stereo.
"It replaces the current stereo and will install at a store like Best Buy or car shop," he said.
The typical 7 by 4 inch box, it takes 30 minutes to an hour and about $50 to install and requires no customization. The system does not remove any of the previous features of the car and looks like an infotainment system. Working as a dock for your smartphone that prevents the user from being able to hold it while driving, it uses Bluetooth technology, is completely voice controlled, and charges the phone as well.
It is  illegal in California to use suction mounts and New York State has very strict text and drive penalties. Statistically, texting and driving is four times more dangerous than drinking and driving.
The phone communicates with the car and driver via an app. Speach's unit reads the car's computer information to get up to speed and report on auto management: car brake, acceleration, how many miles to empty, etc.; creating driver score based on efficiency, suggesting ways to improve ("Brake more softly.") Instead of just a "check engine" light, the system will tell you what the problem is, give you a list of places that can fix it, and tell you how much it will cost based on the average prices for cars like yours.
"We are empowering customers," said Speach.
Speach also invented parental accounts with sub-accounts for children.
"The system recognizes whose account it is," he said, "And the driver has to plug the phone into the dash before the car turns on." – similar to the breathing device for DUI prevention. If the driver takes the phone out of the console while driving, the app shuts down the phone.
"We use our own voice recognition system," said Speach. Drivers create their own activation word and then can ask the system to "Text Mom," "Find the nearest pizza place," "Play 'Shake It Off,'" or what have you.
"We don't want people messing around with dialing or texting," said Speach, "You can also make your phone auto-reply to texts with 'I'm driving.'"
Speach's company is called ONICS, the intelligent car system. As of early this year, they are still seeking investors. ONICS beat its initial fundraising goal on Kickstarter, but Speach refunded the investors because he realized the company was seeking less than they needed.
The basic unit is being developed in China with hopes to launch this spring and is shooting for international markets. Speach reports a high demand in India, China, and South America for the safe driving console. Once it passes FCC compliance in May 2015, it will be available in the U.S. as well.
The second unit, called the smart unit, will be "made in the USA" and looks to launch early next year. Speach is developing the smart unit with one of the lead engineers with Texas Instruments, the 2nd largest chip manufacturer in the world. Speach describes the 2nd generation console as "never been done before" technology. It will be manufactured in Carlsbad, California.
The smart unit will include the onboard diagnostic feature. Speach says it will tell you where the closest, cheapest gas is, automatically telling you whether it's worth it to drive for a cheaper price.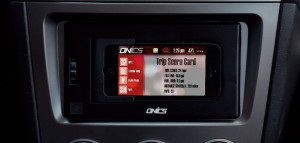 The module has several options for fitted faceplates based on the types of phones plugged into the system, but also has a universal plate so users do not have to remove the phone from phone cases. Their software is also entirely open source for developers to create new apps for the safe ride system.
Quality is extremely important to Speach. He knows without a state-of-the-art sound system and technology, it will be hard to convince buyers to substitute their stereo box for his.
"That's why we have Texas instruments creating the best chips for audio boards: the same as for a fully amped 7 series BMW!," said Speach.
And the cost is far from outrageous. Speach wants safety to be a household item. The basic unit will cost only $150-200, the smart unit $250-300 – after installation.
"Our motto is 'The smart car for everyone,'" he said, "Not just the wealthy who can buy Teslas. We want everyone to benefit."
For more information, check back with the ONICS website (under development) at www.onicsusa.com. 

Remember to tune in to our Podcast: "The Next Best Thing: Stories about Innovation," on Thursday March 19 when we speak to Mitchell Patterson, one of the founders of Hack Upstate.
[fbcomments url="" width="100%" count="on"]