Irv Lyons Jr. I Love the Night (independent). The most interesting part of Lyons' solo disc is the drastic turn it takes near the end of the CD. Most of the album slides by, with one familiar-sounding blues tune (sprinkled with Latin undertones) after another. Yet the final three tracks take a sharp detour, utilizing a heavy edge, grungy effects and techniques that bump this CD from straight-ahead to down-and-dirty blues with fierce attitude and a step into the experimental. Co-writing credits from sound engineer and co-producer Jeff Moleski doubtlessly play a role.
The album showcases Lyons' chops on guitar and vocals in a much more exposed way than his other project, The Ripcords. He stands on his own, showing off his experience with nuanced guitar lines and his firm but raspy voice. Lisa Nojaim adds percussion as well as deep, smooth vocals that complement Lyons' contrasting pipes.
His seasoned guitar work rips through "Rude," and "If You Love Me" has an irresistible chug. While some lyrics are straightforward yet simplistic at times ("I'd rather have no money, no money for food/ I don't need your rotten attitude/ you're just rude"), Lyons carries them with conviction and keeps the beat catchy, making "Rude" worth the spin.
Armed with almost all originals, the album is a lesson in how to meld guitar and vocals, taking a step outside the comfort zone of a full band. The final three tracks also prove that stepping into a new style can garner attention-grabbing results. "Be My Baby" pounds with a driving beat, filthy guitar and vocals delivered with sinister sincerity and "I Love the Night" mixes the traditional blues Lyons owns with floating vocals and church-like keys. Lyons' passion is evident and his talent is obvious. For more details, visit reverbnation.com/nativeman.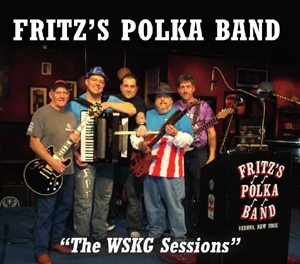 Fritz's Polka Band. The WSKG Sessions (independent). This double-disc collection of originals, polka favorites and unusual-for-polka covers is about more than the infectious music. The band's long and impressive history, which stretches back to their formation 35 years ago, includes these touchstones: They're the first polka band to perform at a Woodstock festival (in 1999); they have had music featured in films (The Manchurian Candidate); they have won accolades that include the Syracuse Area Music Awards (Sammys) and a Just Plain Folks Music Award among many others.
The WSKG Sessions is also the first release since founding member Fred Scherz Sr. passed away on Nov. 14, 1999. Fred's son Fritz  was faced with a difficult decision when his father grew sick: whether or not to continue the band without him. "As he was dying from cancer, he told me to keep the band going," Fred Scherz says. "I'll admit, at first it wasn't easy. It's still tough playing without him on the stage next to me, as he left a huge void. You see, a guy like him can't be replaced."
The weight of that void is noted in the recording, with interspersed interviews among the songs, but the tribute comes across as a fitting memorial, carrying on the upbeat and lively music the band is known for. Recorded before a live TV audience on Feb. 4, 2012, for the Let's Polka TV show, produced by Binghamton's WSKG public broadcasting station, the collection combines songs from four different show tapings that day, all with equal energy and charisma.
Whatever hesitations one might have about polka, this band immediately dispels any doubts. The bouncy vibe is highlighted by impressive musicianship on piano and button-box accordion, bass, guitar, drums and vocals. Curveball covers, including "Folsom Prison Blues," "Good Hearted Woman" and "Pay Me My Money Down," add spark where listeners can recognize the song, but hear it in a brand new way. And the band's decision to include many of Scherz Sr.'s tracks helps prove their sincerity and carry his memory.
For those unfamiliar with polka music, this is a great introduction: fun, lighthearted and performed by some of the best in the business. For those who already know about the good times generated by Fritz's Polka Band, this is a brilliant capturing of their live energy. For more information, visit fritzspolkaband.com.
For more Local Hop – Music Reviews and Music News – CLICK HERE
[fbcomments url="" width="100%" count="on"]