Baldwinsville resident Evan Schoeberlein suffered from the bone tumor disease Ewing's sarcoma, passing away at age 25 in July 2008. Local audiences will get to honor his memory thanks to a movie directed by his younger brother Marc Schoeberlein, 25, during the world premiere of the docudrama My Brother and Me on Friday, Nov. 14, at Eastwood's Palace Theatre.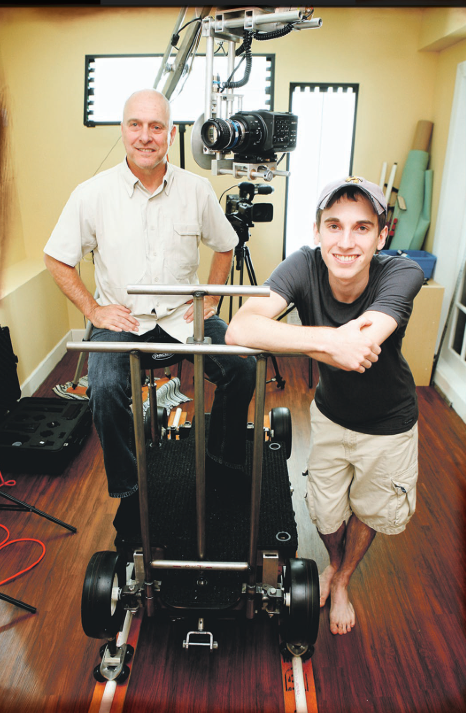 Marc's aim was to pay cinematic tribute to Evan, and he had plenty of material to draw upon. The young moviemaker was a budding Spielberg during his wonder years, as he wielded his camcorder to capture Evan and their pals involved in wacky situations: Marc attempting a parasailing stunt while riding a skateboard while tethered to a moving car; donning costumes for comic relief at Halloween; and geeking out with Star Wars gizmos.
Those moments are mingled amid re-enacted scenes acted by a cast of sympathetic performers. The Halloween segment, for instance, is fleshed out with images of a balding Evan (played by Morgan Elliot), weakened by his illness yet still managing to cavort in front of the camera. It tells another side of the Schoeberlein story, one of inner strength combating adversity.
Marc Schoeberlein started shooting in July 2013, after he raised more than $8,000 from an Indiegogo crowd-funding campaign to finance production. "One from the Heart," a July 24, 2013, Syracuse New Times article penned by Nikelle Snader, profiled Marc and his dad Warren Schoeberlein, who built camera equipment such as a dolly and a crane to help keep production costs down.
The 73-minute My Brother and Me alternates between scenes devoted to Marc (played by Kenny Yohonn) and his school peers, with domestic moments featuring his parents Warren and Kim (played by Jeremy McKeon and Susan Wolstenholme). Yet Evan's plight is felt even when he's not on screen, as the family copes with the young man's ongoing health management, then must deal with his eventual loss.
Dodging any attempts to get too melancholy, Schoeberlein ensures that upbeat moments are part of My Brother and Me, although audience sniffles are bound to occur. "God, I miss him," the actor portraying Marc says near the movie's finale, as Marc the director strives for a gentle eloquence to his heartfelt work.
Warren and Marc Schoeberlein from My Brother and Me. Michael Davis photo.
My Brother and Me will be screened on Friday, Nov. 14, 7 p.m., at the Palace Theater, 2384 James St. General admission is $10, with VIP tickets available for $50. Call 436-4723 for details.
Charitable Cinema
Proceeds from the screening of My Brother and Me will benefit the Maureen's Hope Foundation of Baldwinsville, dedicated to supporting patients going through cancer treatment. Founder Susan Bertrand named the charity in honor of her late sister Maureen, who passed away in 2003 at age 31 from cervical cancer.
The screening will also benefit Paige's Butterfly Run, the annual downtown charity race to fight pediatric cancer. Parents Chris Arnold and Ellen Yeomans dedicated the run in memory of their young daughter Paige, who died of leukemia in 1994 at age 8. The race is held each June in conjunction with the Taste of Syracuse festivities.

comments