A plume of cigarette smoke wafts provocatively through the air during the opening seconds of Isn't It Delicious, perhaps signaling that a film noir work is about to commence. Yet that puff comes from just one of the many cigarettes chain-smoked by Joan Weldon (Kathleen Chalfant), who likes her coffin nails with the filter tips defiantly ripped off.
Joan sucks down each drag like Humphrey Bogart in his prime, so it's no surprise that an early scene in director Michael Patrick Kelly's indie comedy-drama features her doctor revealing the news about Joan's lung cancer diagnosis. She rejects chemotherapy, however, which makes perfect sense as a plot device because Joan is such a larger-than-life force of nature, albeit more like a hurricane.
The screenplay by Kathleen J. Kiley and director Kelly depicts the many ways that Joan has wrecked her life, with her family members becoming collateral damage along the way. As a wife of privilege to her incredibly loyal spouse Bill (Keir Dullea), Joan has been boozing and smoking her life away. Several black-and-white flashbacks indicate that she exhibited some suicidal tendencies, however, which in turn paved the way for the screwed-up mindsets of her three children as they now grapple with adulthood.
Caroline (Alice Ripley) is an alternative lifestyler who has to dry out in rehab in order to save her job. Bobby (Nick Stevenson) is a wealthy Wall Streeter who gets coked up with his stripper fiancee Robin (Alexandra Mingione). And youngest son Teddy (Jonah Young) is a back-to-nature Buddhist pothead. Despite their names, they're not the Kennedys.
Joan's previous actions, which include a philandering one-night stand that resulted in guilt-ridden repercussions, indicate that she has a death wish and wants to go out swinging. Yet as Isn't It Delicious unravels, Joan's inelegant bids to emotionally reconnect with her fractured family before she leaves this mortal coil leads to bittersweet comedy as well as unexpected poignancy.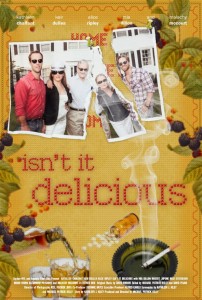 The script's dialogue boasts plenty of sharp repartee for Joan to deliver, with actress Kathleen Chalfant rising to the occasion with a bravura flourish. When she spies some miniature liquor bottles, Joan claims that whoever created them deserves a Nobel Peace Prize. And there's an amusing bit when Joan takes her first marijuana toke, then ransacks her fridge for some munchies.
Director Kelly's lively pace always keeps the film from becoming an acerbic wallow, as he skillfully builds to an unsentimental, even upbeat finale. And his casting calls of Broadway pros pay off big dividends, with Tony Award-nominated Chalfont (Angels in America) and Tony-winning Alice Ripley (Next to Normal) offering strong interpretations.
The script's often surprising plot detours also allow for fine ensemble turns from Mia Dillon as a cuckolded sister-in-law, Vanessa Morosco as a smart stripper who defies the dumb stereotype, Robert LuPone as a marina skipper and Ger Duany as a sensitive chauffeur. Kelly even finds room for a sly inside joke: A snippet from Richard Strauss' "Also Sprach Zarathustra" pays aural homage to Keir Dullea's performance in 2001: A Space Odyssey.
Isn't It Delicious receives its Central New York premiere on Friday, Dec. 12, 7:30 p.m., at Eastwood's Palace Theatre, 2384 James St. The film traveled the festival circuit in 2013, earning accolades at the Tupelo Film Festival and Manhattan Film Festival. Auteur Kelly has likewise made quite a journey. He grew up on the South Side, graduating from Corcoran High in 1978, followed by a stint with the U.S. Army, a diploma from Onondaga Community College and more schooling at New York University's film program. Kelly received a more informal film education during his teen years when he would spend most weekends at the former downtown bijou which was converted into the Biograph and screened bargain-priced double features during the mid-1970s.
Kelly's film is an obvious labor of love, with his performers and crew working at low rates to ensure that Isn't It Delicious adhered to the conditions of the Screen Actors Guild's ultra-low budget agreement. The movie's budget ended up in the $200,000 range. Kelly and his producer-wife Suzanne Hayes-Kelly (who also plays the small role of Rosemary, Caroline's gal pal) will be on hand at the Palace for a question-answer session following the screening.
Isn't It Delicious screens on Friday, Dec. 12, 7:30 p.m., at Eastwood's Palace Theatre, 2384 James St. Admission is $10. For details, dial 436-4723.

comments