Two features about the late Syracuse Mayor Lee Alexander, one a clips-filled documentary, the other a hallucinogenic reimagined biopic, will be some of the main attractions at this weekend's Spring Fest 2015.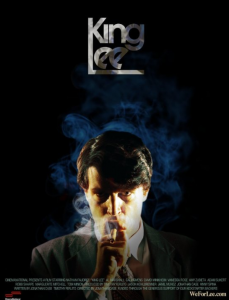 The Syracuse International Film Festival's second annual springtime blowout is dedicated to Salt City filmmakers, specifically those who are living in the area and others who have left the region yet still maintain ties to Central New York. The latter is emphatically represented by Cynthia Slavens, the director of post-production at Pixar Animation Studios, who returns to the festival with another program featuring cartoon segments and commentary.
Slavens, a graduate of Fayetteville-Manlius High School, will surely have some details regarding Inside Out, the new Disney-Pixar flick slated for a June 19 release. Slavens will regale the crowd at Armory Square's Museum of Science and Technology, 500 S. Franklin St., on Friday, April 24, 7:30 p.m. Adults pay $10 but admission is free for elementary, middle and high school students accompanied by an adult.
The festival moves to Eastwood's Palace Theatre, 2384 James St., for the rest of the weekend, with four separate programs on Saturday, April 25, and three programs on Sunday, April 26. Saturday's major event will be the 6:45 p.m. screening of Million Dollar Mayor, the documentary on Lee Alexander, who ran Syracuse's City Hall from 1970 to 1985, then went to prison on racketeering charges.

Million Dollar Mayor trailerB from Innovision on Vimeo.
The film is directed by Roger Springfield, the former WSTM-Channel 3 sportscaster who certainly can relate to the concept of a public figure that has fallen from grace in such a spectacular fashion. A question-answer session will follow the movie. Incidentally, Alexander remains the only Central New York politician to merit a coveted Syracuse New Times endorsement–albeit after he announced he would not seek re-election.
In stark contrast, the 5:30 p.m. Sunday screening of King Lee offers a fictitious take on Alexander's rise and fall, keyed by a swaggering performance by Nathan Faudree in the title role. Director Jonathan Case plays the material for laughs, with a hyperkinetic, acid-trippy style reminiscent of Oliver Stone's wilder works.
Also on Sunday is the 3:30 p.m. showing of Monster Mansion Memories, the affectionate documentary by Andy Wolf concerning the legacy of Monster Movie Matinee, the weekly program of old horror features that aired Saturday afternoons on Channel 3 from 1964 to 1980. Baby boomers still fondly recall the show's hosts, played by the late Alan Milair and Bill Lape, and Wolf should be on hand to take fans down memory lane.
Other screenings will include Mark Chervinsky's professional wrestling documentary At What Cost (Saturday, 1:30 p.m.); Northside, Sam Avery's documentary on the changing neighborhood (Saturday, 4:30 p.m.); the double bill of Sounds of Men, a merging of live performance and video from Leo Crandall, plus a Super 8 mini-festival (Saturday, 9 p.m.); and a selection of seven short subjects (Sunday, 1 p.m.).
Admission to separate Spring Fest programs will be $10, while tickets to King Lee will be $5. All-day passes for Saturday or Sunday will be $20, while a full festival pass for both days is $30. For details, visit filminsyracuse.com.

comments