The undeniably original Granny 4 Barrel created its own genre. Terry LeRoi, who wears a dress and gray wig when he performs, labels the act "shock country" with its blending of Charlie Daniels, AC/DC and vaudeville.
"In the rock world there's Alice Cooper and shock rock bands," LeRoi says. "But in country, are there any shock country bands? I don't think so. I think we own that."
The group is a unique mix of local musicians and international talent, all with stage names and get-ups that make them part of the Granny family. Members like Baby Reemus, Uncle Leon and Cappy James put on a wild show that has brought them to stages such as last month's Sturgis Motorcycle Rally in South Dakota.
On Sunday, Sept. 14, Granny 4 Barrel plays on a bill with headliners Jackyl at Pennellville's Oswego County Event Center.
The band first connected with Jackyl's Jesse Dupree in December 2013. Dupree books entertainment for Michael Ballard's Full Throttle Saloon, a bar which also has a reality TV show. Dupree wanted to see what the band was about so he invited them to play shows in Myrtle Beach and Tennessee before booking them at Sturgis, where they played three shows on three different stages.
"They wanted to expose us to as many clientele as possible," LeRoi says. "The biker crowd: That's Granny's crowd."
As exciting as Sturgis was for the band, the trip home was no less eventful. LeRoi, who also owns the Fulton-based body jewelry company LeRoi Inc., was invited to play a trade show in Columbus, Ohio, where Piercology, a premier piercing studio, was celebrating its 20th anniversary. The event featured bands, piercings and suspensions, where people are suspended from hooks placed through body piercings. Jane's Addiction guitarist Dave Navarro, who is part of the suspension group CoRE (Constructs of Ritual Evolution), was also at the event.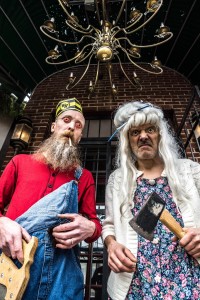 "We've been introduced before, but he had no idea who Granny was," LeRoi says. "He just knew he was the emcee and there was a band playing. When we got there, we showed him the songlist and he said, 'Hell, yeah, I'll jam with you guys!' He had a great time and sounded fantastic. We played 'Ballroom Blitz' from Sweet and jammed it for at least twice as long. Navarro and King traded leads on that."
The band has also been periodically recording in Nashville with producer John Billings, who toured with Donna Summer for 17 years and currently plays with The Monkees. "He's a very good friend of mine and he's known worldwide as a phenomenal bass player," LeRoi says. "He's a multitalented musician, videographer, producer and when he's not on the road, he's working with bands, so his circle is very large. Whenever we're in the studio recording, John has suggestions."
Those suggestions include guest drummers hiding under nicknames such as Rich Redmond and Sandy Gennaro, a.k.a. Jason Aldean and Joan Jett. "We get these star players on our records," LeRoi says. "It's brilliant." LeRoi hopes the disc will be out next spring or summer.
(Full disclosure: Music writer Jessica Novak has also sat in with the band as Cousin Jess, contributing fiddle and vocals.)
Granny 4 Barrel has two weekend shows in Central New York. On Saturday, Sept. 13, the band performs a 6:45 p.m. set during the Festival in the Park at Minoa's Lewis Park, Hulbert Street and Costello Parkway; the festival runs 11:30 a.m. to dusk. And on Sunday, Sept. 14, the group plays during a daylong blowout at the Oswego County Event Center with headliners Jackyl plus the Nigel Dupree Band, Loose Cannon, Bound for the Floor and Crows Cage. The band also has a Halloween date at Monirae's in Pennellville.
"I'm really excited," LeRoi says. "Hopefully next year will be an even bigger year for us."
Family Tree
This following list consists of various family members and associated criminals who have appeared on stages, recordings or both with Granny 4 Barrel:
Terry LeRoi, vocals (Titanium Black)
Uncle Leon: Mark Tanner, bass (Kane)
Dix Z Normous: Dave King, guitar (Joey Belladonna, 3 Inch Fury, Gridley Paige)
Nephew Bobby Lewis, fiddle
Reverend Roy: Roy Coston, guitar (Coston)
Cousin Don Wayne Reno, banjo (Hayseed Dixie)
Cousin Dale Reno, mandolin (Hayseed Dixie)
Cappy James: Kevin Dean, drums (Heart, Hobo Graffiti, Honey Spoon)
Cousin Rhino: Kenny Earl, drums (Manowar)
Oxy Cotton: Wade Hooker, guitar (Wynonna Judd)
Grandson Dave Navarro, guitar (Jane's Addiction, Red Hot Chili Peppers)
Baby Reemus: Dan Wagner, guitar (Wagner 3000)
Cousin Jimmy Mattingly, fiddle (Garth Brooks, Reba McEntire, Dolly Parton)
Barley Scotch: John Wheeler, fiddle and vocals (Hayseed Dixie)
Cousin Jess: Jess Novak, fiddle and vocals (Golden Novak Band, Shining Star Band)
Scotty Mae: Scott Patnode, guitar (Crucible)
Timmy the Pirate: Tim LaRiviere, drums (MotherCover, Crucible)
Sally 4 Barrel: Tamaralee Shutt, trumpet (Soul Mine)
Cousin Pat McDonald: Charlie Daniels, drums
Cousin Rich Redmond: Jason Aldean, drums
Cousin Sandy Gennaro: Joan Jett, drums
Just the Facts
Granny 4 Barrel with headliners Jackyl, the Nigel Dupree Band and other bands
Oswego County Event Center, 3 Godfrey Road, Pennellville
Sunday, Sept. 14; doors open at noon.
Tickets are $25 in advance, $30 at the gate
For information, visit facebook.com/oswegocountyeventcenter

comments