There is risk when deciding to schedule a big event around the holiday season. Making such a decision can reveal itself to be a foolish one when considering the fickle area population. Last Friday, Nov. 27, the premiere of documentary Jaco, about late bassist Jaco Pastorius, played on the big screen at The Palace Theatre in Eastwood. The film had nothing to do with Syracuse or the holiday season, there was no red carpet and it had to compete with the tree lighting ceremony and other family-oriented fun.
What made the event special, aside being a national premiere of the Robert Trujillo-produced film, was the collaboration of Syracuse.
International Film Festival, Syracuse Jazz Fest, The Sound Garden and The Palace. Conversation and collaboration are necessary, and the networking Eric Brush accomplished got this ball rolling. Let's not forget to mention the 200-plus people in attendance proved such a screening doesn't have to pertain to the university or the locales of the city.
Frank Malfitano of Syracuse Jazz Fest asked the audience about their contributions to the Central New York music scene, and a vast majority stood up in response. This, however, was not surprising as much as it was gratifying to see the love for these niches — film and music — of the local art scene.
"This reception is important and meaningful," Trujillo said.
The film's producer, who has played bass for bands Suicidal Tendencies and currently Metallica, worked on Jaco for six years before its release in conjunction with Record Store Day. He expressed the dedication to the film despite experiencing bumps in the road with interviews and contributors. He has high hopes with the film, which holds 7.8 rating at Internet Movie Database.
"We're all at the mercy of chance," he added. This pertains to many aspects of the film's progression, storytelling and production. The documentary is filled with Pastorius' music, solo and Weather Report efforts, as well as interviews with family and musicians he inspired: Flea, Geddy Lee, Herbie Hancock, Joni Mitchell, Bootsy Collins, Wayne Shorter and more.
Trujillo randomly met Mitchell at a party in Los Angeles after a couple years of trying to contact her for content, which is how she became a part of the final product. Pastorius was her bassist for a few studio albums and tours.
"There I was between Lemmy (Kilmister of Motorhead) and Joni. She kept calling him 'Lenny' … and they were chain smoking," Trujillo said. "I'm not a smoker, but I was in a plume of smoke. I was in heaven."
Stardom and these musician's words add that firsthand experience to emphasize the musician's actual impact and to who he was as a person, but the home video the titular bassist's brother, Gregory, provided made the revered Pastorius relatable, and the documentary plays out almost similarly to a Shakespearean tragedy.
The son of a musician, whose relationship is bittersweet with the often-absent patriarch, teaches himself to play several instruments. The desire to pursue his love of music is catalyzed and encouraged by records and a family support system. He avoided drugs and alcohol; he fell in love and had two children; and he developed the very playing style other musicians adored. From there, after being noticed by Bobby Colomby (Blood, Sweat & Tears drummer), he rose with Weather Report's fame.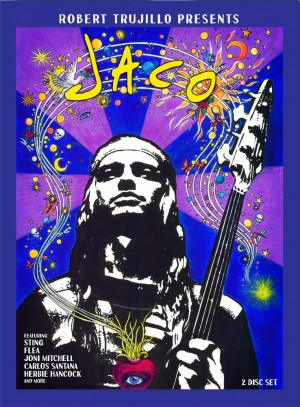 The midway point in Jaco involves Pastorius' rise to fame, the disintegration between he and his first wife — Pastorius essentially gave into becoming a musician, just as his father had been, after years of putting up resistance — meeting his second wife and displaying his artistic approach. The finale tackles is substance abuse, mental illness, erratic behavior and death.
"The hardest part was the balance," Trujillo said. "It was tragic, but there are many positive aspects (to Pastorius' life)."
His first-hand experience with the film's subject happened in 1985, in California and at a National Association of Music Merchants (NAMM) show. The then 21-year-old Trujillo took a knee 8 feet in front of the stage.
"He looked at all of us in the eyes. It was as if he was saying, 'I could kick all your asses with this instrument.'" Being two years before his imminent death, Pastorius was at a low point. Years before, he was diagnosed with bipolar disorder.
For now, the film's producer will be focusing on his musical endeavors, and those efforts will be going into making Metallica's upcoming album, followed by touring. Trujillo expressed his enjoyment with making the film happen, and that he'd entertain another venture into the film industry, but the endeavor would have be down the road.
"There's nothing like seeing this magic come to life on the screen."
comments