It's still cold and dreary, but snow is giving way to grass, finally. And the food season has changed, at least tentatively. Some folks have dusted off and tuned up their grills. Restaurant patios and decks aren't open yet, but food trucks have come out of hiding. Ice cream parlors and seasonal eateries like Gannon's Isle, Sno-Top (Manlius), Skan-Ellus (betweeen Marcellus and Skaneateles) and Rudy's Lakeside (Oswego) are open for the season.
On its Facebook page last week, Heid's of Liverpool shared the news that a Heid's mobile food unit will arrive in mid-April. The food trailer is being custom-made by a company in Tennessee, the post noted, and is scheduled to be a presence at events like Taste of Syracuse, Oswego's Harbor Fest, the Jamesville Balloon Fest and the New York State Fair. "We will be looking into doing corporate parties, graduations, etc."
Here are some other signs of hope and the promise of warm weather:
Sampling Syracuse Food Tours: Owner-operator Kate Gillen has scheduled the first walking and eating tour of downtown Syracuse for Saturday, April 25 — a full month after the "official" start of spring. Three-hour walking tours ($39) are offered Saturdays during the season, which runs through November. Tours include stops at several downtown restaurants, including Kitty Hoyne's Irish Pub, Dinosaur Bar-B-Q and Gannons Isle, but restaurants are subject to change. For more information or to organize a private group tour, visit www.syracusefoodtours.com.
Toss 'n' Fire Launch Party: Toss 'n' Fire is a mobile wood-fired pizza rig set to make its debut at venues and events around Central New York this spring. Its "grand opening" event and launch of its "Friday Pie Day" events is 3 to 6 p.m. April 17 at Sweet Indulgence Bakery, 119 E. Second St., East Syracuse. That date is also the one-year anniversary of Sweet Indulgence, so leave room for a cookie, cupcake, pasticiotti or other treat from the bakery for dessert. Toss 'n' Fire has been testing specialty pizzas all winter, including 'Cuse Salt Potato Pizza, Spicy Tomato Oil Pizza, Buffalo chicken, fig and prosciutto and others. Co-owner Nick Sanford says "Friday Pie Day" will run throughout the food truck season at locations around the area. Toss 'n' Fire is one of the participants in the weekly "Food Truck Rodeos" scheduled for 11 a.m. to 6 p.m. Wednesdays, beginning April 22, at the Cosmopolitan Building, 1153 W. Fayette St., Syracuse.
Visit the Toss 'n' Fire Facebook page and website for more information.
Sunday Afternoon Supper at the Mansion: Chef Alicyn Hart, "homeless" since Cazenovia's Circa New American Bistro and Market closed last year, will sharpen her knives and head to Syracuse April 19 to "guest chef" at the Barnes Hiscock Mansion, 930 James St. Hart says her menu will feature as many locally sourced ingredients as she can get her hands on this time of year. Seatings are at 1 and 3 p.m. and seating is limited. Tickets are $30 for members, $40 for non-members and $50 at the door.
For more information or to reserve seats, call 422-2445 or visit www.grbarnes.org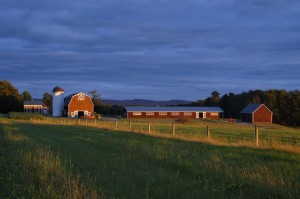 Lambing Day at Meadowood Farms: Lambing Day is an opportunity to meet the newest members of the Meadowood flock, born since early March, and get a major dose of cuteness. The spring "open house" at the farm is scheduled for noon to 4 p.m. April 18. Farm managers will be on hand to explain the lambing process, the transition of lambs to pasture and meat production on the farm. Lamb from Meadowood Farms is sold at area farmers markets and featured at area restaurants, like LoFo in Syracuse and the Tailor and the Cook, in Utica. Lambing Day is also an opportunity to sample and purchase some of Meadowood's artisan sheep and cow's milk cheeses. Lamb and beef will be available for purchase, as well.
Meadowood Farms is at 5157 Ridge Road, Cazenovia. Information: Facebook. Website.
Dining, gardening events at Elderberry Pond: The Restaurant at Elderberry Pond, near Skaneateles, opened for Friday and Saturday dinners in March and transitions to its regular-season schedule of lunch and dinner Wednesday to Saturday, starting this week. The restaurant spotlights produce and meats from the certified-organic Elderberry Pond Farm. Early-season greens include spinach and kale grown in a high tunnel, a greenhouse-like structure that protects plants from the elements and retains heat, even during the frigid winter.
For information on The Restaurant at Elderberry Pond and a series of upcoming spring gardening and kitchen demonstrations at the farm, visit www.elderberrypond.com
Margaret McCormick is a freelance writer and editor in Syracuse. She blogs about food at eatfirst.typepad.com. Follow her on Twitter or email her at [email protected]

[fbcomments url="" width="100%" count="on"]