Local Flavor is a feature produced in cooperation with advertisers in the Syracuse New Times.
With pumpkin beer on tap and chicken salad crostini offered at the bar during happy hour on the night we dined, it's a great place for a quick stop-in after work. If you are in the mood for dinner, know that the menu changed this summer when chef Chris Kuhn came on board, so expect to find something you haven't tried before.
Every night, Phoebe's offers a special hummus appetizer and a flavored butter for your bread. We enjoyed the scallion hummus served with pita chips and vegetable sticks. Our able server, Jessica Oot, told us that their hoisin and sesame hummus was one of the most popular. Once we realized she didn't say "poison" and sesame hummus, we agreed that it sounded great. The smoked paprika, thyme and honey butter was just awesome. If you want a salad, go for the house salad with mixed greens, grapes, toasted walnuts and crumbled blue cheese. The Dijon dressing was very tasty and the mustard taste was not too strong at all.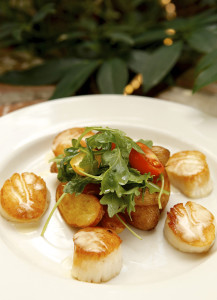 Many of the entrée items were offered in half and full size portions for those who are watching their waistlines. We added some chicken to the peppers stuffed with Arborio rice and sundried tomatoes, which were served over a charred tomato buerre blanc. It was pure comfort food. The sea scallops in a lemon pan jus served with fingerling potatoes and arugula were just the ticket and enjoyed by all. Likewise, a vegetarian option of heirloom tomato pasta with a goat cheese cream sauce and Portobello mushrooms fit the bill for our early Autumn meal. We didn't get a chance to try the special-monkfish served on a pumpkin puree, but noted that the restaurant was paying attention to the changing season and adding items accordingly. Sadly we had no room for dessert, but Jessica advised that their crème brulee was the way to go.
The most exciting new feature is called "Dates After 8." From now through November, parties of six or fewer will get 20% off their entire bill if you come in on Tuesday-Saturday nights after 8 PM. There are no other restrictions, so this could include 20% off a bottle of their nicest wine with a bunch of appetizers or a full dinner. What a perfect idea for Syracuse Stage goers who ran out of time to get dinner before the play, or after an OnCenter/SU/LeMoyne event or perhaps an evening meeting that ran late.
Manager Angie Knox let us know that we should be looking to the website beginning this week for new Fall menu items. And as we will inevitably transition into Winter, there are still openings for holiday parties with room for up to 40 people in the back dining room and 30-60 in the atrium.
Coffee Lounge: 
Monday – Friday
Opens 8:00 am
Saturday
Opens at 5:00 pm
(will open at 11:30 am
beginning Sept 27th)
Dining Room:
Monday
11:30am – 2:30pm
Tuesday -Thursday
11:30am – 9:00pm
Friday
11:30am – 9:00/10:00pm
Saturday
5:00-9:00/10:00pm
(will open at 11:30 am
beginning Sept 27th)
Sunday
CLOSED
private parties welcome
Bar:
Monday
11:30am – 2:30pm
Tuesday -Thursday
11:30am – til at least 10pm
Friday
11:30am -til at least 11pm
Saturday
5:00pm til at least 11pm
Sunday
CLOSED, private parties welcome
www.phoebessyracuse.com
900 East Genesee St., Syracuse
(315)-475-5154
Favorite: I really enjoyed my scallops eaten in one bite with the potato, arugula and lemon sauce so I could taste the sea, the land and the citrus!

[fbcomments url="" width="100%" count="on"]