In the months following the release of my book, UFO Sighting Desk Reference, I've had numerous queries about the best way to use the book for personal citizen science UFO research.
Many people think that to do scientific research requires big budgets, complex equipment or advanced degrees. It all depends on what you are researching. In many cases, research is really a case of observation, detective work, a little critical thinking and analysis. 
What do you need? If you are reading this article, you probably have a home computer or have access to one. Many home computers have a printer. If you have access to these items you are already well equipped. On the internet, you'll be able to search for information related to your research. Not everything on the web can be believed to be accurate or true, however, especially with UFO topic matter.
The focus for your research project can be anything, but it should be something that's within your resources and skills to accomplish. Let me share with you a recent research project I worked on quite unexpectedly.
The other day while I was looking something up on the web, I ran across a January 2016 news article about cattle mutilations in Kansas. So I took a minute and read the piece by journalist Amy Bickel of the Agland news service. The article focused on five counties in Kansas where cattle mutilations had occurred since the 1970s, with a more recent wave in 2015. The article indicated that numerous people in Kansas thought that perhaps the cattle mutilations were the fault of UFOs. That caught my attention.
Curious, I picked up my personal copy of the UFO Sighting Desk Reference, quickly found the chapter with Kansas sighting data.
Wait a minute — you probably think I'm trying to sell you my book. If you can't afford a copy, go to your public library information desk and ask them for help with an inter-library loan. If your local library doesn't have a copy, they can arrange to borrow a copy from another library somewhere, and it won't cost you a cent!
In the Kansas chapter of the reference book, I looked up the UFO sighting numbers for each of the five Kansas counties mentioned in the news article: Butler, Harvey, McPherson, Sedgwick and Reno. To my amazement, each of those counties was in the top 40 for sightings in Kansas. The next question I asked myself: are these counties scattered all over Kansas or are they bunched together in a cluster?
Being a New Yorker, I had no idea about the layout of the counties in Kansas. So I browsed the web and found a simple black and white map of the Kansas counties. I saved the map graphic and I printed off a hard copy of the map. 
On the paper map of Kansas counties, I wrote all the 2001-15 UFO sighting summaries for each county onto the state map. I immediately noticed that there were high sighting counts in the counties mentioned in the Agland news article.
In an effort to check for other cattle mutilation counties, next, I Googled each of these adjacent counties. The search statement was simple: "Cattle mutilations in XXX County, Kansas."
If the search yielded news stories or articles related to the county in question came up, I took a moment to read the article. Then I highlighted the county on my map as part of the county cluster. This exercise added: Cloud, Greenwood, Kingman, Ottawa, Pratt, Saline and Sumner counties. Of course, I went to the trouble to search the next layer of counties adjacent and came up with no hits.
A word of advice: A simple search for "cattle mutilation" in Kansas didn't produce all the counties. It took this single county by county search to confirm the additional cluster counties.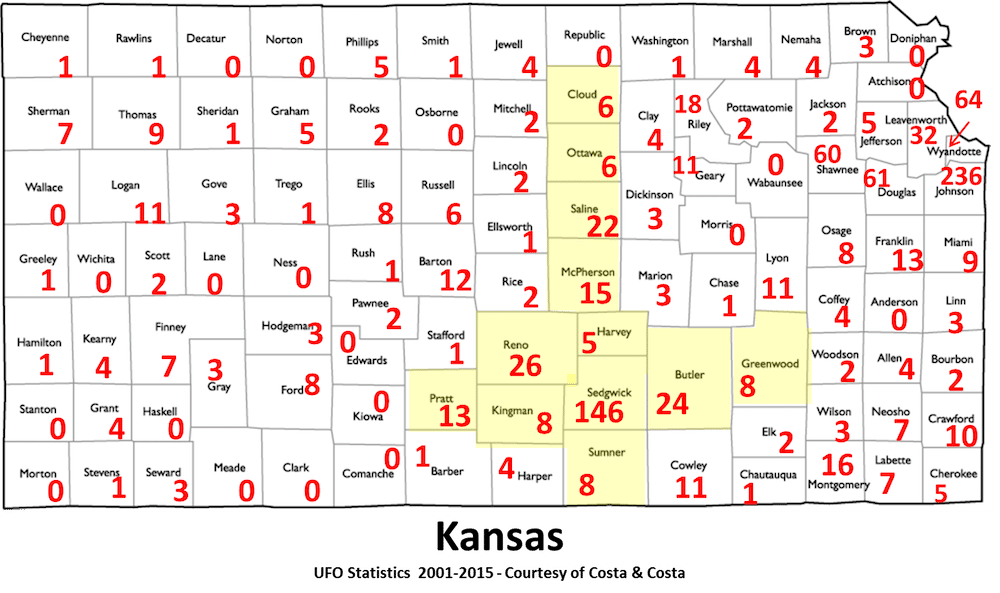 Kansas between 2001-2015 had 1,088 UFO sighting reports. Interestingly the original five counties of interest — Butler, Harvey, McPherson, Sedgwick and Reno — had 216 UFO sightings. The additional seven adjacent counties — Cloud, Greenwood, Kingman, Ottawa, Pratt, Saline and Sumner — produced an additional 69 sightings. The 12-county cluster totaled 285 UFO sightings, or 26 percent of the total UFO sighting reports for Kansas. That is a lot and very thought provoking considering the nefarious activities of cattle mutilations.
So I made a table to keep track of the respective data related to cluster counties. It should be noted on the table that all 12 counties in this cluster are in the top 40 counties for UFO sightings in Kansas.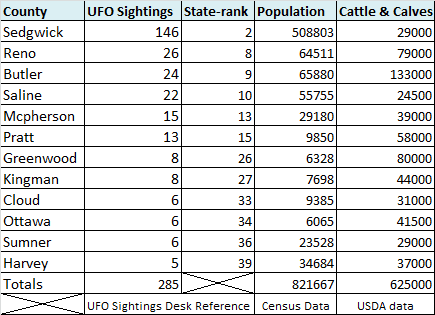 I looked up county population data from the census and later USDA farm census numbers related to cattle production for Kansas and the cluster counties. According to USDA figures, the twelve cluster counties represent about 10% of the cattle production for Kansas, which totals approximately 6 million head of cattle per year.
In terms of sighting vs. population, Kansas overall had 2,622 people per UFO sighting. The 12 cluster counties had a ratio of 2,983 persons per UFO sighting.
A few more facts about UFO sightings in the state of Kansas from 2001-2015:
Kansas has 105 counties.

88 of those 105 counties reported at least one UFO sighting.

17 of the 105 counties reported no UFO sightings to NUFORC or MUFON.

Of the 1088 UFO sighting reports, 37 had no municipality submitted and could not be attributed to any specific county but was counted for the Grand total for the state.
To the good people of Kansas: I recognize that there have been cattle mutilations in other parts of the state over the years. It is not my wish to discount any of those events. My intent with this article was to illustrate a notable cluster pattern where there was a clear pattern of UFO sightings and reports of cattle mutilations.
As a researcher I must caution, correlation doesn't necessarily mean causation.
If you are interested in joining a monthly UFO discussion group in the Onondaga County area, drop Cheryl an email at [email protected]. If you have a UFO sighting to report, you can use either one of the two national database services: nuforc.org or mufon.com. Both services respect confidentiality. Follow me on Twitter @American_Skies.
Attention, Central New York residents: Join a monthly MUFON-sponsored speakers presentation and discussion group in Syracuse. Regularly held the last Saturday of the month, it runs from April 29 through October 28, 11 a.m. – 1 p.m, May Memorial, 3800 E. Genesee St. Plenty of off-street parking is available.
[fbcomments url="" width="100%" count="on"]