It might be cold outside, but that's no excuse to stay indoors. Exercise routines maintained during the warm weather months can be kept going all winter long. While running on sidewalks and streets is discouraged in icy weather, there is plenty of equipment to make exercising outdoors possible.
Katie Nielsen, store manager of the Fleet Feet at 5800 Bridge St., East Syracuse, is full of ideas. "Green Lakes, Beaver Lake and Highland Forest are some of my favorites in the winter," she recommends. But these sites require extra equipment to make it work.
Proper clothing is essential. Layers of wicking, warmth and weather are all encouraged. This means a layer close to the skin that wicks away sweat and moisture; a layer of warmth, perhaps something with a zipper to let heat out if you get too hot; and a layer for weather, meaning a windbreaker or waterproof vest or jacket to protect your body from wind and snow.
When it comes to that first layer, Mizuno's Breath Thermo is on the cutting edge. Nielsen demonstrated the power of the fabric at the store. When a bit of fabric is held and water is squeezed on it to simulate sweat, the fabric actually warms up, preventing the moisture from sucking warmth from the body. The technology is expensive for winter runners (some shirts are $65), yet it's a huge asset.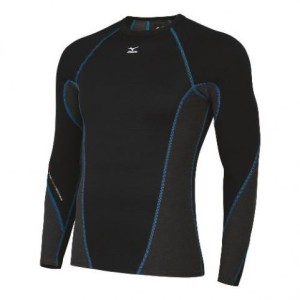 Merino wool is also a common fabric to look for in gear, known especially for its versatility. It's breathable for the summer, insulating in winter weather, and yet soft and lightweight. Wind X-treme headwear utilizes the material in a band that can be used around the neck, head, ears, face and wrists. Although it helps keep body parts warm, it doesn't soak up the sweat to become wet or smelly.
For exercisers wondering how they can run safely and without soaking their feet in the snow, there are several options. YakTrax work as ice-traction devices that get strapped onto your running shoes. The combination of flexible materials with spikes and steel coils allows feet to bend and move, but also remain stable on snowy ground. Stabilicers are also available, although they are much stiffer, making them better for walking rather than running.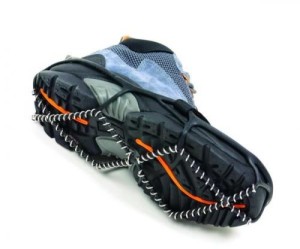 The other option is snowshoes. "They provide a totally different kind of workout," Nielsen says. "I generally feel it in my outer hips and inner quads." While YakTrax are great for running on fairly packed snow, snowshoes allow users freedom to walk or run in all depths of snow, groomed or not.
The full snowshoe package–including the shoe/ski, binding, cleats and booties to cover and protect the feet from moisture–costs about $200. Fleet Feet also offers daily rentals for $15, ideal for those wanting to just give it a try.
Neilsen recommends that runners come prepared with self-awareness: Do you heat up quickly when you run? Do you overheat often? Do you prefer your face covered or not? There are tools for every type, but realizing what you need is key. For example, it's crucial to look for gloves that protect from the wind and keep hands from getting chapped. If you heat up quickly when running, however, you probably don't want the thicker, warmer gloves. Instead, look for a brand that simply protects, not insulates.
Winter exercise can be just as fun, or more, than any other season–if you know how to tackle it.
For more information, visit Fleet Feet's East Syracuse store or its new location on 4136 Route 31, Clay, or CLICK HERE
[fbcomments url="" width="100%" count="on"]