2018 marked the 60th anniversary of the Grammy Awards, one of the biggest nights in the music industry. Every year, the academy names artists it feels are worthy to take home top prizes and titles for their work, including best new artists and best album.
But the Jan. 28 award night brought a new level of scrutiny from music critics as the winners were announced and a noticeable absence was formed: Only one woman took home a top televised prize, and influential pieces from the rap and hip-hop genres were seemingly overlooked in favor of more "tame" pop pieces.
Alessia Cara was the only woman to take home a major award and was the only female televised winner, noted Maura Johnston with Rolling Stone. This came despite the White Rose campaign that took the awards show by storm, with people wearing white roses as a sign of unity with the #MeToo movement.
"Despactio" by Luis Fonsi and Daddy Yankee, lauded as the best-selling Spanish song of all time with 7 million copies sold, was also noticeably skipped over three times (despite it also holding the No. 1 spot on the Billboard 100 chart for 16 weeks, tying for longest top-spot streak in history), pointed out Brittney Hodack with Forbes Magazine.
And though Bruno Mars broke the decade-long drought of artists of color winning Album of the Year, Maeve McDermott with USA Today claimed it still showed the academy has a problem with race and hip-hop music by not acknowledging Jay-Z's 4:44 or Kendrick Lamar's DAMN. Jay-Z's piece was called "as close to Grammy bait as any" for its vulnerable narrative, and Lamar's was deemed "consensus album of the year" for both its commercial and critical success, claimed Rodney Carmichael with NPR.
Do you agree with the criticism surrounding the 2018 Grammys?
Here are the results from last week's poll, which asked: Do you think mainstream media should be allowed to grant sources anonymity when covering sensitive issues or topics that could lose them a job?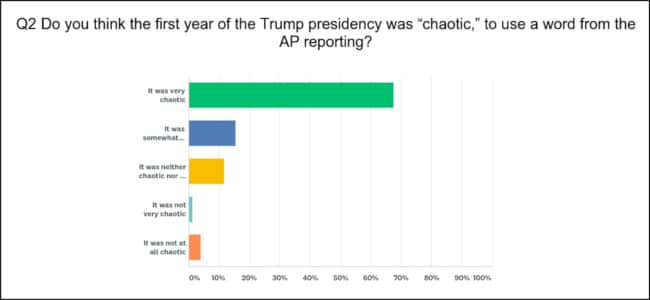 comments