Business
Every dog has its day: Local dog daycares offer relief for pup parents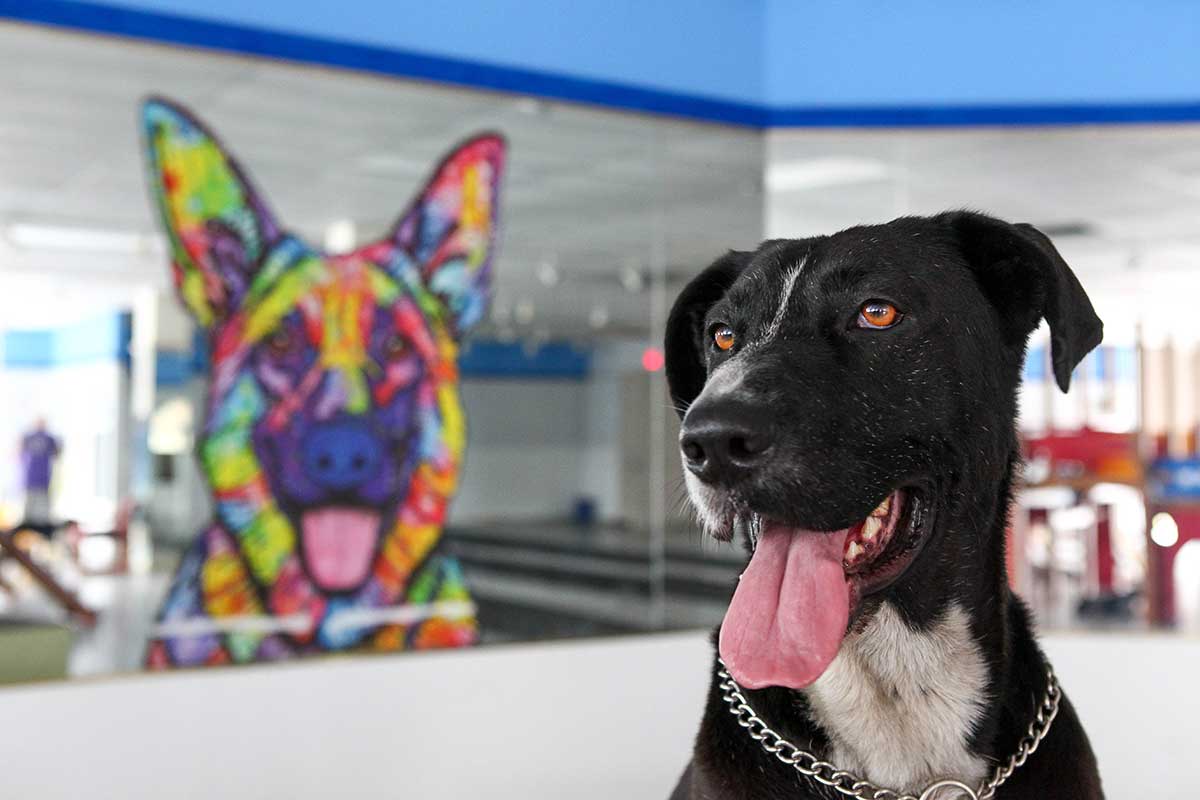 Take a look behind the scenes at two Central New York dog daycares: Critter Sitters and the newer Blue Collar Doggie Daycare.
Critter Sitters
In the village of Chittenango, at the end of a long driveway is a brown house near a forest.
Parked in the driveway is a van embossed with the faces of dogs frolicking, their tongues hanging out. Next to the garage door is a sign that reads: "Shhhhhh! Crazy Dogs: Do Not Knock! They will bark, slobber will fly, and I will be annoyed." Welcome to Critter Sitters, which offers pet boarding, daycare, pet transports, and even poop scooping.
Owner Stephanie "Critter" Perotti didn't grow up having dogs, but now she owns five — Serena ("Sissy"), Monarch, Blue, J.J., and Alta — and they follow her everywhere.
Perotti opened her business in Syracuse 19 years ago. She had worked in both the nonprofit and for-profit sectors, but she decided that she wanted to do something that she had always loved. A friend had given her a yellow Lab puppy, whom she named Jordan. It was love at first sight, and Perotti began pet sitting. She bought the property in Chittenango 10 years ago to create a space where dogs could have the time of their lives. There are seven acres of land for up to 60 dogs to roam on and five separate play yards, each with different terrain and toys. Play yard No. 2 is particularly special: It is an enclosed pond, six feet at its deepest, surrounded by decks for the dogs to jump off.
"When they come out here to this play yard, we call it 'pondemonium,'" Perotti says. "They love this yard the best."
There is another play yard that is primarily dirt and structures for the dogs to play on. Perotti did the landscape design herself, all with the dogs in mind. Another play area is called the "namaste zone," a gravel area where new dogs are first introduced to the pack and where Perotti and her staff of nine bring the dogs to calm them down.
"Each yard that we have for them to play in is different. We rotate them based on the amount of activity and what we want to do. I spread them out based on personality and how long we've been caring for them," Perotti says.
Another of these play yards includes an in-ground pool, which is used mostly for her personal dogs, small or older dogs, and dogs with injuries.
"Watch this," she says, and throws a ball into the water. Instantly, the dogs charge toward the pool. Perotti's German shepard, Monarch, launches himself into the water, retrieves the ball, and emerges sopping wet and triumphant.
To help pet owners manage their schedules, Critter Sitters has a pick up and drop off service.
"That's biggest thing that sets us apart. I started my business in Syracuse, and when I moved out here, my clients were not driving out to Chittenango." Critter Sitters has four cars that shuttle dogs to and from their location, but also to places such as the groomers, the vet, or the trainer.
Every member of the staff has been with Perotti for over five years and they do everything the business requires, from leading the pack, to cleaning up after the dogs, mowing the property, changing water or food, or scheduling.
"I was not allowed to have a dog growing up. My parents said no, that they would end up taking care of it, which is so true," Perotti says. Nevertheless, her passion for dogs was evident. "There were little things along the way. I was always buying dog books at those school book fairs. Dogs that people couldn't get near I always had a special knack with." In the end, Perotti has found herself surrounded by dogs, and she wouldn't have it any other way.
"Just seeing dogs thrive in an environment like this and all getting along is so great, which is something that people can't even do sometimes. The trust and loyalty the dogs have for me and my staff is amazing. What's cool is that we take dogs starting at 8 weeks old and I can watch them grow up and have an impact on their life."
Critter Sitters, 112 Salt Springs Road, Chittenango, is open year-round and there are dogs on the premises 24/7, although dropoff time is 7 a.m. and pickup is any time before 6 p.m. Doggie daycare is $32 per day, boarding is $38 per day, and services such as dog walking and in-home pet care cost $22 per day, although prices may vary depending on a dog's routine. Pooper scooper services vary in cost depending on the size of and number of the dogs in the household.
Photo Galley:Who let the dogs out? See dogs play at CNY doggie daycares (photos)
Blue Collar Doggie Daycare
Jim and Debbie Miller have been married for 29 years and dogs were not always in the picture for them. Jim was in the Air Force and their family moved around a lot.
"It's easier to move with a cat," Debbie says. "As we were starting a family, we had a few dogs on occasion, but it was hard because we moved so much. I'm from Syracuse and when we moved back here we looked into getting a dog that would fit our lifestyle."
Eventually, they settled on the Rhodesian Ridgeback. They have two, Khala and Shiva. Debbie says, "We did research on breeds and found a breed that fit into our family, not just going and finding one that we thought was cute. You don't want to have that realization that what that dog was bred to do doesn't fit with your family."
In December 2017, Jim and Debbie were informed that the dog daycare facility their dogs attended would be closing. Khala and Shiva were going to need a new day home. Their breed can become destructive if they get bored or don't have enough exercise. Debbie was doing research on other facilities, but the costs were high. She said to her husband, "Well, what are we going to do?"
Jim's response: "What would it take to open one ourselves?"
That's all it took. On Jan. 1 they helped close the former dog facility. The owner didn't need a lot of his supplies, and he offered to let the pair take what he wasn't using. Jim and Debbie then created Blue Collar Doggie Daycare, found their location, and opened March 1.
Blue Collar Doggie Daycare is located near 690 at the corner of Thompson Road and Erie Boulevard East, easily accessible for pet owners going to work or coming home.
"We had several reasons for choosing the building we did. One was the actual physical location. It doesn't take people out of their way. The other thing is that the building itself is located in the village of East Syracuse and they are amazing to get permits and to get the authority to be here. Because of our urgency to open, that was important," Debbie says.
The name of the business is a nod to Jim's Air Force days as well as a hint at their mission.
Debbie says, "The blue collar came up partly because we want to be for people who can afford it. We don't want to charge a lot or make it unaffordable for people because we care so much about the dogs and we want the dogs to be here."
Customers can earn a free day of daycare for themselves when they refer a friend who becomes a paying customer. Blue Collar offers an array of services including obedience training, boarding, daycare, and service or therapy dog training. Prices are $10 for nail trimming; $15 for vaccinations; $30 for grooming; and several daycare packages, which range from $16 for a half-day, to a 20 full-day package for $440. The business averages around 20 dogs in care a day.
Both Jim and Debbie agree that education is imperative for people considering adopting a pet.
"When thinking about getting a dog, you have to ask yourself: What do I want the dog for?" Jim says.
"One of the reasons we do training is to help people who adopted a dog and it may not act the way they want it to act," Debbie continues. "We can help educate them on the breed, we help educate them on how to get the dog to do what the owner wants, whether it's basic obedience, or to be a service dog, so that hopefully it helps to keep dogs from shelters. We don't want people rehoming their dog because it's not working for them. If we can help them and train the dog properly, then everybody's happy and dogs stay in homes."
They are also one of a hundred retailers for a company called I Heart Dogs, which donates a portion of the proceeds from the sale of their products to provide food and toys to shelters as well as help to pair veterans with service dogs. The retail section includes gifts for dogs as well as owners. Their selection includes jewelry, wine glasses, coffee cups, and greeting cards, pet vitamins, as well as products from a local crafter who makes pet beds and clothes. There is even a section specifically for products a service dog may require.
The dogs in care have 5,500 square feet indoors to run and play, with an additional outside play area, the door to which is left open when the weather is nice so that the dogs can come and go as they please. Inside is a sizeable doggy jungle-gym that even a fully grown Great Dane can romp on. Outside, there is a kiddie pool, a bench, a tire, and toys galore. One of the Millers' Rhodesian Ridgebacks lounges on one of many mats where the dogs can relax during the day. Additionally, the Millers have four cameras set up so their customers can log on anytime and watch the dogs play.
Jim and Debbie's office sits at the back of the play area, where they can keep an eye on the animals.
"Having them all around you and wanting to be pet and kissed, it's just the best," Debbie says. "The dogs are my favorite part."
Jim agrees. "You can have a bad day at work and come here and hang out with the dogs, and after a while it's like, 'All right, that's enough loving. I'm good!'"
Blue Collar Doggie Daycare, 3101 Erie Blvd E., is open Mondays through Fridays, 7 a.m. to 6 p.m.
comments