In the moments following the Syracuse University football team's 27-24 homecoming win over Pittsburgh Oct. 7 at the Carrier Dome, an excited and still amped-up Orange cornerback Scoop Bradshaw was asked about this week's game with the defending national champions, the Clemson Tigers. In a 28-second answer, Bradshaw said he "can't wait" four times.
"I can't wait to play them. Last year it was bad (a 54-0 loss at Clemson), but this year it's going to be our statement game," said Bradshaw, a sophomore from Tampa. "I can't wait to play those guys.
"I've been waiting for this all year. I've been telling my family back home and they're coming up for this game," he continued. "I can't wait. This game has been on my mind since last year. I can't wait to play those guys."
Bradshaw's enthusiasm was real and refreshing, and if it has spread through the rest of the team the No. 2-ranked Tigers (6-0) could have their hands full when they face the improving Orange (3-3) at 7 p.m. on Friday, Oct. 13, in an Atlantic Coast Conference game at the Dome.
It's the ninth time since the Associated Press poll was created in 1936 that the Orange will face the defending national champion and just the fifth time at the Dome. The Orange's most recent game against a defending national champ was a 38-20 loss to Florida State at the Dome in 2014.
For the Tigers, who trail only No. 1 Alabama in the AP and Coaches' polls, Friday's game is another step toward a national championship rematch with the Crimson Tide — a game Clemson rallied to win 35-31.
For the Orange, it's another opportunity to knock off a ranked opponent and, as Bradshaw said, make a statement that Syracuse football can be a force in the ACC. And while Clemson is the best team SU will face this season, playing the game on a Friday night in Syracuse gives the Orange an advantage it won't have when it visits No. 11 Miami, Florida State and Louisville in three of the next four games after Friday's game.
For what it's worth, the Friday-night game has put Clemson coach Dabo Swinney in a foul mood because he's going to miss his son's high school game.
"I'm not a fan of it. I'm really not," Swinney told The State newspaper in Columbia, S.C. "I've got a son playing Friday night at the same time I'm coaching. I really hate that I can't be there for that. I'm not a big fan of it, but just kind of the way it is. TV kind of dictates all that stuff, but I certainly am not a fan. I prefer Saturday nights."
Syracuse will need to finish 6-6 for a guaranteed bowl invitation, so to reach a bowl it will need to win at least one game out of the Clemson-Miami-Florida State-Louisville gauntlet while also beating Wake Forest and Boston College at the Dome.
"Clemson has a great team; it's definitely going to be a challenge," said sophomore wide receiver Devin C. Butler, who caught a 32-yard touchdown pass against Pittsburgh. "We're going to come out and we're going to compete, and we're going to play a good game. It's 11 guys who are going to line up in front of us; they're a hell of team but we're just going to play football."
Clemson remained undefeated Oct. 7 with a 28-14 win over Wake Forest at home. Junior quarterback Kelly Bryant, who replaced star quarterback Deshaun Watson, left that game in the third quarter with an ankle injury. Earlier this week, Swinney said Bryant was day-to-day, and he wouldn't say if either redshirt freshman Zerrick Cooper or true freshman Hunter Johnson would start if Bryant couldn't play.
"We're not going to get into all that," Swinney said. "I expect Kelly to be ready to go, but if not, we'll have a plan, but I'm not going to lay it out for Syracuse."
Before he was injured Oct. 7, Bryant completed 22 of 29 passes for 200 yards and a touchdown. For the season, he has completed 107 of 159 passes for 1,259 yards and four touchdowns with four interceptions. He also leads the Tigers in rushing with 401 net yards (513 before sacks are subtracted).
While the Tigers' offense has dropped a notch without Watson (now with the NFL's Houston Texans), the defense has been dominant. Led by senior Dorian O'Daniel (a team-high 48 tackles with 2 1/2 sacks and two interceptions returned for touchdowns), the Tigers rank among the nation's leaders in scoring defense (fifth at 11.3 points per game) and total defense (eighth at 264.3 yards per game).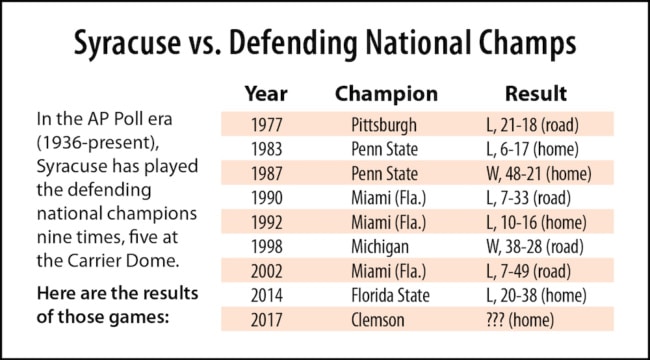 And, remarkably, no team has scored more than seven points against Clemson through the first three quarters, as the Tigers have allowed just two touchdowns over the first three quarters in their six games.
The Orange offense, which has sputtered in the first half for the past three games, will need to change that trend against one of the nation's best defenses if it's going to have a chance for an upset.
"We know we have to step our game up, (with the) national champions coming in," said senior wide receiver Erv Phillips. "But at the end of the day, it's another game with a great opponent and we have to step up our level of play. We did well (against Pittsburgh), but I think there's a lot of things we can clean up."
In its first seven possessions against Pittsburgh, the Orange scored only three points on Cole Murphy's 26-yard field goal. But starting with its last drive of the first half, the Orange scored three touchdowns and a field goal on its next four possessions to build a 27-16 lead.
Offensively, there were two positive signs. With the Panthers focused on stopping standout wide receivers Phillips and Steve Ishmael, Butler and junior tight end Ravian Pierce had their best games of the season by combining for 16 catches for 163 yards and Butler's touchdown. And the running game finally showed some life as the Orange rushed for more than 100 yards in the second half behind senior running back Dontae Strickland, who ran for a season-high 80 yards.
In snapping a four-game losing streak against the Panthers, the Orange reached the 500-yard mark in total offense for the third time this season as quarterback Eric Dungey accounted for 413 of them (365 passing and 48 rushing). Dungey, who tossed two touchdowns, also rushed for one as he tied Bill Hurley and Donovan McNabb for most rushing touchdowns by a SU quarterback (19).
"We really changed up practice and tried to do some different things," Orange coach Dino Babers said. "We tried to lead with the pass and not the run to see if we could loosen it up. It still took us a little time to get going, but once we got going we were a sight to see."
Defensively, the Orange knocked out Pittsburgh quarterback Max Browne and limited the Panthers to just 3-for-13 on third-down plays. The Orange did lose starting safety Evan Foster with an undisclosed injury in the second quarter and he was replaced by Jordan Martin, a fifth-year graduate transfer from Toledo who had five tackles and two pass breakups. The Orange has already played most of this season without starting free safety Antwan Cordy because of a leg injury.
Martin, who was not with the team for last year's lopsided loss at Clemson, said Friday's game will give the Orange an opportunity to "showcase what we can do."
"Every week we have a chance. Every game has been a dogfight for us; (at) LSU and NC State we didn't execute those last-minute plays that would give us the lead," Martin said. "It was good to finish out this game strong (against Pitt) and maybe it'll carry over to Clemson."
comments