Arts
Review | BTG's 'Dracula' reinvents the familiar in creepy classic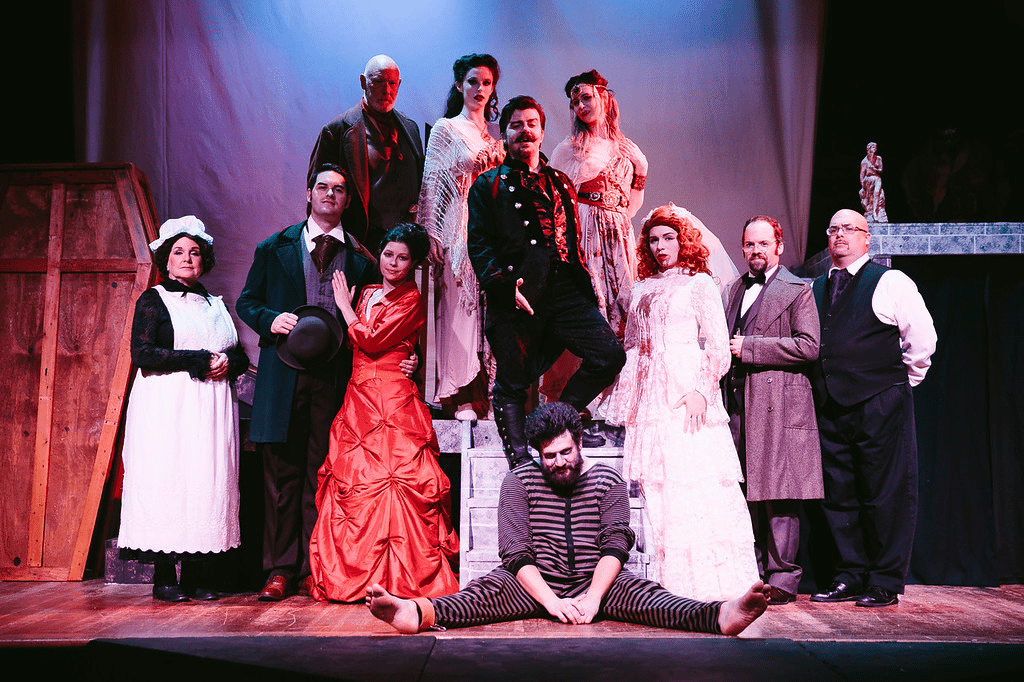 The Baldwinsville Theatre Guild's showing of "Dracula" runs until Nov. 3.
For Baldwinsville Theatre Guild's production of Dracula (running through Saturday, Nov. 3), the first task for director Korrie Taylor is to create a sense of the noxious undead, creepy horror and imminent threat — in a family-friendly venue like Baldwinsville Presbyterian Education Center.
Taylor starts with spooky scenery from set designer Josh Taylor; haunting, offstage noises like baying hounds from sound designer Sean Connolly; and plenty of dark, barely-see-your-hand lighting effects. Then she has a full-bearded Dan Rowlands, sporting a calm Masterpiece Theatre accent, tearing off his formal wear and turning into the raving, bug-eating maniac Renfield, scaring the bejesus out of the first five rows. It's Rowlands' most dazzling performance ever and still packs a punch more than two hours later.
Steven Dietz's 1996 version of Dracula cleans away all the inadvertent campiness of the Hamilton Deane-John L. Balderson 1927 stage show, which formed the basis of the 1931 Bela Lugosi movie classic. This version gets back to the tone of Bram Stoker's 1897 novel, going so far as to quote lines from it.
The second task, both for Taylor and producer Colin Keating, is to reinvent the familiar. Scarcely any member of the audience will enter without knowing many elements of the drama, from neck bites to garlic. A simultaneous set speeds the action so that we see lover Jonathan Harker (Corey Hopkins) composing letters in Transylvania on an upper stage; meanwhile, two lovelies, his intended Mina (Julia Jeremko) and her red-haired pal Lucy (Alyssa Otoski-Keim), read them in England on a lower stage. Not a moment is lost to set changes in a narrative that spans a dozen locations.
Keating, together with costumers Heather Jensen and Kate Kisselstein, pull out the stops to give the show an upmarket feel, with deadly swords, suits of armor for Count Dracula's castle, and a splendid anti-vampire cross that bursts into flame on cue.
While much of the drama is physical, such as driving stakes through hearts, the appeal of Dracula relies extensively on excellent voices, starting with veteran player Trevor Hill in the title role. He has fewer lines than other characters, so he has to make them all matter. Yes, he has an accent. But it's never exaggerated. His opposite number is the hyper-articulate Simon Moody as Prof. Van Helsing, the embodiment of enlightenment. His implied subtext is often stronger than his dialogue.
Newcomer Jaremko makes a smashing debut as Mina, the character with the widest shading of color, and Otoski-Keim as Lucy is unrecognizable from her previous roles. And Michael Richard King convinces as Dr. John Seward, the rejected lover who knows what's what.
Tickets can be purchased at CNYTix.com.
[fbcomments url="" width="100%" count="on"]