Two-time Grammy-winning artist Brother Num is known internationally for his reggae music, although he's not just limited to the dreadlocked genre. The percussionist has appeared on albums with Brian Jackson, Burning Spear, Naughty by Nature, Common and Consequence. He is also fluent in styles spanning African to rhythm'n'blues, Caribbean to blues, and hip-hop to Native American.
Straddling these musical extremes, Num sees only common ground. "As I have been taught to build my library mentally, spiritually and physically, this is what I have applied to my musical life expression," he explains. "Where it interacts and intersects is within me and I usually intertwine my musical expression together. I know that studying jazz only helps me to become a better reggae artist, to play blues better, to play r'n'b better. It also enhances me when I play classical, to give the music more feeling."
Num (pronounced "noom" for Num H.S. Amun'Tehu) will perform at the Dinosaur Bar-B-Que, 246 W. Willow St., on Saturday, Oct. 25, 10 p.m. Local players, including bassist Don Martin, will also sit in.
Originally from Oklahoma City, Okla., Num currently lives in Harlem and has very literally traveled the world ("Except for China and Australia," he says) to deliver his music and message. Num was inspired musically by his father, who was a sideman for Duke Ellington.
Yet he gravitated toward percussion thanks to his uncle, who "corrupted me with the drumsticks away from coronet," he says.
Num's young love of The Beatles and Miles Davis propelled him forward, along with the basics any musician must come to rely on. "Study, rehearsal, practice," he says. "That still continues. Learning."
He also attributes his start to a certain mentor. "Dizzy Gillespie actually talked me into moving to New York City," Num recalls. "I did meet Mr. Marley when I was 19 and from that time until now I am still a part of the Bob Marley camp. I have a lot of deep stories about a lot of legendary musicians I have worked with."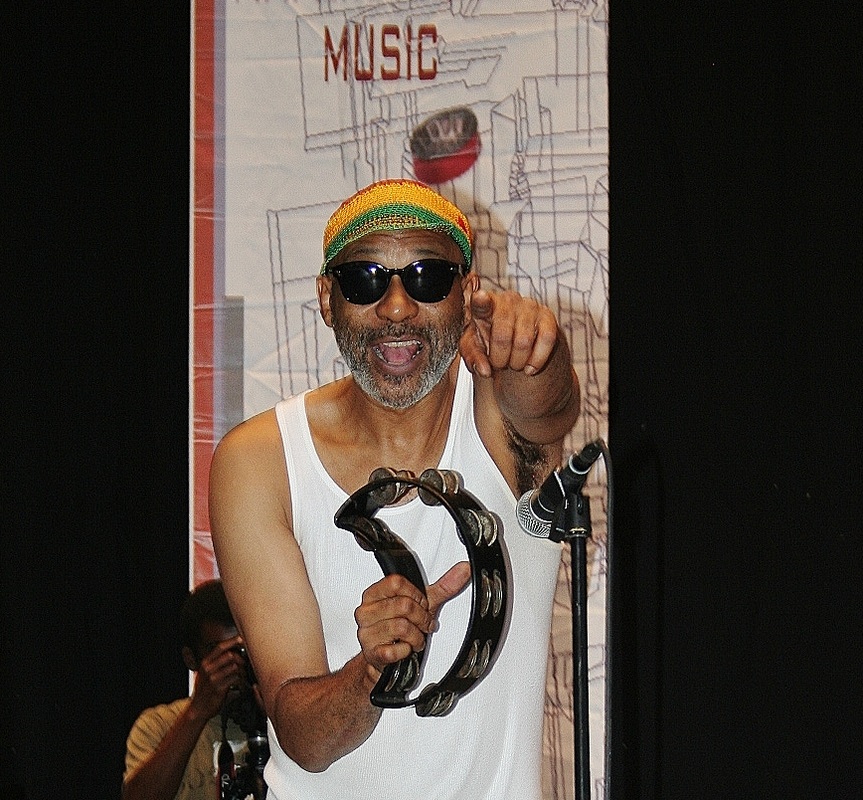 His music has been featured on cable TV's USA Network series including Graceland, Burn This and The Glades. Num also performs with NuAfrika, a project on the New York City music scene since December 1997. The group has performed at CBGB with John Brown's Body, at Irving Plaza and headlined the 2005 Moja Arts Festival.
Num describes the outfit on the drastadub.com website: "NuAfrika is defined as soulful, jazzy, hip-hop, roots rock reggae, with a funky edge. NuAfrika is a gathering of the new young lions from the jazz, hip-hop and reggae come-unity, with one love, one aim, one destiny: to preserve the art form of musical expression-life music in dedication to our ancestors who nurture us daily."
Although Num notes that his notable collaborations are too many to number, "I'd still like to work with Pharrell, Massive Attack (from England), India Arie and Tony Bennett."
Earlier this year Num was in the off-Broadway musical Alive! Over 55 and Kickin', a Vy Higginsen production at Harlem's Dempsey Theater. He's currently working with rapper-producer Consequence, plus creating a new album with Steel Pulse producer and keyboard-player Sidney Mills.
Num is looking forward to his Dino show. "They don't get many reggae acts in Syracuse," he says. "I believe people should come because we are a world-class reggae act. The music that I plan to present to the people is not only fun, but uplifting and people will want to dance. So, if they want to have a great time they should come out and experience this moment with us."
What is Rastafari?
"The Rastafari movement is an Ethiopian-Hebrew spirituality that arose in the 1930s in Jamaica. It is sometimes described as a religion, but is considered by many adherents to be a way of life. Its adherents worship Haile Selassie I, Emperor of Ethiopia (ruled 1930-1974), some as Jesus in his second advent or as God the Father. Members of the Rastafari way of life are known as Rastas or the Rastafari." (Wikipedia)
The World According To Num:
"My heritage is Afri-Cuban, Jamaican, Trinidadian, which all defines me as an African-American. One love. One people. One aim. One destiny. Rastafari."

[fbcomments url="" width="100%" count="on"]