The jury will be interviewing these amazing artists who have made it to the next round to select six to eight finalists for the Connective Corridor's $650,000 call for public art – a partnership with Syracuse University's College of Visual and Performing Arts.
Join us, May 5 from 10 a.m. to noon at the SU Warehouse, fourth floor conference room, for a public outreach session and be part of the process. Come learn more about the artists, see and evaluate their work. Talk about where you'd like to see public art along the Corridor. Help develop questions for the jury when they conduct interviews in mid-May. Talk about how these artists can engage the local arts community as part of the collaborative process. Give us your ideas and input!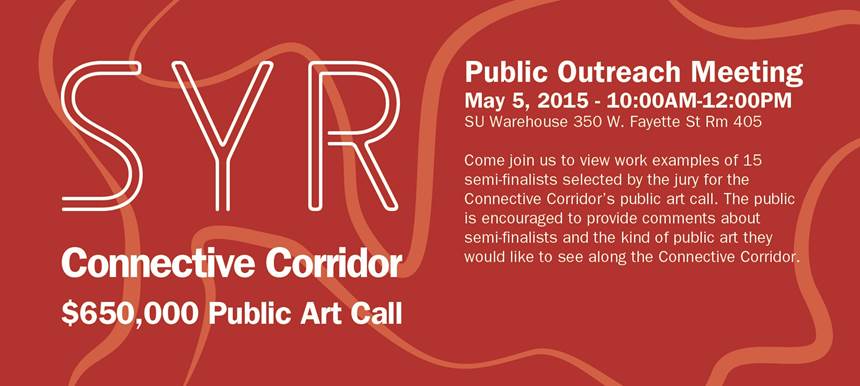 Here's a quick look at the semi-finalists, in alphabetical order. Art samples depict previous work and not proposals for this public art call. The finalists who are selected will work with the local community to collaboratively develop their final proposals and site their work. That's where some really exciting engagement will happen, and we want your involvement.
Here are the 16 semi-finalists:

[fbcomments url="" width="100%" count="on"]