Robin Williams, Guillermo Del Toro and XBox Exclusives!
After E3 and the other big Cons of the summer, video game news slows down a bit, but that's not to say that there is none. Here are a few of the biggest stories from the gaming world this week.
(Apps & Games) What can I play on your console?
To gamers, E3 is Christmas, and no one really knows if Mom and Dad reads your list until the day finally arrives. E3, Electronic Entertainment Expo, is the annual gathering of gaming industry professionals. For us plebeians, each conference is livestreamed on Youtube. The big three names in gaming: Sony, Microsoft and Nintendo each hold their biggest conferences of the year at E3.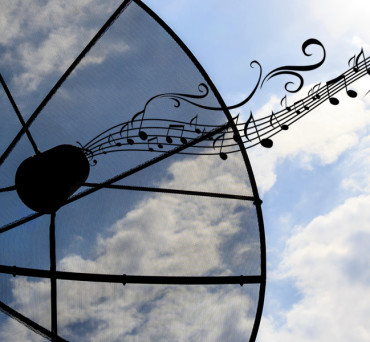 A breakdown of the best Internet music apps that are available.
With so many applications for mobile phones and computers these days, it's easy to lose track of what's out there, let alone which apps contain the best quality. Here you will find the top five internet music apps on the market and what makes them stand out from their competitors.
Tech News, Twitter, Movies and Favorites.
Hide your credit cards: here are a few things going on in the tech world. Heartbleed "It is the most serious security issue the connected world has ever seen and we will be discussing it for years to come," says Thomas Hart, Web Application Developer at Terakeet.
The smartphone is taking over the world
In olden days (1951), computers like the UNIVAC I could remember about 1,000 words at a time and sold for nearly one million dollars apiece (which is about a billion dollars these days).  Today the average smartphone goes for only 350 buckaroos.  Your typical handheld device contains more processing power than all the tech NASA used to put the first man on the moon.
Bad publicity for the Xbox wasn't played up by the media.
Last Friday (Nov. 22), the console wars began in earnest as Microsoft's Xbox One made its debut and, the company announced, sold 1 million units in less than 24 hours. So far, it sounds like the PlayStation 4's launch a week earlier.
Some people say that the tech gadget as a Christmas present is dead, thanks to the many functions that smartphones provide. But I say that's not true. I have plenty of tech devices on my list for Santa. So here, just in time for Black Friday and Cyber Monday, are my picks for top tech gifts to give this holiday season.
The problem might be even worse than initially thought.
Sony's PlayStation 4 is off to a great start, with the company reporting that it sold 1 million units in the first 24 hours. But the launch has been marred by what's being called the blue light of death.
News of Black Friday deals are already starting to leak out.
The console wars will kick off Friday, Nov. 15, with the release of Sony's PlayStation 4, a full week before Microsoft's Xbox One on Nov. 22, and bean counters will be watching closely.
Symphoria, Syracuse's local orchestra, played music from video games paired with video of the games perfectly timed to the music and a light show.
Last Saturday night, I was among the people crowding into the Landmark Theatre for a unique experience pairing classical musicians from Symphoria with music from video games: Video Games Live.