And Now Comes a Tough Stretch
The hope – no, make that the expectation – was that the Syracuse University football team would defeat the University of Maryland Saturday, Sept. 20, at the Carrier Dome to set up a primetime showdown of 3-0 teams with SU against No. 9 Notre Dame Saturday at MetLife Stadium.
Maybe that early bye week for the Syracuse University football team wasn't such a bad idea after all.
Matt Michael interviews Chiefs Manager Billy Gardner Jr.
Syracuse Chiefs Manager Billy Gardner Jr. is a true baseball lifer. He grew up around baseball because his father, former major-league infielder Billy Gardner Sr., managed in the minors and then the majors with the Minnesota Twins and Kansas City Royals. After two years as a minor-league player, Billy became a coach and has been a minor-league manager for the last 20 years.
Strava, a company that offers a free app to digitally track bike rides and runs via your smartphone or GPS system recently released a global heatmap of running and biking data using information from 77,688,848 rides and 19,660,163 runs.
David Armelino sums up his favorite golf courses of the summer and what makes them unique.
What a summer it has been out on the golf course. I have been fortunate enough to get out and play nearly every week, or close to it, with my father and others joining in along the way.
David Armelino covers the New York training camp in Cortland and what to expect from them this season.
The city of Cortland is once again filled with excitement with the arrival of the New York Jets for their annual training camp at SUNY Cortland.
David Armelino's photo gallery from the 2014 New York Jets training camp in Cortland, NY.
See David Armelino's photos from the New York Jets training camp in Cortland.
Souza, 25, is the Triple-A Chiefs' best hitter (a .362 batting average with 15 home runs and 63 RBIs through July 19) and will likely make his major-league debut in September, if not sooner.
In his first regular-season game after deciding to devote his life to God, Syracuse Chiefs outfielder Steven Souza went 0-for-5 with three strikeouts for Single-A Hagerstown.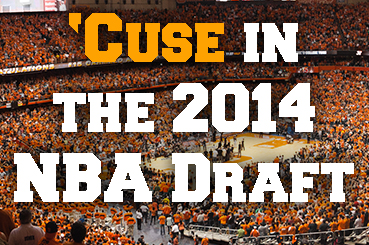 Syracuse's Senior forward CJ Fair, Sophomore forward Jerami Grant and Freshman guard Tyler Ennis make their way to the NBA in what promises to be one of the best drafts in years.
The 2014 NBA draft class promises to consist of the most talented group of players in recent years. Headlining the draft this year was Kansas forward Andrew Wiggins going number one to the Cleveland Cavaliers, Duke forward Jabari Parker, selected number two by the Milwaukee Bucks and Kansas forward/center Joel Embiid being picked up by the Philadelphia 76ers at number three.
New Times reporter Matt Michael recently caught up with Hill at NBT Bank Stadium to ask him about Auburn, his special 2014 season and – dare we say it – helping the Chiefs make the playoffs.
There are many reasons why the Syracuse Chiefs are in contention for their first playoff appearance since 1998, but none bigger than pitcher Taylor Hill.