What's next for Syracuse football in the wake of coach Shafer's firing?
Villanova. Rhode Island. Central Michigan (twice). Wake Forest (twice). That's two Football Championship Subdivision teams, a middle-of-the-pack Mid-American Conference team, and a bottom-of-the-barrel Atlantic Coast Conference team.
Syracuse's two biggest sports teams are at different ends of the spectrum
So what did we learn after a wild sports weekend at the Carrier Dome?
Amid pesky NCAA penalties and unproven players, the SU basketball team just wants to look forward
After a season that ended in March Sadness instead of March Madness, fans of the Syracuse University basketball team can at least look forward to the possibility that the Orange will return to the NCAA Tournament next March.
The local alpine ski centers are busy preparing for the coming season
Amid the threat of a warming planet, Central New York experienced consistently cold temperatures and regular snowfall during the 2014-2015 winter, a perfect scenario for Nordic and alpine skiers alike. Although seasonal weather predictions are basically guesswork, winter sports enthusiasts are nonetheless hopeful that the 2015-2016 season will provide plenty of opportunities as well.
SU's chance of a bowl berth became slim after its loss to Pitt
Last week, the Syracuse University athletic department announced that it's creating a 'Cuse Fan Council comprised of season-ticket holders who will weigh in on "topics that directly relate to the fan experience, ticket sales and other subjects relating to our intercollegiate athletic events."
The Orange showed signs of promise in a loss to LSU
In sports, not all wins and losses are created equal. In other words, there can be "bad" wins and "good" losses.Remember the Syracuse University football team's 27-26 win over Villanova in the 2014 season opener at the Carrier Dome? Sure, that was an exciting game, but the Orange needed two overtimes, a trick play in the second overtime, and a botched 25-yard field goal attempt by the Wildcats with 12 seconds left in regulation to defeat a supposedly inferior FCS (Football Championship Subdivision) team.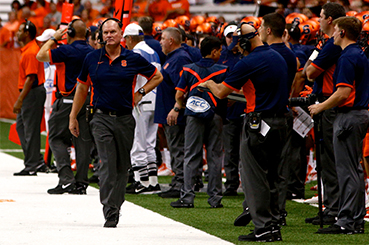 Thus far, Syracuse Orange quarterback Eric Dungey has looked impressive under center
Syracuse University football coach Scott Shafer says he looks for three things in his quarterback.
Quick sticks aplenty as the World Indoor Lacrosse Championship (WILC) visits Central New York
This week the World Indoor Lacrosse Championship (WILC) brings lacrosse with an international flavor to local venues, celebrating both contemporary lacrosse and the sport's origins. The Haudenosaunee (Iroquois) first played lacrosse many centuries ago and greatly influenced development of modern-day lacrosse. And now the Six Nations Confederacy is hosting an international lacrosse tournament for the first time.
Syracuse University's football team faces adversity once again after losing senior quarterback Terrel Hunt
Syracuse University announced that senior quarterback Terrel Hunt, who suffered a right Achilles tendon injury about seven minutes into SU's season-opening win against Rhode Island on Sept. 4, would undergo surgery and miss the rest of the 2015 season.
The Syracuse Orange have a long road ahead to be considered one of college football's elite programs