Syracuse New Times wins awards
The Syracuse New Times, one of the oldest alternative weeklies in the United States, walked away with another cache of awards from the 37th annual Syracuse Press Club Awards and the New York Press Association "Better Newspaper Contest" for our coverage throughout 2014.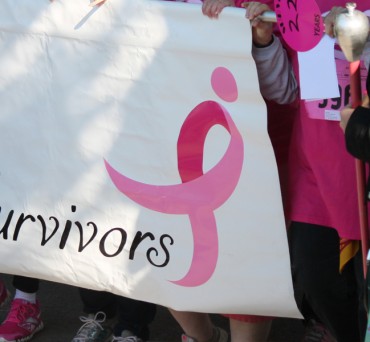 Race for the Cure on Saturday, May 16
Things have changed in the fight against breast cancer. Since 1980, the five-year relative survival rate for women diagnosed with breast cancer has gone from 74 percent to 99 percent. The way the world talks about and treats the disease has also changed, and organizations like Susan G. Komen for the Cure are at the front lines of the battle. However, that doesn't mean people like Kathy Caiello and Jon Selzer are losing steam.
Photos of a local march against police brutality
Members of the Southern Christian Leadership Conference, Syracuse Answer Coalition and THE General Body of Syracuse University marched across the city of Syracuse on Thursday April 30 protesting police brutality and to show their support for Freddie Grey, a 25-year-old African American who sustained spinal cord injuries while being taken into custody by the Baltimore Police Department.
Starting pay for the general election will be $190
The Onondaga County Board of Elections is looking for people to serve as election inspectors for Primary Day (Date TBA) and General Election Day (November 3).
Enter to WIN 4 tickets to see the Syracuse Chiefs, 4 tickets to Funny Bone Comedy Club and a $100 gift certificate to Phoebe's!
The Syracuse New Times wants to hear from you! Take our reader survey and be automatically entered to WIN a New Times Prize Pack:
An exchange with a "white" Syracuse policeman who, rightly and justifiably, pulled me over
EDITOR'S NOTE: Earlier this year Armory Square entrepreneur Thea St. Omer proposed writing an op-ed piece on her two separate incidents involving Syracuse policemen for the Syracuse New Times. St. Omer, 41, had just closed her gallery, Armory Square Loft, 136 Walton St., yet she was enthusiastic about reopening the space as a creative lounge to be renamed Tea's Tavern. Following the March 21 grand opening, however, St. Omer disappeared from public view, as friends became increasingly concerned. On April 3, Syracuse Police discovered St. Omer's body at her business, with her death labeled "suspicious," although a preliminary autopsy suggests that no foul play had occurred. Beyond her artistic pursuits, St. Omer was also a filmmaker whose documentary on the N-word received a 2009 screening at ArtRage Gallery. She seemed genuinely excited that the Syracuse New Times would publish her article, although no one knew that it would also become a posthumous farewell.
The New York state budget certainly looks upbeat for Centro
News regarding the annual New York state budget certainly looks upbeat for Centro, the public bus system that serves four Central New York counties. State legislators and Gov. Andrew Cuomo hammered out a tentative deal announced March 30, including a $30 million grant earmarked for Centro's operating expenses. Lawmakers will vote on the budget later this week, but it's not yet a done deal.
Popular swap meet ends its four year run
Organizers of the Funky Flea market recently publicized the end of the annual bazaar on their blog.
Vera House leads the local White Ribbon Campaign.
White Ribbon Campaign A wintry first day of spring didn't stop approximately 300 people who participated in the "kick-off walk" for Vera House's 21st Annual White Ribbon Campaign on March 20 in downtown Syracuse.
Mike Cauchon has stepped up as the first gay bachelor.