What's next for Syracuse football in the wake of coach Shafer's firing?
Villanova. Rhode Island. Central Michigan (twice). Wake Forest (twice). That's two Football Championship Subdivision teams, a middle-of-the-pack Mid-American Conference team, and a bottom-of-the-barrel Atlantic Coast Conference team.
Syracuse's two biggest sports teams are at different ends of the spectrum
So what did we learn after a wild sports weekend at the Carrier Dome?
Will County Executive Joanie Mahoney keep her campaign promises in her third term?
A funny thing happened on the way to Election Day. In the race for Onondaga County Executive between incumbent Joanie Mahoney and challenger Tobey Shelley, the Syracuse New Times unexpectedly became part of the story. A pretty big part of the story, actually. For starters, here's a dirty little secret that reporters will only tell you off the record — covering politicians when they are running for office is really boring.
Amid pesky NCAA penalties and unproven players, the SU basketball team just wants to look forward
After a season that ended in March Sadness instead of March Madness, fans of the Syracuse University basketball team can at least look forward to the possibility that the Orange will return to the NCAA Tournament next March.
The local alpine ski centers are busy preparing for the coming season
Amid the threat of a warming planet, Central New York experienced consistently cold temperatures and regular snowfall during the 2014-2015 winter, a perfect scenario for Nordic and alpine skiers alike. Although seasonal weather predictions are basically guesswork, winter sports enthusiasts are nonetheless hopeful that the 2015-2016 season will provide plenty of opportunities as well.
Explorer Samuel de Champlain's 1615 battle might not have happened in Madison County
Although Samuel de Champlain could hardly have imagined his likeness on a movie screen or his bio on the Internet, the keystone-shaped historic marker in the middle of Cazenovia might have proved even more enigmatic. "To Site of Champlain Battle," it promises at the junction of Route 20 and Fenner Road,"1615." As it turns out, it's a double-edged case of "you can't get there from here."
Theater impresario Richard Jay-Alexander recalls his Solvay roots and more
Chances are good that theater fans who know about epic productions such as Les Miserables and Miss Saigon also know about Richard Jay-Alexander, who ran producer Cameron Mackintosh's North American operation for 10 years. Jay-Alexander was at Le Moyne College during a whirlwind four-day September stint that included seminars and master classes with budding theater students on topics such as the business of theater.
The documentary titled "A Better Life: An Exploration of Joy and Meaning in a World Without God" will be shown at the Landmark Theatre this Sunday
In certain quarters of America, atheism is a dirty word.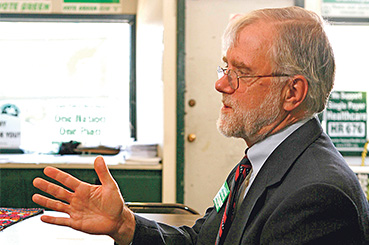 The Syracuse City Auditor race is coming to a head
Perennial Green Party candidate Howie Hawkins recalls being asked, at a Thursday Morning Roundtable mayoral debate with Joanie Mahoney and Matt Driscoll, what would be the hardest thing for him if he was elected. "I gave them an honest answer," he says now. "Putting on a jacket and tie every day."
Your weekly dose of weird and funny news