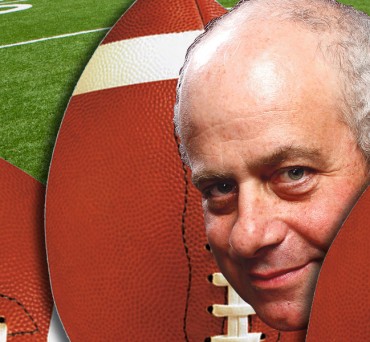 An A-to-Z guide from a conflicted fan of both teams
Need to get up to speed on the Super Bowl? Here's your A-to-Z guide from a conflicted fan of both teams:
With so many lofty legal principles in play, it was gratifying to see Syracuse finally getting its moment where the sun doesn't shine.
As European authorities were foiling a massive terror attack in Belgium, Syracuse had concerns of its own: the Rick Springfield butt retrial.
Steve Kroft shows the world his wild side.
So much for my New Year's resolution to take the high road. After a week off, I trudged back to the coal mine to find Newhouse school alum Steve Kroft plastered across America's last great newspaper, the National Enquirer — and I don't mean as a writer.
10 major predictions for Syracuse come true.
Most of you know me as an award-winning humor columnist and devastatingly handsome man-about-town, but I bet you don't know that I also have The Gift. On New Year's Eve 2013, I jotted down 10 major predictions for Syracuse for the coming year with the intention of taking them out now to see how I did. In a word: awesome. Other than a few minor details, I got every prediction right:
Kramer gets into the Christmas spirit with an original poem.
This season I've been toying with the idea of writing a column on the theme: What if men were in charge of Christmas?  I ended up writing an entirely original poem that pays tribute to the contributions of both genders during this special holiday time:
Kramer dropped by the Rosamond Gifford Zoo last week to see what God's creatures were saying about Pope Francis' claim that animals go to heaven.
Pope Francis uncaged a global debate when he hinted that animals go to heaven. Whether he actually meant that sparked a secondary debate, but how curious that no media have consulted those at the center of this theological rumpus: animals themselves.
Do you have a billion-dollar idea for Syracuse?
Some Christmas this is shaping up to be. We've got Governor Corrupto half-promising to give us a billion dollars and Mayor Stephanie Miner proposing we spend the windfall on the municipal equivalent of socks and underwear.
A woman in her 60′s and her dog go missing the day before Thanksgiving.
A woman in her 60's and her dog go missing the day before Thanksgiving. Witnesses claim to have spotted them walking on Route 173 in an all-day sleet storm. She is believed to be insufficiently dressed for the weather and possibly confused. A major law enforcement response follows: Manlius police, state police, search and rescue volunteers, bloodhounds. As details dribble out on local media websites, the woman's chances of survival seem to grow bleaker by the hour.
"Experience a day in the life of a real woman."
For years I've suspected that women lead difficult, complicated lives, and that they differ from men in more than just the obvious ways. Not being a woman, I prefer not to dwell on these matters, yet sometimes they can't be avoided. I live with one woman plus two women-in-training, ages 14 and 11, which is to say I live in a state of deep confusion. Who are these people and what do they want?
As the busy Thanksgiving travel weekend approaches, thoughts inevitably turn to gas station pizza. Who serves the best?