The 2015 SALT nominations are in
The nominations are in and the winners will be announced during the annual Syracuse New Times Syracuse Area Live Theater (SALT) Awards. The ceremony, co-hosted by Rita Worlock and Abel Searor, will be presented on Sunday, Oct. 25, 7 p.m., at Syracuse Stage, 820 E. Genesee St. The theater will hold a pre-show reception from 6 to 7 p.m. at the Sutton Pavilion, as well as a gala after-party at 9:30 p.m. Tickets are $20 in advance, $25 at the door.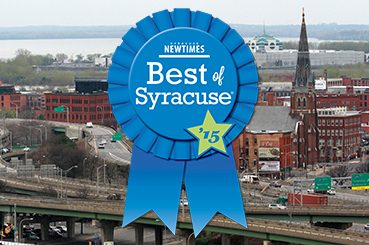 The Best of Syracuse winners for 2015!
Best of Syracuse® is a reader-generated poll trademarked by the Syracuse New Times. Each year we ask our readers to nominate in seven categories: Metro Living, Sports & Leisure, Love & Sex, Going Shopping, Food & Drink, Arts & Entertainment and Family (formerly the Besties Awards from our sister publication, Family Times).
Plan scenic fall getaways with the I Love Upstate New York blog
Andrea Parisi loves her job. Four days a week, she makes the drive from Sackets Harbor to Syracuse University, where she serves as the assistant director of marketing at the Martin J. Whitman School of Management. It's a fast-paced job in a creative environment, where no two days are the same. She also adores her leisure time. Parisi, 33, has a passion for art, design, social media, travel, nature photography and all things nautical. She combines all of her passions in her side project, the travel and leisure blog "I Love Upstate New York" (www.iloveusny.com).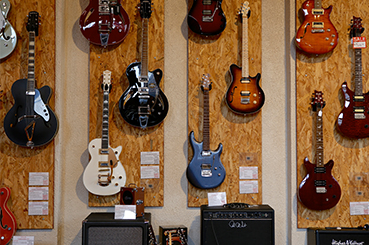 Ish Guitars offers another cool component to the downtown music scene
Jesse Wilson's passions are easily apparent walking into Ish Guitars, his Armory Square store at the corner of Walton and South Franklin streets. With guitars on the walls, the Porsche poster mounted in his office and the details of design connecting the two, it's obvious that cool axes and autos rank highest on his hobby list. It was his love of both that also led to his business.
Quick sticks aplenty as the World Indoor Lacrosse Championship (WILC) visits Central New York
This week the World Indoor Lacrosse Championship (WILC) brings lacrosse with an international flavor to local venues, celebrating both contemporary lacrosse and the sport's origins. The Haudenosaunee (Iroquois) first played lacrosse many centuries ago and greatly influenced development of modern-day lacrosse. And now the Six Nations Confederacy is hosting an international lacrosse tournament for the first time.
Sax symbol Jimmy Cavallo, Syracuse's godfather of rock'n'roll, returns to play his final Festa Italiana
Jimmy Cavallo's no social activist. He never carried a protest sign or marched for civil rights. But as a groundbreaking jump-blues musician and bandleader, he did more than any other native Syracusan to usher black culture into the American mainstream.
Music writer Jessica Novak on the Lakeview Amphitheater, a potential game-changer for local concerts and the New York State Fair
It's been a fast track for the new Lakeview Amphitheater. Since a $100 million pledge was announced to clean up the Onondaga Lake shores in January 2014 and plans for a 17,500-seat venue were shared in July 2014, it's been nonstop updates on the state of the site and anticipation of the acts. On Thursday, Sept. 3, 7:30 p.m., the theater will be put to the test when popular country star Miranda Lambert christens it with the first-ever performance.
Arts writer Carl Mellor visits Utica's MWP Institute for a dazzling show of French impressionists
A can-do Candide highlights this summer's Glimmerglass Festival in Cooperstown
The two more adventuresome productions at Cooperstown's Glimmerglass Festival this summer are the North American premiere of Antonio Vivaldi's Cato in Utica (1737) and Leonard Bernstein's legendary flop Candide (1956).
Entertainment analyst Bill DeLapp previews this weekend's radio reunion for WOLF and WNDR
It doesn't take much when it comes to interviewing radio disc jockeys: Just plop a tape recorder in front of them and let the good times roll.