Will County Executive Joanie Mahoney keep her campaign promises in her third term?
A funny thing happened on the way to Election Day. In the race for Onondaga County Executive between incumbent Joanie Mahoney and challenger Tobey Shelley, the Syracuse New Times unexpectedly became part of the story. A pretty big part of the story, actually. For starters, here's a dirty little secret that reporters will only tell you off the record — covering politicians when they are running for office is really boring.
Amid pesky NCAA penalties and unproven players, the SU basketball team just wants to look forward
After a season that ended in March Sadness instead of March Madness, fans of the Syracuse University basketball team can at least look forward to the possibility that the Orange will return to the NCAA Tournament next March.
Explorer Samuel de Champlain's 1615 battle might not have happened in Madison County
Although Samuel de Champlain could hardly have imagined his likeness on a movie screen or his bio on the Internet, the keystone-shaped historic marker in the middle of Cazenovia might have proved even more enigmatic. "To Site of Champlain Battle," it promises at the junction of Route 20 and Fenner Road,"1615." As it turns out, it's a double-edged case of "you can't get there from here."
Theater impresario Richard Jay-Alexander recalls his Solvay roots and more
Chances are good that theater fans who know about epic productions such as Les Miserables and Miss Saigon also know about Richard Jay-Alexander, who ran producer Cameron Mackintosh's North American operation for 10 years. Jay-Alexander was at Le Moyne College during a whirlwind four-day September stint that included seminars and master classes with budding theater students on topics such as the business of theater.
Director Bob Goldthwait pays tribute to Barry Crimmins in Call Me Lucky
The 2015 SALT nominations are in
The nominations are in and the winners will be announced during the annual Syracuse New Times Syracuse Area Live Theater (SALT) Awards. The ceremony, co-hosted by Rita Worlock and Abel Searor, will be presented on Sunday, Oct. 25, 7 p.m., at Syracuse Stage, 820 E. Genesee St. The theater will hold a pre-show reception from 6 to 7 p.m. at the Sutton Pavilion, as well as a gala after-party at 9:30 p.m. Tickets are $20 in advance, $25 at the door.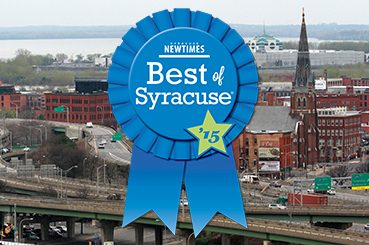 The Best of Syracuse winners for 2015!
Best of Syracuse® is a reader-generated poll trademarked by the Syracuse New Times. Each year we ask our readers to nominate in seven categories: Metro Living, Sports & Leisure, Love & Sex, Going Shopping, Food & Drink, Arts & Entertainment and Family (formerly the Besties Awards from our sister publication, Family Times).
Plan scenic fall getaways with the I Love Upstate New York blog
Andrea Parisi loves her job. Four days a week, she makes the drive from Sackets Harbor to Syracuse University, where she serves as the assistant director of marketing at the Martin J. Whitman School of Management. It's a fast-paced job in a creative environment, where no two days are the same. She also adores her leisure time. Parisi, 33, has a passion for art, design, social media, travel, nature photography and all things nautical. She combines all of her passions in her side project, the travel and leisure blog "I Love Upstate New York" (www.iloveusny.com).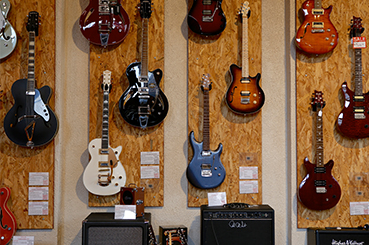 Ish Guitars offers another cool component to the downtown music scene
Jesse Wilson's passions are easily apparent walking into Ish Guitars, his Armory Square store at the corner of Walton and South Franklin streets. With guitars on the walls, the Porsche poster mounted in his office and the details of design connecting the two, it's obvious that cool axes and autos rank highest on his hobby list. It was his love of both that also led to his business.
Quick sticks aplenty as the World Indoor Lacrosse Championship (WILC) visits Central New York
This week the World Indoor Lacrosse Championship (WILC) brings lacrosse with an international flavor to local venues, celebrating both contemporary lacrosse and the sport's origins. The Haudenosaunee (Iroquois) first played lacrosse many centuries ago and greatly influenced development of modern-day lacrosse. And now the Six Nations Confederacy is hosting an international lacrosse tournament for the first time.