(Sanity Fair) Alternative Weekly Seeks Office Manager and Sex Columnist.
In all the excitement over the recent launch of the redesigned Syracuse New Times, you might have missed the news that we are losing a valued member of our team. Christine Dolgos Scheuerman, our office manager, will be heading to North Carolina, leaving us to pick up the pieces and carry on. Before she goes, Christine will have the unenviable task of finding her own replacement. To that end, she has prepared a job description, which you can find in this issue or on our website. The job description reads in part:
Don't feel bad, Syracuse Cheesecake Factory.
How would you react if you had a close friend who behaved in a revolting, hurtful way that violated the most basic tenets of civilization? Would you run from that person, or would you offer heaping portions of love and support because that's what a true friend does in a crisis?
The district has extended the application deadline until April 28.
There is still time for pupils to apply for kindergarten and first-grade classes beginning this fall at the Syracuse Latin Academy, a new concept school that the city school district is opening in September in the same building as Hughes Elementary School. The district has extended the application deadline until April 28.
(Campbell Conversations) Grant Reeher interviews Judge Joseph Fahey
One of Syracuse's most intriguing mayors is Democrat James McGuire, who in 1896 bucked a Republican establishment to be elected. Onondaga County Court Judge Joseph Fahey has written a biography of McGuire, James K. McGuire:  Boy Mayor and Irish Nationalist. In his six years in office, McGuire built 38 schools, initiated extensive street paving and was a key figure in the creation of the Everson Museum and the Carnegie Library.
"It's going to take a little while to get this thing right"
Jason Smorol left baseball, but baseball never left him.
(Rant and Rave) Earth Day and Auto Free Zones
So, you've found the Rant & Rave corner. What goes here? You go here.
New uniforms for the SU football team
Every week in this space, the Syracuse New Times will give you a piece of our mind. For what it's worth.
Curses, Foiled Again Denver police arrested four burglary suspects who tried to sell stolen goods back to their victim. Lacinda Robinson, 24, said that after discovering the crime, she went to a nearby McDonald's parking lot, where two young men offered her a PlayStation 3 video game similar to the one she lost. She declined, but when another youth approached her wearing a distinctive Washington Redskins jacket "that I believe belonged to me" she realized the men were selling her stuff. She reported the incident to two off-duty police. (Denver's KMGH-TV)
County defends health department reorganization.
A woman with years of experience as a social worker in Syracuse tells a story of a mother sleeping with her newborn baby in bed between her and the baby's dad. The baby suffocated because of the heat of the parents' bodies and the heat of the room.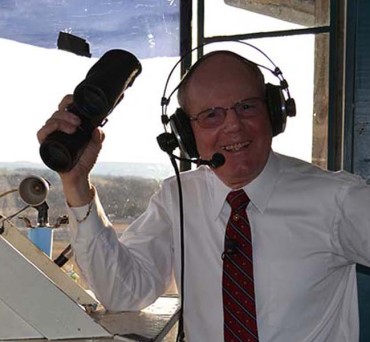 Veteran Vernon Downs announcer calls it a career
The 61st season of harness racing at Vernon Downs began with a twinge of sadness on April 11, the night that announcer Jim Moran called his final race after 50 years behind the microphone. The broadcast booth atop the grandstand felt more like a phone booth: Aside from Moran, 10 other people, a mix of area media reporters and family members, jammed the teensy space to capture this moment in the track's history.