(PHOTOS) Animals and Exhibitions
Michael Davis photo gallery from the New York State Fair (2014)
(PHOTOS) People watchers, perfume sellers, prize peddlers
Michael Davis photo gallery from the New York State Fair (2014)
Kramer on the Byways of France
Deep in the heart of French wine country, in the town of Chablis, there's a restaurant called, Le Syracuse. Sorry. I tried to go there two Mondays ago, but much like France itself in August, it was closed.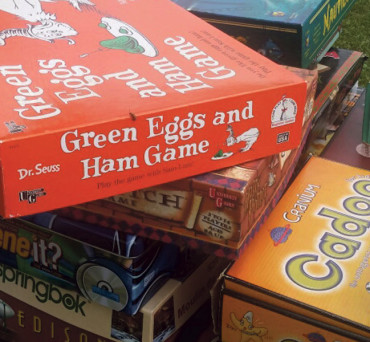 Garage sales are all about random.
Kids ran and played with dogs. Adults parked their cars halfway on the lawn. Late 1970's Stones tunes pumped out the windows. People who didn't know exactly what they were doing hung out with people they didn't know, for no good reason at all. There was rummaging, and browsing, and bargains to be had. It was one of those uniquely American events: the late summer garage sale.
Randi Bregman is the executive director of Vera House
Randi Bregman is the executive director of Vera House, in Syracuse, a human service agency focused on domestic abuse and sexual violence. She's also co-chair of the Syracuse-area Domestic and Sexual Violence Coalition and serves on the policy committee of the state Coalition Against Sexual Assault.
Your weekly re-cap of weird and funny news from around the nation.
Curses, Foiled Again Michael Briggs, 38, was convicted of murdering an 82-year-old retired nun in Albany, N.Y., based on fingerprints found at the scene after police Sgt. Darryl Mallard noticed the toilet seat had been left up in the bathroom. Since the victim lived alone, Mallard guessed the killer was a man who had used the toilet. Fingerprints from the toilet's handle matched those of Briggs, who was on parole for robbery. (Albany's Times Union)
#BestOfSyr #BestOfSyracuse
What is your favorite NYS Fair Food? Do you want to see a special someone win Best Localist or Best CNY Ambassador? Who serves the Best Coffee? Where is your favorite park?
Each week, we tally the numbers to bring you the Top 5 Most Read Stories of the Week on SyracuseNewTimes.com.
Syracuse New Times photographer Michael Davis snapped some shots of the New York State Fair during 'set up."  See his photos from 'Before the Fair' below:
Two more Midway benefits go on this weekend.
During the first week of July, Mark Sherman, owner of Letters, Signs and Specialties in Fulton, was supposed to bring back the newly restored neon-lit portion of the Midway Drive-In marquee to the theater. The July 8 tornado that wiped out the Minetto venue's 40-by-80-foot wood screen delayed those plans, however, until ozoner owner John Nagelschmidt started piecing together a comeback strategy. Thanks to fundraisers from T-shirt sales and other contributions, construction of the drive-in's new steel screen is on the horizon.