Photos from the 29th Annual Am-Jam Tattoo Expo
Syracuse New Times photographer Michael Davis captured images from the 29th Annual Am-Jam Tattoo Expo at the Best Western. The 2015 Tattoo Expo took place Jan, 23 - 25 in East Syracuse.
A sign that more people will come out to NBT Bank Stadium in 2015?
It was only fitting that the Syracuse Chiefs had legendary pitcher Tommy John as the special guest at their annual Hot Stove Baseball Dinner, because the Chiefs, like John's left arm, have come back from the dead.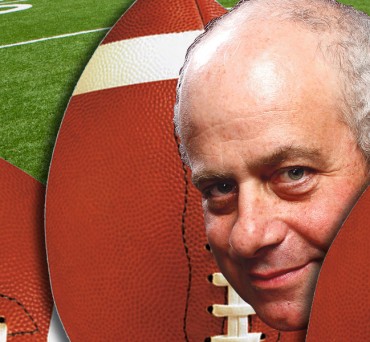 An A-to-Z guide from a conflicted fan of both teams
Need to get up to speed on the Super Bowl? Here's your A-to-Z guide from a conflicted fan of both teams:
(This may or may not be an exclusive)
A lawyer friend of mine says that whenever a law is named for someone, you can pretty much figure that it's a bad law.
Stage critic James MacKillop previews the upcoming A Little Night Music, as Syracuse Opera sends in the clowns
Some Stephen Sondheim shows, like A Funny Thing Happened on the Way to the Forum and Sweeney Todd: The Demon Barber of Fleet Street, thrive while remaining faithful to their original conceptions. A Little Night Music, however, to be produced by Syracuse Opera over the first two February weekends, lends itself generously to reinterpretation.
A weekly re-cap of weird and funny news from around the nation.
Curses, Foiled Again Fugitive Jacob Moore, 25, tried to divert police attention from his home, where officers were preparing to execute a warrant, by calling in a bomb threat to an elementary school in Hayden, Idaho. Moore forgot to turn off his caller ID, however, allowing authorities to trace the call to his phone and confirm that he was at home. They arrested him and added making a false bomb threat to the original felony charge against him. (Spokane-Couer d'Alene's KXLY-TV)
Sometimes the forecast is worse than the reality.
A couple of months ago, I wrote about a bad case of precipitation envy.
Supreme Court to hear same-sex marriage arguments
The 14th Amendment of the Constitution focuses on citizenship and citizens rights in the U.S. It forbids states from denying any person "life, liberty, or property, without due process of law" or to "deny to any person within its jurisdiction the equal protection of the laws."
On Sunday, we scan our analytics to find out which stories our readers clicked on the most at SyracuseNewTimes.com.
Reader questions and response
The Syracuse New Times has served the greater Central New York community for over 45 years. In the past year, we've re-designed the newspaper and the website to better serve our readers.