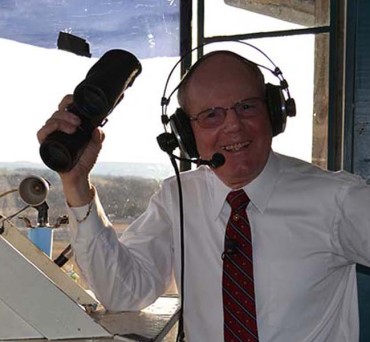 Veteran Vernon Downs announcer calls it a career
The 61st season of harness racing at Vernon Downs began with a twinge of sadness on April 11, the night that announcer Jim Moran called his final race after 50 years behind the microphone. The broadcast booth atop the grandstand felt more like a phone booth: Aside from Moran, 10 other people, a mix of area media reporters and family members, jammed the teensy space to capture this moment in the track's history.
A letter by Dr. Cynthia Morrow
Rejected by Supreme Court, Onondaga Nation pursues land claim in an international forum
Tadodaho Sid Hill isn't hopeful that filing a petition against the United States in an international forum will return land to the Onondaga people. But he hopes it will remind the world that indigenous peoples have rights and deserve to be heard.
Central New York needs to take action on climate change now.
While hundreds of Earth Day volunteers will be looking at the ground in search of trash this month, a Fayetteville retiree is hoping to get commuters to look up to the sky to see his message about the perils of a changing climate. Peter Wirth, an activist with Greening USA, has raised more than $4,500 from 90 people to buy billboard space across town to inform commuters of the need to reduce fossil fuel consumption.
Here's a thought for all you High and Mighty types with your rules and your judgment: When it comes to slapping anesthetized patients on the buttocks and insulting them before surgery, don't knock it 'til you've tried it.
Models stomped the stages during Syracuse Fashion Week April 9 – 12.
Models stomped the stages during Syracuse Fashion Week April 9 - 12. The events had work from local designers, burlesque dancers, standup comedy, food and even a naked lady on a sushi table - truly something for everyone.
See photos from Blowout 2014 – Circus Freak!
Blowout 2014, a fantasy hair show where professional salons compete to create fantasy hairstyles took place at the Landmark Theatre on Sunday April 13th. This year's event, themed "Circus Freak" benefited the Q Center, a a safe place for lesbian, gay, bisexual, transgender, and questioning youth and their allies.
(Campbell Conversations) Grant Reeher speaks with whistle-blowers Tom Drake and Susan Wood
In a continuation of last week's Campbell Conversation, Grant Reeher speaks with whistle-blowers Tom Drake, a former senior executive with the National Security Agency who was prosecuted after blowing the whistle on an NSA data collection program, and Susan Wood, a former assistant commissioner for women's health for the Food and Drug Administration who resigned in 2005 in protest when the FDA postponed approval for the morning-after birth control pill.
(Rant & Rave) Should you lose your job for a thought crime? Why can't I enjoy the greatness of Wegmans?
WAR IS PEACE, FREEDOM IS SLAVERY, 
IGNORANCE IS STRENGTH By Bob Herz
Hard News: The federal government overpaid by $86.4 million to provide penis pumps to Medicare patients.
Curses, Foiled Again Denver police arrested four burglary suspects who tried to sell stolen goods back to their victim. Lacinda Robinson, 24, said that after discovering the crime, she went to a nearby McDonald's parking lot, where two young men offered her a PlayStation 3 video game similar to the one she lost. She declined, but when another youth approached her wearing a distinctive Washington Redskins jacket "that I believe belonged to me" she realized the men were selling her stuff. She reported the incident to two off-duty police. (Denver's KMGH-TV)