The 2015 SALT nominations are in
The nominations are in and the winners will be announced during the annual Syracuse New Times Syracuse Area Live Theater (SALT) Awards. The ceremony, co-hosted by Rita Worlock and Abel Searor, will be presented on Sunday, Oct. 25, 7 p.m., at Syracuse Stage, 820 E. Genesee St. The theater will hold a pre-show reception from 6 to 7 p.m. at the Sutton Pavilion, as well as a gala after-party at 9:30 p.m. Tickets are $20 in advance, $25 at the door.
Former New York governor George Pataki is in over his head by trying to win the GOP nod
To look at George Pataki's poll numbers, mired between zero and 1 percent, it's hard to imagine the former New York governor stealing the Republican presidential nomination. Until you walk the streets of Syracuse and encounter ... Pataki Fever?
Best of Syracuse: Sports and Leisure winners
Best of Syracuse: Shopping winners.
Best of Syracuse: Love and Sex winners
Best of Syracuse: Metro Living winners.
Bed and Breakfast: Sherwood Inn, 26 W. Genesee St., Skaneateles
Best of Syracuse: Food and Drink winners
Best of Syracuse: Family winners
Best of Syracuse: Arts and Entertainment winners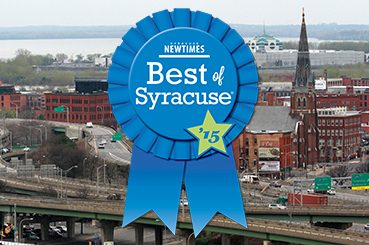 The Best of Syracuse winners for 2015!
Best of Syracuse® is a reader-generated poll trademarked by the Syracuse New Times. Each year we ask our readers to nominate in seven categories: Metro Living, Sports & Leisure, Love & Sex, Going Shopping, Food & Drink, Arts & Entertainment and Family (formerly the Besties Awards from our sister publication, Family Times).