Herm Card, who will turn 68 in July, played and coached baseball at Syracuse University before becoming a respected baseball umpire for 48 years. Card, an Endicott native, has umpired thousands of baseball games. He taught English in the Marcellus School District for 32 years. He's also a published poet, freelance writer, and photographer for the Syracuse Chiefs. Card resides in Syracuse with his wife, Dolores, and border collie, Molly.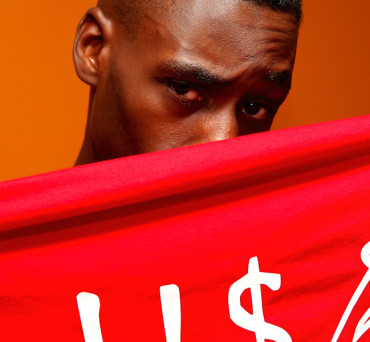 He is the creative director and designer.
Shai (pronounced "shy") Maeweather runs WI$E Clothing, a custom clothing line he describes as urban street wear. Maeweather, 20, is a 2013 graduate of Cicero-North Syracuse High School, where he participated in the BOCES program. He is the creative director and designer. His girlfriend of two years, Sara Nestor, helps with the business by modeling the clothing, designing products and marketing. The couple lives in Liverpool.
Host of The Capitol Pressroom
Susan Arbetter has been the host of The Capitol Pressroom since 2009. The daily hour-long radio program is usually broadcast from Albany; occasionally it's done at WCNY studios in Syracuse. The show streams live from 11 a.m. to noon daily at this LINK. It's also broadcast on 8 p.m. on WRVO-FM in the Syracuse area.
(Face Time) Meet Colin Aberdeen
Doubtlessly one of the most well-known musicians in the Syracuse scene, singer/songwriter/guitarist Colin Aberdeen has been and continues to be active with local groups including The Westcott Jugsuckers, The Barking Loungers and Los Blancos.
Meet the Head brewer, Middle Ages Brewing Co. Ltd.
Jess Reaves, 33, has been head brewer at Middle Ages Brewing Co. Ltd. for four years, bringing new flavors to the 20-year-old brewery based on Park Avenue. Known for local favorites like Syracuse Pale Ale, Impaled Ale, Wailing Wench, Swallow Wit and Dinosaur Bar-B-Que's house beer – Ape Hanger Ale – the brews are fixtures throughout upstate New York.
He has produced a 400-page novel, which he has sold mostly door-to-door and on the street.
Dale Harp remembers lying on a bunk, staring at the fluorescent light in the ceiling at Elmira Correctional Facility. It looked exactly the same as it had 30 years before, when it had been a facility for juvenile offenders and he had been locked up there. He realized then that writing a book would probably be his best bet to avoid sitting at card games, which inevitably led to a beef, a flare of violence and more time to serve. Thirty years later, he has produced a 400-page novel, which he has sold mostly door-to-door and on the street. He hopes his story will deter others from following his path in life.
It has really kept me going, going to baseball games.
Marty Nave, 61, has lived on Syracuse's North Side for most of his life. He is the 3rd Ward chair of the Syracuse Democratic Party, a longtime Neighborhood Watch leader and works at Rite Aid in the Nottingham Plaza. He attended his first Syracuse Chiefs game when he was 10, and has been a loyal fan ever since.
Loveland's dislike of Dolphy Day meets his love of Twitter
Le Moyne College's first Dolphy Day took place in 1971, though its origins are subject to debate.
(Face Time) Kellie Gingold, the 2014 Syracuse Woman of the Year.
The Syracuse Commission for Women has named Kellie Gingold 2014 Syracuse Woman of the Year. Gingold was selected for her volunteer work on fundraisers including the Breakfast at Tiffany's Fashion Show, benefiting Hope for Heather; Race for the Cure; Manlius Pebble Hill After Prom Party: Pimped, benefiting the American Heart Association; and Ronald McDonald House Charity Fashion Show.
"The culture of dominance, the culture of violence is pervasive across cultures."
George Kilpatrick, a longtime Central New York media personality, co-chaired Vera House's White Ribbon Campaign in 2009. In 2012, he was named the agency's men's outreach coordinator. After a 20-year-run, George Kilpatrick broadcast his final show on WSYR-AM (570) on March 30. His syndicated show, "New Inspiration for the Nation," continues on WHEN-AM (620) and in nine other markets. Stay tuned: Kilpatrick expects to announce a new role with Clear Channel, which owns WSYR.