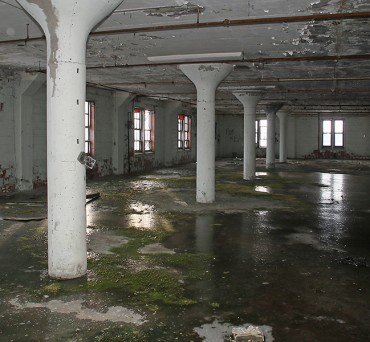 The historic C.G. Meaker Food Co. warehouse
The first time he walked into the historic C.G. Meaker Food Co. warehouse at 538 Erie Blvd. W., Luke Esposito saw the building's potential.
Astrology for Nov. 26 – Dec. 2
ARIES (March 21-April 19) What exactly do you believe in, Aries? What's your philosophy of life? Do you think that most people are basically good and that you can make a meaningful life for yourself if you just work hard and act kind? Do you believe that evil, shapeshifting, kitten-eating extraterrestrials have taken on human form and are impersonating political leaders who control our society? Are you like the character Crash Davis in the film Bull Durham, who believed in "high fiber, good scotch, the sweet spot, and long, slow, deep, soft, wet kisses that last three days"? Now would be an excellent time for you to get very clear about the fundamental principles that guide your behavior. Re-commit yourself to your root beliefs -- and jettison the beliefs that no longer work for you.
A few things to do while milling about Central New York during this holiday season.
Yesterday, Monday, November 24th, was the Central-New-York-based SyracuseFirst annual Buy Local Bash. A big kudos goes to the organization's Executive Director, Chris Fowler, and advisory committee for throwing the fifth locally-conscious event, which was held this year at Syracuse's always elegant Landmark Theatre. Yearly, the participants grow and so do the attendees.
Top 5 Stories of the Week for Nov. 17 – 23
Every Sunday we check our analytics to see which stories garnered the most attention in the past week. The stories with the most views make it to the Top 5 Stories of the Week on SyracuseNewTimes.com!
Beef With Cheddar Makes It Better at Clark's Ale House
Sometimes a writer needs a place to sit, abandon the coffee or tea and opt for a cask craft, to look at a piano and stare at it and debate whether to play it. Sometimes this place is not the most conventional or the most quiet (but has its moments), but there is a comfortable  seat available in a quiet nook. And if food is either not an option or you're full, a handful of peanuts is within an arms reach. The cracking of the legumes not only disrupts silence, but it is a stress reliever: and there is a just reward within the shell of constructive channeling. And this is the only beginning of Clark's Ale House.
Food writer Margaret McCormick offers her annual ideas for interesting, unusual things to give for the holidays
When it comes to gifts of local food, Kate Gillen, owner and operator of Sampling Syracuse Food Tours (www.syracusefoodtours.com) has several favorites.
ARIES (March 21-April 19) Someone on Reddit.com posed the question, "What have you always been curious to try?" In reply, many people said they wanted to experiment with exotic varieties of sex and drugs they had never treated themselves to before. Other favorites: eating chocolate-covered bacon; piloting a plane; shoplifting; doing a stand-up comedy routine; hang-gliding and deep-sea diving; exploring the Darknet and the Deep Web; spontaneously taking a trip to a foreign country; turning away from modern society and joining a Buddhist monastery. What would your answer be, Aries? The coming weeks will be an excellent time to explore what you have always been curious to try. The risks will be lower than usual, and the results more likely to be interesting.
An evening at The Blue Tusk
The populated backroom of The Blue Tusk was filled with friends, strangers, and family members (not my own). As the group waited for our friend to arrive for her surprise 30th birthday, it was nice to take a moment of time to reflect on the fact that, aside the bleakness this Central New York city may present at times, my staying put is primarily due to having family and friends around. And, to them, I raise my glass.
Each week, we tally the numbers to bring you the Top 5 Most Read Stories of the Week on SyracuseNewTimes.com.