Cylinder UFOs, who knew they've been quietly growing in sighting numbers.
It was about 10:20 p.m. on June 2nd 2000 when a couple of Mineola, NY residents noticed something in the northern sky that appeared to be wobbling back and forth. The two brothers scrambled for a set of binoculars that they had. After a few minutes of observation one of the young men exclaimed, "It's a UFO."
(VIDEO) SocietyGurl shops for antiques and visits Beer Belly Deli
In this week's episode, SocietyGurl (Jamie Ann Owens) visits the Salt City Winter Antique Show and stops at Beer Belly Deli.
A mid-winter's night at Dinosaur Bar-B-Que
If it were us kids, while growing up, my parents would ask if we were brought up in a barn when the door was left open.
Do you love cheese that is gooey, and warm, and creamy?
Last week we learned how to make Creamy Homemade Ricotta Cheese. This week, join Joe Borio, host of Cooking Italian with Joe, as he makes homemade and delicious fried ricotta cheese balls that are gooey, creamy, and warm.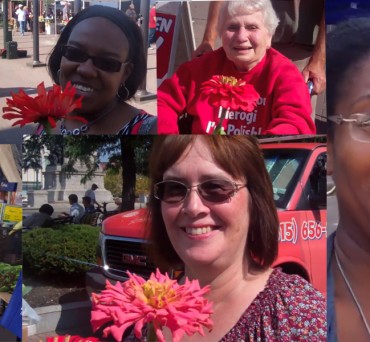 In this week's episode of #takeatour, we're spreading some cheer (and the power of flowers) with Michael John Heagerty of NOexcuses.
Who knew that two UFO photos taken 15 years apart would reveal a particular class of craft.
For years there have been reports of UFOs buzzing various skyscrapers in and around the greater New York City area. Among the most notable are the Empire State Building and the Twin Towers of the original World Trade Center.
Modern Malt wants to fill a niche that Downtown Syracuse could use.
Downtown Syracuse has witnessed many changes - especially in the last few months.
Creamy homemade ricotta cheese, right in your own kitchen.
Join Joe Borio, host of Cooking Italian with Joe, as he shows you how to make creamy homemade ricotta cheese, right in your own kitchen. This is an easy to follow and delicious authentic recipe from the Italian hillside that you can make right at home.
#takeatour – a weekly web series, hosted by Michael John Heagerty and Christi Smith of NOexcuses, explores all the uniqueness that Central New York has to offer!
In his 1919 work, The Book of the Damned, Charles Fort coined the term damned data related to data about anomalous phenomena for which science had no logical explanation but rejected as impossible or simply ignored.