Explore the Gingerbread Gallery at the Erie Canal Museum
Consider this account and photo of the Nissequogue UFO incident.
It was late August 2011, Puerto Rico and the Great Antilles had been battered by a category three hurricane; that storm's name was Hurricane Irene. Coastal areas up the eastern seaboard braced for the worst as the storm and it's 120 mph winds made its way northward, causing significant storm surge and coastal flooding. On the north shore of Long Island, the Suffolk County bayside community of Nissequogue, NY (pronounced NISS-ə-kwog) was dealing with surge flooding.
Saturday, December 20, Santa will be spending the day at the historic Barnes-Hiscock Mansion in Syracuse.
Santa Claus. Yeah, we know him. He makes an annual appearance in stores and malls around world, and it's a rare occasion that he gets to stay in one place for an extended period of time.
(SocietyGurl) Celebrating the holidays at the Turning Stone Resort & Casino
TheSocietyGurl (Jamie Ann Owens) visits the Turning Stone Casino for a taste of Christmas and Cocktails!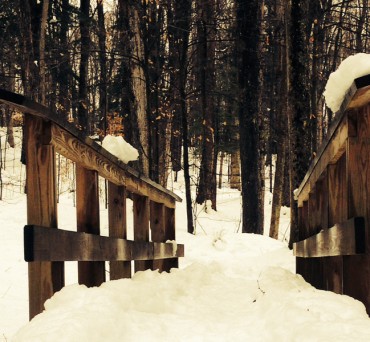 Mother Nature is clearly one of the most original creative minds.
This article was started in a mound of snow, in the middle of a weekend of snowshoeing at Beaver Lake Nature Center in Baldwinsville and Baltimore Woods in Marcellus. As Henry David Thoreau suggests: "Write while the heat is in you." There was no distraction around me. Ten minutes prior, two white-tailed deer gracefully hopped and weaved around trees. At that moment, I was in a masterpiece. Mother Nature is clearly one of the most original creative minds.
Everson Museum's Festival of Trees
Consider for a moment 19th Century UFOs in New York State.
A month doesn't go by that someone contacts me and pronounces that UFOs are hogwash and simply some sort of mass hysteria or urban legend propagated since about 1940s. These individuals usually go to great verbose lengths to assure me that UFOs sightings are a recent occurrence over the past seventy years or so.
Not in the mood to be 'That Guy.'
It's 8:30 PM, and my stomach is growling so intensely that I'm shaking. It's a frigid December day, and I am dressed inappropriately, without a coat. At least I have a scarf.
(SocietyGurl) A visit to Muddy Waters Kitchen + Bar
TheSocietyGurl (Jamie Ann Owens) gets a taste of New Orleans at Muddy Waters Kitchen + Bar located at 2 Oswego St. in Baldwinsville, New York.
Everson Museum's 'Festival of Trees' through Dec. 14
In the early 1960's, the internationally renowned architect, I.M. Pei (John Fitzgerald Kennedy Library in Boston, Grand Louvre in Paris), began designs for an art museum to be located in Syracuse, New York (of all places). A big name for a small museum -- this is what matters. The Everson Museum of Art, in my opinion, could be one of the most underutilized places by the community in Central New York.