Four stage events to put on your calendar
Talent Scouting with Carrie Lazarus Music writer Jessica Novak uncovers the good news behind the Channel 9 anchor's Extraordinary passion project
The First Lady of Syracuse Theater
Photos of Christine Lightcap and The Talent Company. (Syracuse New Times Archives)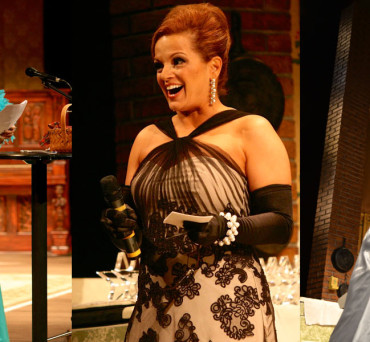 Pick your favorite dress to support the Vera House!
Vote for your favorite gown worn by Rita Worlock at the 2014 SALT Awards (Syracuse Area Live Theater) below. If we reach 100 votes or more, Rita Worlock will donate $100 to Vera House! Look at the selections below, then place your vote at the bottom of the page.
Best of Syracuse 2014 Winner Photos
On Wednesday October 8, the Syracuse New Times invited the 2014 Best of Syracuse® winners to the Hank Sauer Room at NBT Bank Stadium for a Best of Syracuse soiree!
Syracuse Area Live Theater
The 10th Annual SALT Awards (Syracuse Area Live Theater) take place on Sunday October 26, 7:30pm at Syracuse Stage. This year's ceremony will be hosted by Rita Worlock and Carlos Clemenz, with special live performances by area theater companies and guest appearances throughout the evening.
Best of Syracuse® is a reader-generated poll trademarked by the Syracuse New Times. Each year, we ask our readers to nominate in seven categories: Metro Living, Sports & Leisure, Love & Sex, Shopping, Food and Drink, Arts and Entertainment and Family (formerly the Besties Awards from our sister publication, Family Times).
Syracuse Area Live Theater Awards
The Central New York community is rich with live theater, and has a long history of being an epicenter of theatrical activity. Besides reviewing regionally produced theatrical shows, the Syracuse New Times also salutes the talents of those involved in the theater community through the SALT Awards program (Syracuse Area Live Theater), now in it's 10th season.
Congratulations to Roseanne DiPietro (@ro20 on Instagram), who received the most votes in our "Best Selfie" contest!
VOTE for Best of Syracuse 2014!