All articles by
Sarah Hope
Laverne Cox, of the series Orange is the New Black, will speak at Syracuse University
October is LGBT History Month, and Syracuse University's Lesbian, Gay, Bisexual and Transgender (LGBT) Resource Center is celebrating its conclusion in a big way. Laverne Cox, a star of the Netflix series Orange is the New Black (OITNB), will speak at the university on Wednesday, October 29, at 7:30 pm.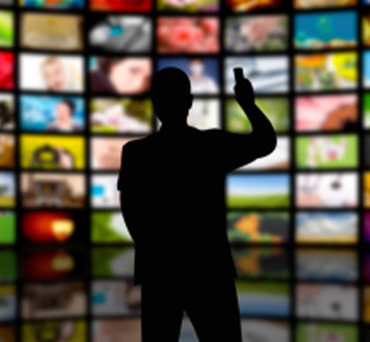 The cord-cutting revolution
This week, both HBO and CBS announced standalone streaming services. Next year, we'll all be able to access these networks' programming without a cable subscription. With this double-whammy, and Comcast's merger with Time Warner Cable on hold with a ruling not due until the new year, it appears that 2015 might be a game-changing year for television access in the United States.
"A failure with a heart of gold"
It may seem obvious to lump Cristela Alonzo in with Melissa McCarthy. Yes, they are two full-figured, talented ladies with brown hair and adorable cheeky grins. But there's more to the comparison than their looks.
"When a black man starts getting a little bit of money, things start getting a little bit weird."
black-ish, the new family comedy from ABC, tells the story of a middle class black man, Andre "Dre" Johnson (Anthony Anderson), who is concerned that his mission to give his children a better life than he had growing up has gone too far. He is quickly climbing the corporate ladder and his wife is a successful pediatric surgeon. Yet, his son tries out for the high school field hockey team, his daughter talks like a valley girl, and his young twins don't seem to see race or know that Barack Obama is the first black president.
(Television) Plus Fall 2014 Premiers!
The best family TV has something for everybody: slapstick for the kids, a cute teenage boy for the aloof older sister, a tragic love story for Mom, and some funny grown up jokes at which Dad can chuckle knowingly.
This isn't Utopia. This is Armory Square on a Saturday night.
The premise: put a bunch of strangers from the farthest reaches of the ideological spectrum on a beautifully crafted compound to "build your own Utopia."
When I was a kid, I watched the Jerry Lewis MDA Telethon every year. On the last Sunday night of summer vacation, my mom and I would curl up on the couch, my dad across the room in his La-Z-Boy, and we would watch celebrities raise money for (as I saw it) kids who walked funny. The show's animated host told stories and jokes and thanked us for caring. He cried. He cared more than all of us. It was fun and inspirational. And plus, I got to stay up late!
Which Emmy nominees have central and upstate New York connections?
On Monday night, the 66th annual Primetime Emmy Awards will celebrate the best of the best across all genres of television programming from the past year. This year's host is SNL funnyman-turned-late-night-host Seth Meyers. In addition to handing out statuettes and indulging in dozens of "I'd like to thank God and my mom" speeches, the awards will feature a musical performance by Sara Bareilles (uh, random?) and what is sure to be a moving tribute to Robin Williams by his friend and colleague, Billy Crystal.
We can continue to celebrate his life. Robin Williams (1951 – 2014)
Last week, I sat down to watch something featuring Robin Williams. In the wake of his death, I'm sure many of us have wanted to watch little else. The great comedian is known for his crazy vocal antics in Disney's Aladdin (1992), as well as the great dramatic achievements Dead Poets Society (1989) and Good Will Hunting (1997). But I think many of us - particularly those of us who grew up loving and learning from the Genie and Mrs. Doubtfire - forget that Williams' career began and ended on the small screen, not the big one.
Sarah Hope tells us what to expect from this years installment of Shark Week.
Stock up on Ramen Noodle soup. Cancel all of your plans. Skip work. Don't leave your couch. It's here: Shark Week 2014.