All articles by
Sarah Hope
CBS's new comedy "Life In Pieces" looks to run off the success of family comedies before it
I must admit, I haven't watched much new TV this summer. I've been catching up. I'm up-to-date on The Good Wife and The Americans, and I finished Parks & Recreation. I'm slowly working my way through The Sopranos. I tested the waters of Comedy Central's Another Period and Netflix's Sense8 (both awful). I said goodbye to The Daily Show with Jon Stewart and replaced it (for now) with Last Week Tonight with John Oliver. I boycotted CBS's abhorable "reality experiment" The Briefcase. I'll be queueing up the critically-acclaimed UnReal (Lifetime) before its second season.
Netflix-original documentary 'Tig' triggers laughter and warms hearts
Tig Notaro had breast cancer. She underwent a double mastectomy. Spoiler alert: she survived.
Sarah Hope previews Netflix's mini-series follow up to 2001′s "Wet Hot American Summer"
The summer is about to get wetter, hotter and American-er. Cult comedy fans are already mixing up the bug juice and practicing their arts and crafts while posted up in front of their TVs, waiting impatiently for the big day. This Friday on Netflix, the full cast of Wet Hot American Summer will return for an eight-episode prequel titled Wet Hot American Summer: First Day of Camp.
Amy Schumer has taken the world by storm with her unique and, at times, controversial brand of comedy
It would be silly of me to ask, "Hey, have you heard of Amy Schumer?" Of course you have. She's the 34-year-old comedian who sprang onto the scene in 2013 amid a spray of daisies and vagina jokes with her original Comedy Central series, Inside Amy Schumer. She's irreverent, controversial and convicted. Her first movie, Trainwreck, opened this weekend to nearly universal critical acclaim.
Sarah Hope gives an overview of the new trailers and teasers debuted at last weekends Comic-Con in San Diego
Last weekend at the San Diego Convention Center, the geeks of the world came together for the annual swarm that unites pop culture, sci-fi, video games, TV, film and nerd culture under one giant roof for four exciting days. Comic-Con International 2015 was full of cosplay (dressing up as your favorite characters) and celebrity. As usual, a number of new trailers and teasers were released for upcoming films and TV. Here are some of the most exciting.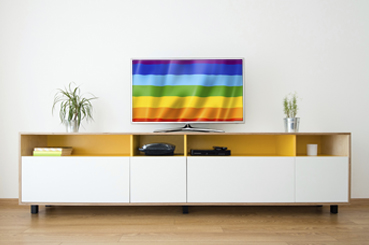 After the legalization of same-sex marriage, Sarah Hope takes a look back at the history of gay weddings on television.
With Friday's Supreme Court ruling legalizing same-sex marriage nationwide, a line was drawn in the sand.
Amazon Prime's newest addition "Catastrophe" strays from the typical pregnancy comedies of the past.
What happens when a businessman from the U.S. travels to London, hooks up with a plucky Irish lass and gets her pregnant? In the British comedy series Catastrophe, the answer is not at all what you might expect.
June 21 is on track to be an exhilarating time for television fanatics
Popular television shows such as "Orange Is The New Black" and "Transparent" aim to make the transgender community more present in mainstream media
This time last year, Time magazine put Laverne Cox on its cover and declared a "transgender tipping point."  It was a statement more prescient than its writers probably realized.
Wayward Pines premiered Thursday on Fox
I've been waiting for the new Lost.