All articles by
Matt Michael
S.U. men's basketball team wasn't going to make the NCAA Tournament anyway
Let's face it: There was a good chance this year's Syracuse University men's basketball team wasn't going to make the NCAA Tournament anyway.
A sign that more people will come out to NBT Bank Stadium in 2015?
It was only fitting that the Syracuse Chiefs had legendary pitcher Tommy John as the special guest at their annual Hot Stove Baseball Dinner, because the Chiefs, like John's left arm, have come back from the dead.
The Syracuse Orange men's basketball team has a number of tough games ahead after holding its own thus far.
Let's go back to the start of the Syracuse University men's basketball season in mid-November. What if we had told you back then that …
SU looks to gain momentum heading into ACC conference play.
After the Syracuse University men's basketball team's win over Cornell Dec. 31, coach Jim Boeheim was asked if it was important for the Orange to get off to a good start in Atlantic Coast Conference play.
The Syracuse men's basketball team (6-3) are not playing up to the standards they've set over the past six seasons.
As the Syracuse University men's basketball team was about to start the 2014-15 season, this reporter said Orange fans who were worried about the team's lack of experience should take a cue from Green Bay quarterback Aaron Rodgers, who famously told Packers fans earlier this season to just R-E-L-A-X.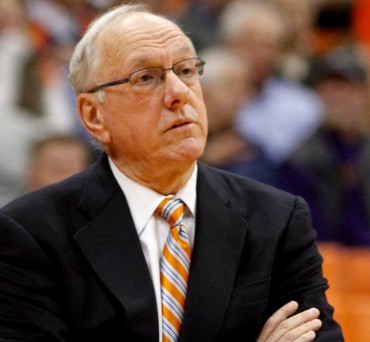 "We have a lot of inexperience at a lot of positions."
In his usual colorful way, Syracuse University assistant men's basketball coach Mike Hopkins says what the Orange offense is going through right now is like "speed dating."
"The atmosphere. The crowd. It's an event."
Here's the first thing that came to Syracuse Crunch season-ticket holder Chuck McCarty's mind when he heard that Crunch owner Howard Dolgon had arranged for his team to host the "Frozen Dome Classic" – the first hockey game at the Carrier Dome.
The thing about always having great players is that you're always going to lose great players.
As far as weekends go, this past one won't go down as one of the better ones for the Syracuse University athletics department.
Players fought their "butts" off against No. 1 Florida State
As promised by head coach Scott Shafer, the Syracuse University football players fought their "butts" off against No. 1 Florida State Saturday, Oct. 11,  and held their own in a 38-20 loss at the Carrier Dome.