All articles by
Jessica Novak
Amy Helm's roots stem from a musical background that lives on to this day
Music is very obviously in Amy Helm's blood. Her father, Levon Helm, was the drummer and often lead vocalist of The Band, a rock group well-known for songs including "The Weight" and "Up on Cripple Creek."
The Falconers are new to the game and are just getting started
Bess Greenberg has been a basketball player in Europe, a gallery curator in New York City and has toured with bands as a photojournalist. Now she's on the other side of the camera lens — as a musicmaker.
Guitarist Stephane Wrembel keeps the stylings of Django Reinhardt alive and well
French guitarist Stephane Wrembel's sound is instantly familiar, especially its clear resemblance to Django Reinhardt (1910-1953), one of the greatest guitar players of all time. Although Reinhardt is recognized for his contributions to European or gypsy jazz, Wrembel doesn't care for those titles.
The Action! takes its talents to vinyl with its newest release
It takes a lot to keep a band together, especially for 17 years. The Action! has not only kept the same core of five in place the entire time, they're still seeking new ways to play, record and release music.
The Folkus Project continues to add diverse acts to their lineup
As the Folkus Project's autumn season progresses, the acts heat up and diversify impressively. The lineup has already been stellar, with concerts by Dar Williams on Sept. 25, Mouth of Babes on Oct. 9 and the Oct. 25 gig with Jay Ungar and Molly Mason.
Studio Bums plans to bring music journalism out of the mainstream
According to the Studio Bums website, the phrase is "a slang term for someone who thrives on creating and being involved in all areas of the music industry, including culture, art, technology and the politics thereof."
Songwriting legend Mark Hudson continues living the dream by performing a one-man show
The influence of John Lennon and the messages he shared, including "all you need is love" and "give peace a chance," still ring in ears around the globe. On Friday, Oct. 9, the world will remember the late John Lennon on what would have been his 75th birthday. The Beatle's life will also be celebrated during an 8 p.m. performance by Mark Hudson at the Mohegan Manor Ballroom, 58 Oswego St., Baldwinsville.
Bob Holz's newest album features a who's who list of guest Jazz musicians
An impressive list of contributors highlights Bob Holz's latest release, A Vision Forward, featuring legends such as jazz fusion guitarist Larry Coryell, electric guitarist Mike Stern and trumpeter Randy Brecker. Even more impressive is that this innovative disc was created right here in Central New York.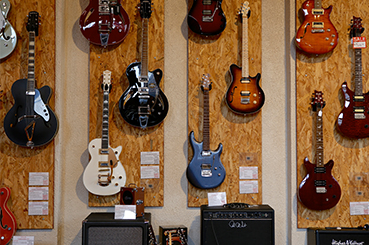 Ish Guitars offers another cool component to the downtown music scene
Jesse Wilson's passions are easily apparent walking into Ish Guitars, his Armory Square store at the corner of Walton and South Franklin streets. With guitars on the walls, the Porsche poster mounted in his office and the details of design connecting the two, it's obvious that cool axes and autos rank highest on his hobby list. It was his love of both that also led to his business.
Despite featuring no vocals in their music, Tauk is making its mark on the industry
It's not easy being an instrumental rock fusion band. But Tauk has made it work.