All articles by
Jeff Kramer
"Syracuse. Do Your Thing"? Since when did Syracuse become Santa Cruz?
Before I critique the new Visit Syracuse (formerly Syracuse Convention and Visitors Bureau) slogan, let me acknowledge how difficult it must be to come up with a catchphrase that captures everything our city offers. Left to my own devices, I'd probably uncork something idiotic like "Gateway to Turning Stone" or "Syracuse. So Much More than Syphilis."
Kramer takes a walking tour of S.U.
Someday, when Andrew Pregler is president of the United States, he'll look back on February 2015 when he was a volunteer tour guide at Syracuse University, and he'll think: Now that was a tough job.
The words of an expert on Valentine's Day
Saturday is Valentine's Day, and you know the deal, guys: no roses, no hoses. Of course it's not exactly that simple. Women want more than just flowers and chocolate from their sweetheart on Valentine's Day. According to Brian Williams, they also require romance and, in more severe cases, actual feelings.
Chained to post season or just chained?
This all began innocently. In response to Syracuse University's "self-ban" of the men's basketball team from post-season play, I set out to pen a scholarly essay on the history of self-punishment in Western society. Except guess what popped up when I Googled "self-punishment"? Sex, sex and more sex!
I needed to be in Arizona with my two tribes.
Before you judge me — and you will judge me based on what's to follow — I ask only that you understand that no one is more regretful about my recent conduct than I am.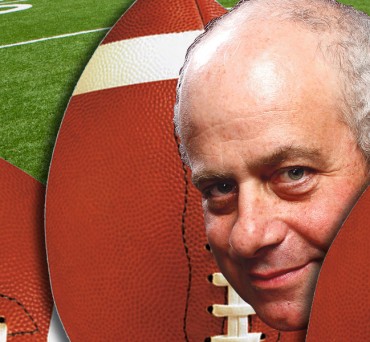 An A-to-Z guide from a conflicted fan of both teams
Need to get up to speed on the Super Bowl? Here's your A-to-Z guide from a conflicted fan of both teams:
With so many lofty legal principles in play, it was gratifying to see Syracuse finally getting its moment where the sun doesn't shine.
As European authorities were foiling a massive terror attack in Belgium, Syracuse had concerns of its own: the Rick Springfield butt retrial.
Steve Kroft shows the world his wild side.
So much for my New Year's resolution to take the high road. After a week off, I trudged back to the coal mine to find Newhouse school alum Steve Kroft plastered across America's last great newspaper, the National Enquirer — and I don't mean as a writer.
10 major predictions for Syracuse come true.
Most of you know me as an award-winning humor columnist and devastatingly handsome man-about-town, but I bet you don't know that I also have The Gift. On New Year's Eve 2013, I jotted down 10 major predictions for Syracuse for the coming year with the intention of taking them out now to see how I did. In a word: awesome. Other than a few minor details, I got every prediction right:
Kramer gets into the Christmas spirit with an original poem.
This season I've been toying with the idea of writing a column on the theme: What if men were in charge of Christmas?  I ended up writing an entirely original poem that pays tribute to the contributions of both genders during this special holiday time: