All articles by
James MacKillop
(Review) The 25th Annual Putnam County Spelling Bee
The core of the drama is built into The 25th Annual Putnam County Spelling Bee: Many will compete, but only one will win. Yet the show avoids the brute, soul-draining competition of Jeffrey Blitz's 2002 movie documentary Spellbound. Instead, its beguiling sweet pathos originates in Rachel Sheinkin's one-act comedy, which lyricist William Finn expanded into this award-winning musical, which opens the Redhouse Arts Center season.
(Review) The Laramie Project
Moisés Kaufman's The Laramie Project is a folk epic, running three hours (with two intermissions), with 25 performers in about 65 speaking roles. After the widely publicized October 1998 murder of gay student Mathew Shepard, 5-foot-2 and barely 100 pounds, Kaufman went to interview about 200 people in the Cortland-sized college town in southeastern Wyoming. He trimmed the testimony down to what we hear, allowing contrasting views to be addressed.
(REVIEW) The Will Rogers Follies: A Life in Review
As a folksy but astute humorist, Will Rogers lies between Mark Twain and Garrison Keillor, but was far bigger in his heyday than either. Yes, Rogers in his lifetime was bigger than Twain. When he died in a plane crash in 1935, an event ominously foreshadowed often in The Will Rogers Follies, an otherwise sunny tribute show at Auburn's Merry-Go-Round Playhouse, the entire country came to a mournful halt.
(REVIEW) Ring of Fire: The Music of Johnny Cash at CRT
Two parallel, life-size steel rails atop wooden ties sprawl across scenic designer Jason Bolen's atmospheric set and are thrust out into the Cortland Repertory Theatre audience for Ring of Fire: The Music of Johnny Cash. We often hear the far-off call of old-fashioned steam locomotives, since this is a show about traveling and loneliness. But it is also about speed: Ring of Fire gets right into the music and squeezes 32 songs in less than two hours with an intermission.
(REVIEW) Appleseed Productions' The Adventures of Tom Sawyer
It's a book every American knows, but most people misquote the title. It should be The Adventures of Tom Sawyer, and Appleseed Productions artistic director C.J. Young has seized upon the word "adventures" and run with it. The production breaks with years of tradition, includes intervals of music and dance, and delivers plenty of, well, adventure.
Despite the plural in the title of Anne Nelson's two-character, 80-minute play The Guys, we see only one man on stage: Nick Flanagan (played by Nathan Faudree) of the New York City Fire Department. A few days after the Sept. 11, 2001, catastrophe he meets with an experienced journalist, Joan (JoAnne Rougeux), to craft a eulogy for eight of his comrades, out of the 350 who had been obliterated in the World Trade Center collapse.
James MacKillop previews the hefty stage calendar, with plenty of new productions to go with some classic chestnuts
There will be more area premieres than in any recent season, as well as four world premieres of completely original dramas. Expect a flush of Tony and Pulitzer winners, including Other Desert Cities and Clybourne Park, previously unseen musicals like The Book of Mormon, Young Frankenstein, A Man of No Importance and The Color Purple and two new plays on the life of Mary Todd Lincoln. All these plus The Vibrator Play.
"If you want to make God laugh, tell Him your plans."
It might have been Woody Allen, or maybe it was Albert Einstein, who said, "If you want to make God laugh, tell Him your plans." When playwright Sean Grennan uses the line for his 2011 comedy Making God Laugh, he's signaling that what people project in the first act is just not going to work out during more than two hours of stage time.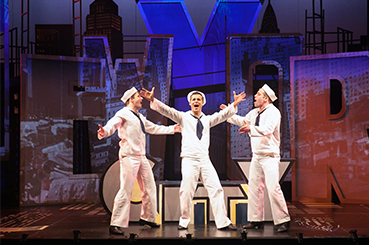 James MacKillop reviews the Merry-Go-Round Playhouse production of "On the Town."
Jerome Robbins and Leonard Bernstein were brash 20-somethings when they shook up the musical theater world with their highly innovative On the Town during one of the darkest years in World War II. Seventy years later in this dynamite production at Auburn's Merry-Go-Round Playhouse (through Aug. 27), it still challenges complacency.
There are two things you need to know about playwright Katie Forgette's 2009 play Sherlock Holmes and the Case of the Jersey Lily.
Most people have never heard of playwright Katie Forgette or her 2009 play Sherlock Holmes and the Case of the Jersey Lily, playing through Saturday, Aug. 9, at Cortland Repertory Theatre. There are two things you need to know, however.