All articles by
James MacKillop
Cortland Repertory Theatre's production of "1776″
The musical blockbuster Les Misérables and the venerable Sherman Edwards-Peter Stone patriotic musical 1776 are not often spoken of the same voice. The current Cortland Repertory Theatre production of 1776 invites us to do just that.
Kitchen Theatre Company's production of "Thin Walls" gives one actress her dream roles
During Kitchen Theatre Company's production of Thin Walls, one tenant describes the play's location as "the only place in the world where everybody can fit in."
The Central New York Playhouse presents "Cat on a Hot Tin Roof"
While A Streetcar Named Desire might conventionally be pegged as Tennessee Williams' top play, the playwright himself always ranked Cat on a Hot Tin Roof higher, and with good reason.
Always a Bridesmaid kicks off Cortland Repertory Theater's summer season
Cortland Repertory Theatre opens its summer season with Always a Bridesmaid, which is an, um, unpretentious comedy. That's another way of saying it is unashamed, which is not the same thing as shameless.
Redhouse Arts Center brings back a classic as it puts on Rodger's and Hammerstein's Carousel
With 47 performers on stage, 12 musicians in the pit and a three-hour running time, the Redhouse Arts Center's production of Carousel is bustin' out all over.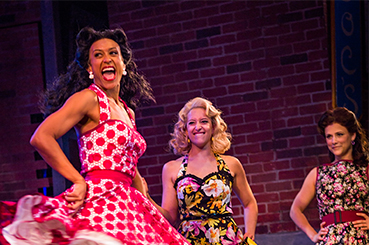 James MacKilop covers the Merry-Go-Round Playhouse production of "West Side Story."
It's been 18 years since Auburn's Merry-Go-Round Playhouse staged West Side Story, and the show was overdue for a revival. That last one was handled by director-choreographer Brett Smock, who has since become producing artistic director of the whole shebang. So if Smock was going to turn over this choice assignment, the opening production of the season, to someone else, it had to be somebody who had his utter confidence.
Baldwinsville Theatre Guild's production of Always a Bridesmaid
Stage comedies populated entirely by Southern women began a generation ago with Jack Heifner's Vanities. Before it was over, two of those girls turned on a third one and made her life miserable. Well, nothing so ugly as that happens in the gagfest Always a Bridesmaid, now at the Baldwinsville Theatre Guild.
Syracuse Stage's upcoming season has all the shows your snobby brother in Rochester has never heard of
Don't just look at these three items of comfort food-- Peter Pan, To Kill a Mockingbird and The Santaland Diaries --and wheeze, "What? Again?" The other four productions announced for Syracuse Stage's 2015-2016 season are not only area premieres, but your snobby brother-in-law in Rochester has never heard of them.
Romeo & Juliet at CNY Playhouse
As a director Dan Rowlands made his reputation by taking well-worn properties, like Arsenic and Old Lace, and treating them as if they had just been discovered. So it is with Romeo and Juliet, now at the Central New York Playhouse in Shoppingtown.
Swimming in the Shallows at Kitchen Theater Company
Adam Bock was still an unknown playwright in February 2003, when Ithaca's Kitchen Theatre Company took a risk by slating his Swimming in the Shallows two years before its award-winning debut in New York City. Since then his work has been produced everywhere, he's won an Obie and further awards, and his name is commonly cited with such wits as Sarah Rule (The Clean House), Annie Baker (Circle Mirror Transformation) and David Henry Hwang (Chinglish).