All articles by
James MacKillop
A new comedy at Central New York Playhouse
Subtitled "A silly little Christmas story," Visiting Bammy Lewis is an unpretentious, two-hour portrayal of massive family dysfunction, now playing at Shoppingtown's Central New York Playhouse.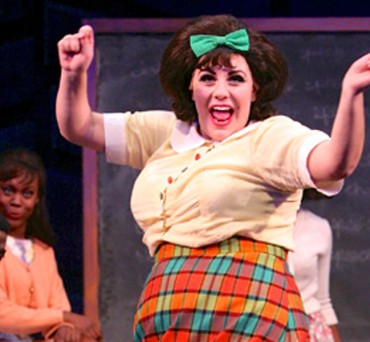 Hairspray's musical mix of rock innocence and racial harmony at Syracuse Stage
Filmmaker and satirist John Waters, the Baltimore bad boy, might be housebroken now, but he is never to be taken for granted. From two film versions of Waters' Hairspray, non-singing (1988) and singing (2007), as well as several previous local productions, most audiences are onto Hairspray's thesis of racial integration, as well as many of its delirious comic devices.
Sunset Baby at Kitchen Theatre Company
The 1950s had higher employment, and the 1970s had brighter colors and more hair, but the 1960s is the decade that keeps calling to us.
The Color Purple at Redhouse Arts Center
Among the many things Redhouse Arts Center audiences will like about the 2005 hit musical version of The Color Purple, composed by Brenda Russell, Allee Willis and Stephen Bray, is that it hews more closely to Alice Walker's 1982 Pulitzer Prize-winning novel than did director Steven Spielberg's much-admired but controversial 1985 movie. This starts with the epistolary structure, in which the much put-upon Celie (Joan Anderson) is always explaining what's happening to her sister Nettie (Briana Maia) in Africa. Their reunion is the climax of the second act.
Stepping Out boasts nine roles for women and one for a man
It's something we're not supposed to say out loud but, even worse, should not be put in print: Most university drama departments are oversupplied with female talent.
(Review) Salt City Center for the Performing Arts presents: Doubt
John Patrick Shanley's Tony Award- and Pulitzer Prize-winning Doubt is one of those rare plays where the mystery is not supposed to be solved. That's why people who see different productions compare notes and think they have seen different dramas entirely.
Stage critic James MacKillop recalls the legacy of the late Christine Lightcap, the pioneering impresario of local theater
In the early 1980s Christine Lightcap was singing the role of Nancy in a Landmark Theatre Wing production of Lionel Bart's Oliver. Getting into her big number, "As Long As He Needs Me," Lightcap leaned against the proscenium, putting her hand behind her. At that moment a brick came loose from the column in the 1928 former movie palace.
(Review) Covey Theatre Company's Lincoln's Blood
There has been pent-up audience anticipation for Garrett Heater's new play Lincoln's Blood that fledgling playwrights die for. His previous works, including Lizzie Borden Took an Axe (2010), The Romanovs (2011) and Playing God (2012), have all been box office hits for Covey Theatre Company.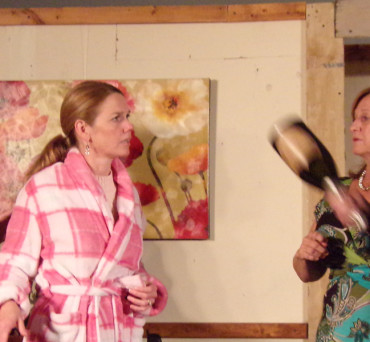 Onondaga Hillplayers' dinner theater production of Suitehearts
In recent years producer Jack Skillman's venerable Onondaga Hillplayers troupe has specialized in a theatrical oxymoron: the family-friendly sex comedy. This is when the situation sounds naughty, even French, but what you see never flouts community standards. That's because the new production, Suitehearts, an area premiere, is from William Van Zant and Jane Milmore, the king and queen of New Jersey dinner theater. When a virginal bride is seen walking around in her slip on her wedding night, she's still wearing a pink sweater underneath.
Drafters concerns a semipro football team called the Syracuse Stallions.
Ryan Hope Travis, head of the Paul Robeson Performing Arts Company, has been transforming the community-based outfit since he took over last year. The Syracuse-specific original stage work Drafters allows us to see the new energy and new faces he is bringing to the fare. For his fast-moving 90-minute script, gender roles and sexual harassment dominate the raucous locker-room talk of a dozen players. Not all the cast is African-American, and the words "race" and "color" are never mentioned. "Wegmans" and "Nottingham High School," however, are heard.