All articles by
James MacKillop
Stepping Out boasts nine roles for women and one for a man
It's something we're not supposed to say out loud but, even worse, should not be put in print: Most university drama departments are oversupplied with female talent.
(Review) Salt City Center for the Performing Arts presents: Doubt
John Patrick Shanley's Tony Award- and Pulitzer Prize-winning Doubt is one of those rare plays where the mystery is not supposed to be solved. That's why people who see different productions compare notes and think they have seen different dramas entirely.
Stage critic James MacKillop recalls the legacy of the late Christine Lightcap, the pioneering impresario of local theater
In the early 1980s Christine Lightcap was singing the role of Nancy in a Landmark Theatre Wing production of Lionel Bart's Oliver. Getting into her big number, "As Long As He Needs Me," Lightcap leaned against the proscenium, putting her hand behind her. At that moment a brick came loose from the column in the 1928 former movie palace.
(Review) Covey Theatre Company's Lincoln's Blood
There has been pent-up audience anticipation for Garrett Heater's new play Lincoln's Blood that fledgling playwrights die for. His previous works, including Lizzie Borden Took an Axe (2010), The Romanovs (2011) and Playing God (2012), have all been box office hits for Covey Theatre Company.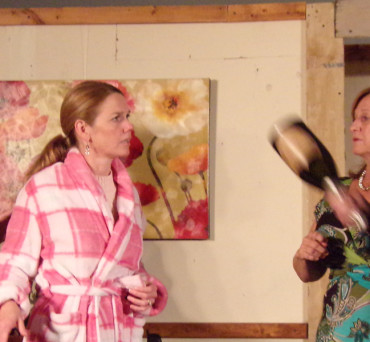 Onondaga Hillplayers' dinner theater production of Suitehearts
In recent years producer Jack Skillman's venerable Onondaga Hillplayers troupe has specialized in a theatrical oxymoron: the family-friendly sex comedy. This is when the situation sounds naughty, even French, but what you see never flouts community standards. That's because the new production, Suitehearts, an area premiere, is from William Van Zant and Jane Milmore, the king and queen of New Jersey dinner theater. When a virginal bride is seen walking around in her slip on her wedding night, she's still wearing a pink sweater underneath.
Drafters concerns a semipro football team called the Syracuse Stallions.
Ryan Hope Travis, head of the Paul Robeson Performing Arts Company, has been transforming the community-based outfit since he took over last year. The Syracuse-specific original stage work Drafters allows us to see the new energy and new faces he is bringing to the fare. For his fast-moving 90-minute script, gender roles and sexual harassment dominate the raucous locker-room talk of a dozen players. Not all the cast is African-American, and the words "race" and "color" are never mentioned. "Wegmans" and "Nottingham High School," however, are heard.
The Penguin Tango at the Redhouse Arts Center
In his curtain speech, playwright-director Stephen Svoboda acknowledges that the impulse for the Redhouse Arts Center's production of The Penguin Tango comes from one of America's most frequently banned books. Peter Parnell and Justin Richardson's 2005 children's book And Tango Makes Three won praise from the likes of Maurice Sendak but brought down the wrath of censors. Reportedly based on an episode observed in life, two male penguins, Roy and Silo, were sitting on a small rock apparently trying to hatch it like an egg. Seeing this, a zookeeper gave the males an egg produced elsewhere, and they hatched it, producing a chick named Tango, whom they raised. Whoa! Call out the moral militia!
October 30, 31 and Nov. 1, 2 at Baldwinsville Theatre Guild
Mel Brooks' musical version of his 1974 movie Young Frankenstein is a spoof of a spoof of a film adaptation of a classic novel. Fans of his film (Brooks thinks it's his best) will be delighted that every quotable gag ("Big knockers!") is lovingly retained in Baldwinsville Theatre Guild's splashy production.
The pun in the title of August Wilson's The Piano Lesson is a signal that of all the plays in his "Pittsburgh Decalogue," it has the most to teach.
The child in the Hill District household, Maretha (Marcea Bond), is indeed learning how to master the keyboard. The greater lesson is what is to be learned from the heavily engraved piano, a bitter legacy from slave times. Strong-willed Berniece (Erika LaVonn), a niece in Doaker Charles' home, still cherishes all that the piano represents.
Surprises and sentiment dominate the 10th annual SALT Awards, and stage critic James MacKillop covered it all from the balcony
Streamlining kept the 10th annual Syracuse New Times Syracuse Area Live Theater (SALT) Awards under two hours, but still packed in more gags, skits and episodes than ever. The event was held Sunday, Oct. 26, at Syracuse Stage, on the set of the current production of August Wilson's The Piano Lesson.