All articles by
Christopher Malone
Saturday, December 20, Santa will be spending the day at the historic Barnes-Hiscock Mansion in Syracuse.
Santa Claus. Yeah, we know him. He makes an annual appearance in stores and malls around world, and it's a rare occasion that he gets to stay in one place for an extended period of time.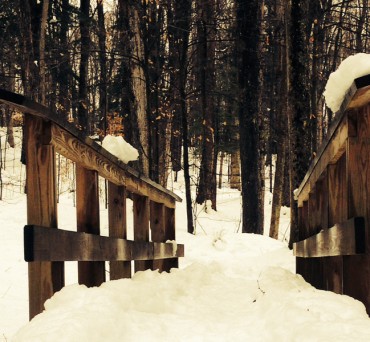 Mother Nature is clearly one of the most original creative minds.
This article was started in a mound of snow, in the middle of a weekend of snowshoeing at Beaver Lake Nature Center in Baldwinsville and Baltimore Woods in Marcellus. As Henry David Thoreau suggests: "Write while the heat is in you." There was no distraction around me. Ten minutes prior, two white-tailed deer gracefully hopped and weaved around trees. At that moment, I was in a masterpiece. Mother Nature is clearly one of the most original creative minds.
Not in the mood to be 'That Guy.'
It's 8:30 PM, and my stomach is growling so intensely that I'm shaking. It's a frigid December day, and I am dressed inappropriately, without a coat. At least I have a scarf.
Everson Museum's 'Festival of Trees' through Dec. 14
In the early 1960's, the internationally renowned architect, I.M. Pei (John Fitzgerald Kennedy Library in Boston, Grand Louvre in Paris), began designs for an art museum to be located in Syracuse, New York (of all places). A big name for a small museum -- this is what matters. The Everson Museum of Art, in my opinion, could be one of the most underutilized places by the community in Central New York.
Clint Eastwood double feature at the Palace
On Friday, December 5: Eastwood. Gets. Dirty.
Put down your electronic devices and play a game
Competition happens. Nothing brings out the best, raw cutthroat competition as a board or card game. A lot of these games are based on strategy and luck-of-the-draw; choosing a card or rolling dice gives you something or nothing to work with. It's up to personal cunning, team dependency and quick thinking to win.
A few things to do while milling about Central New York during this holiday season.
Yesterday, Monday, November 24th, was the Central-New-York-based SyracuseFirst annual Buy Local Bash. A big kudos goes to the organization's Executive Director, Chris Fowler, and advisory committee for throwing the fifth locally-conscious event, which was held this year at Syracuse's always elegant Landmark Theatre. Yearly, the participants grow and so do the attendees.
Beef With Cheddar Makes It Better at Clark's Ale House
Sometimes a writer needs a place to sit, abandon the coffee or tea and opt for a cask craft, to look at a piano and stare at it and debate whether to play it. Sometimes this place is not the most conventional or the most quiet (but has its moments), but there is a comfortable  seat available in a quiet nook. And if food is either not an option or you're full, a handful of peanuts is within an arms reach. The cracking of the legumes not only disrupts silence, but it is a stress reliever: and there is a just reward within the shell of constructive channeling. And this is the only beginning of Clark's Ale House.
An evening at The Blue Tusk
The populated backroom of The Blue Tusk was filled with friends, strangers, and family members (not my own). As the group waited for our friend to arrive for her surprise 30th birthday, it was nice to take a moment of time to reflect on the fact that, aside the bleakness this Central New York city may present at times, my staying put is primarily due to having family and friends around. And, to them, I raise my glass.