All articles by
Christopher Malone
Five Sentences for Five Situations
 ~ Five Sentences for Five Situations ~
It's currently back to "me time"
Aside from the clouds raining frogs, the strangest thing that happened this week was receiving a letter from the Syracuse Diocese, asking me for money. Actually, they were asking Mr. and Mrs. Christopher Malone. Looks like I'm off the market.
Three: the number of times that my arm was stuck with a needle in two days. Why? Because getting blood drawn once isn't good enough.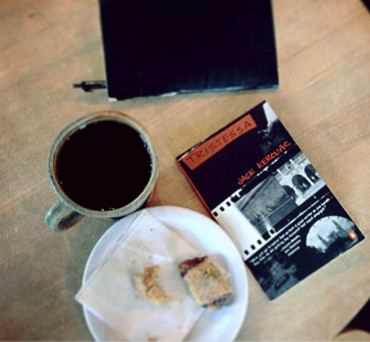 Ah, Syracuse, don't you just know it?
This weekend was typical to the point where life felt cryptic. And that's about it.
Five years ago and around this time (October), I somehow ended up in Italy. Home base was Toscolano-Maderno, but my cousin and I ventured. After conversing with my distant cousin earlier that year, he convinced me to buy a ticket to secure a visit. Although simply purchasing the ticket wouldn't technically set anything in stone, personal determination was prominent enough to secure that. The trip itself was intentionally Northern Italy and family heavy (for obvious reasons) prior to ending the last three days in Rome - tourism was inevitable.
Everything happens for a reason
On Friday, some regular Joe was passing by while en route to the exit. Skaneateles' LakeHouse Pub was crowded, filled with what could presumably be the standard end-of-the-week crowd. Some members of a wedding party trickled in. There was no music, but dissonant noise of vocal bar patrons harmonized: talking through drinks and drinks talking through them, talk of love and the love of talk, and the boisterously silent that stirred the place more than the cute brunette, who was cheering for her baseball team amidst the conversation.
We're all ugly when we wake up.
In regard to writing about brain farts, in regard to an upcoming Halloween, in regard to Syracuse Fashion Week's Syracuse Snarl event, and in regard to a New York Times writer's (Steven Kurutz) opinion that writing content for personal style blog  is "as simple as getting dressed in the morning" (Kurutz) ... let's talk about getting dressed in the morning.
You're allowed to be redundant and pathetic when you're 18.
One of the mantras for my life was picked up years ago, in college, and the quote was heard in the movie Serendipity. The film wasn't seen until it came to VHS, or video tape, because DVDs had yet to break out into popularity. It's probably was the most-watched "date movie" utilized in those years. My roommate would often ask if that movie was played, and eventually the emotion behind his words evolved from joking tone to a really-are-you-friggin'-serious statement with a playful and unsympathetic head shake.
He handed me a domino splattered and brushed with red paint.
The Cafe at 407 / Ophelia's Place is probably one of the places in Central New York  that I don't venture to as much as I should. The non-profit helps create awareness and strength, restores confidence, and helps rekindle that flame that burns in all of us, our families, our friends, and within our communities. And ourselves; lets not forget that. It's not in a selfish sense, but self confidence is a good thing, and sometimes reminders are needed to rekindle that fire. Living with passion helps with personal growth that has the potential to spread.
The Ice Cream Kids Club's 'Ice Cream Run'
We all love ice cream, some of us more than others, and this includes the lactose intolerant folk living on the edge - they know ice cream is worth it. How can you not take advantage of an ice cream outing during the summer and fall months when weather is appropriate and homemade ice cream flavors shift appropriately? But you don't have to be a kid to fully enjoy the ice cream experience; there are the adults who cannot resist sprinkles or eating their frozen treat and embracing their inner child, forgetting where their mouth is. And speaking of inner child, this proved to be a meditative trip down memory lane.