All articles by
Carl Mellor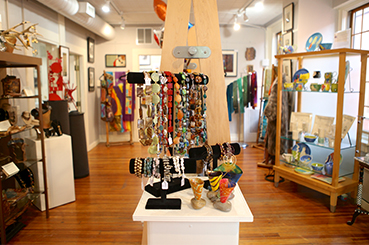 Local art venues display potential gifts for the holidays
This holiday season local arts and crafts venues will showcase works ranging from paintings to pastels, from ceramics to silk. The venues are varied as well; one is celebrating its 61st birthday while another is just 2 weeks old.
The Everson Museum prepares for its fall and winter exposés with existing art
When she became director of the Everson Museum of Art, Elizabeth Dunbar said she wanted to integrate the museum's collection into many future shows and to explore new ways of exposing and celebrating the museum's holdings. Three Graces, the Everson's primary exhibit for fall and early winter, and Gods and Monsters: Three Centuries of Portraiture both illustrate that Dunbar was dead serious in her discussion of future plans.
A new show at ArtRage Gallery focuses on significant world issues
ArtRage Gallery's current show features work by an artist deeply concerned with human rights, war and peace, and other issues.
A Conscious Allusion displays a full selection of Nicora Gangi's recent works
Edgewood Gallery offers an impressive show in a small space. A Conscious Allusion displays a full selection of Nicora Gangi's recent works; a slew of small sculptures co-created by R. Jason Howard and Doug Williams; and 12 necklaces made by Gail Sustare.
Quick sticks aplenty as the World Indoor Lacrosse Championship (WILC) visits Central New York
This week the World Indoor Lacrosse Championship (WILC) brings lacrosse with an international flavor to local venues, celebrating both contemporary lacrosse and the sport's origins. The Haudenosaunee (Iroquois) first played lacrosse many centuries ago and greatly influenced development of modern-day lacrosse. And now the Six Nations Confederacy is hosting an international lacrosse tournament for the first time.
The fall season of 2015 includes an extensive schedule of art galleries
It's clearly difficult to categorize the 2015 autumn art season. Two shows embrace baseball themes, and one touches on the Three Graces of ancient Greek and Roman mythology. Other exhibitions discuss subjects ranging from UFOs to the impact of outside cultural influences on artists.
Arts writer Carl Mellor visits Utica's MWP Institute for a dazzling show of French impressionists
Artwork by Susan Roth covers numerous mediums at Everson Museum
Handmade: The Art of Susan Roth, on display at the Everson Museum of Art, showcases works by an artist who has been on the move for four decades. Roth has created pieces large and small, experimented with materials, straddled the line between painting and sculpture, and played with color, form and, most of all, surface.
Photographer Ben Cleeton's gallery, titled Green Eyes: El Viejo, displays the struggle of a convicted criminal to continue supporting his family
Photographer Ben Cleeton's Green Eyes: El Viejo, on display at the Community Folk Art Center, deals with a time of crisis for a Syracuse family. Cleeton documents a six-month period when Luis Charlesman, also called Green Eyes, was out on bail and awaiting sentencing for felony possession of heroin. The exhibit moves beyond involvement with the courts to discussion of a family context, to Charlesman's ties with his wife and two stepdaughters.
The new ArtRage gallery displays compelling photos representative of the differing styles of South Sudan
The new display at ArtRage Gallery views a nation that gained its independence just four years ago. Impressions: South Sudan blends interpretive and documentary-style photos by Michelle Gabel and Bruce Strong, commentary by Liberia-based independent journalist Maureen Sieh, and information about South Sudanese who moved to Syracuse years ago but still return to their homeland to enhance health care and education.