All articles by
Bill DeLapp
Entertainment analyst Bill DeLapp previews the Syracuse International Film Festival's weekend with locally connected moviemakers
Earlier this month the Syracuse International Film Festival placed an accent on "international." Award-winning Iranian filmmaker, photographer, video artist and poet Abbas Kiarostami visited Syracuse University's College of Visual and Performing Arts (VPA), as he conducted workshops with students and presented screenings of his features at several venues. During his two-week stay Kiarostami even squeezed in some time to read his poetry at the SU Warehouse's Point of Contact Gallery.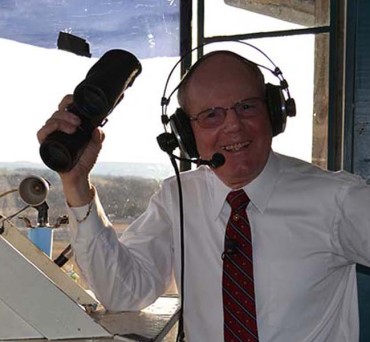 Veteran Vernon Downs announcer calls it a career
The 61st season of harness racing at Vernon Downs began with a twinge of sadness on April 11, the night that announcer Jim Moran called his final race after 50 years behind the microphone. The broadcast booth atop the grandstand felt more like a phone booth: Aside from Moran, 10 other people, a mix of area media reporters and family members, jammed the teensy space to capture this moment in the track's history.
Cinefest 34 continues its resurrection of reel treats
The weather outside was frightful even for mid-March when Cinefest 34, the annual confab of rarely seen flicks presented by the Syracuse Cinephile Society, returned to Liverpool's Holiday Inn from March 13 to 16. For the dealers who traveled here to set up shop, the snowy conditions during move-in day, Wednesday, March 12, led to unexpected delays for several purveyors of rare stills, books and 16mm prints.
A meek pharmacist experiments with his mortar and pestle in Better Living Through Chemistry.
Sam Rockwell is one of the more underrated actors around, capable of commanding the screen in offbeat lead roles like the Chuck Barris part in Confessions of a Dangerous Mind (2002), as well as stealing scenes galore in sizable supporting turns like last summer's dramedy sleeper The Way, Way Back. He's in nearly every minute of Better Living Through Chemistry (Samuel Goldwyn; 92 minutes; R; widescreen; 2014), a modest indie comedy with more promise than it ultimately delivers, yet Rockwell is so watchable that Better is better for it.
Lost treasures from 20th Century Fox will be highlighted during Cinefest 34′s celluloid celebration
It's always a challenge for modern-day film programmers to unearth hidden gems from Hollywood's early years, and it doesn't help when real-life disasters from nearly 80 years ago literally wiped out part of that history. That's what happened in 1937 when a vault fire at 20th Century Fox destroyed the nitrate negatives of far too many pre-1935 studio features.
Power, seduction and bad movies are the ingredients for SU Drama's Speed-the-Plow
A new DVD celebrates the creepy charms of the horror hosts behind Monster Movie Matinee
Think of TV hosts and hostesses of old-school horror movies and, for most people, the usual suspects turn up. There's Svengoolie, the Chicago-based franchise which since 1979 has featured a top-hatted Rich Koz donning Groucho Marx greasepaint and wielding a rubber chicken (the weekly broadcasts are now airing Saturday nights on Me-TV via WSYR-Channel 9.2). And there is Elvira, the buxom alter ego of actress Cassandra Peterson, who has hosted two separate syndicated TV series devoted to fright flicks during her 30-year reign.
Life-size puppets are large and in charge for the upcoming production of War Horse
The blessed union of puppets and theater has been around for centuries, albeit mostly from the moppet viewpoint: Think of old Punch-and-Judy shows, or even Ed Sullivan bantering with Topo Gigio. While the relationship has taken occasional just-for-adult turns, especially concerning Avenue Q's naughty take on Sesame Street, the art of stage puppetry reaches its summit with War Horse, the Tony Award-winning World War I spectacle co-presented by the National Theatre of Great Britain and South Africa's Handspring Puppet Company, the latter responsible for the show's astonishing life-size marionettes.
For those who think they've seen it all, along comes Bad Milo!
For those who think they've seen it all, along comes Bad Milo! The gross-out comedy concerns the misadventures of a wage slave (Ken Marino) who harbors a gastrointestinal critter that also has killer instincts. Also in the cast are Patrick Warburton, Mary Kay Place and Peter Stormare (pictured), who memorably co-starred in Fargo and has directed opera productions at Glimmerglass. The area premiere closes the 2013 season at the Midway Drive-In, Route 48 in Minetto, between Oswego and Fulton, as part of a four-flick post-Halloween blowout running Friday, Nov. 2, through Sunday, Nov. 4. In addition to Milo (Friday and Sunday, 1 a.m.; Saturday, Nov. 3, 9:30 p.m.), also on the bill is You're Next (Friday and Sunday, 11:25 p.m.; Saturday, 11 p.m.) and director James Wan's Insidious Chapter 2 (Friday through Sunday, 7:30 p.m.) and The Conjuring (Friday and Sunday, 9:30 p.m.; Saturday, 12:30 a.m.). Admission is $7 for adults, $2 for ages 7 to 11 and free for under age 2. Call 343-0211 for details.
The Frankenstein monster takes center stage
The Frankenstein monster takes center stage for a trio of old-school horror flicks that will run on separate Shocktober evenings to prepare viewers for Halloween. First up is the double bill of the 1931 Universal classics Frankenstein (starring a neck-bolted Boris Karloff) and Dracula (with Bela Lugosi as the famed sawtooth), to be presented in 35mm prints on Saturday, Oct. 26, 2:30 and 7 p.m., at Rome's Capitol Theatre, 220 W. Dominick St. The 7 p.m. screenings also feature a live-onstage spook show hosted by "The Ghostmaster." Admission is $6 for adults, $2 for children under 12; call 337-6453. Also on Saturday, the "Brew & View" film series at Eastwood's Palace Theatre, 2384 James St., continues with a 35mm screening of the 1943 Universal monster rally Frankenstein Meets the Wolf Man, which pairs Lugosi with Lon Chaney Jr. The campy musical The Rocky Horror Picture Show follows at midnight. Admission is $10; dial 436-4723. And the 1948 comedy classic Abbott and Costello Meet Frankenstein (pictured) offers horror hilarity with Bud and Lou and Bela and Lon, to be presented on Monday, Oct. 28, 7:30 p.m., by the Syracuse Cinephile Society at the Spaghetti Warehouse, 680 N. Clinton St. Admission is $3.50, with a dinner menu available; call 475-1807 for details.