All articles by
Bill DeLapp
Entertainment analyst Bill DeLapp bids farewell to Cinefest, which fades to black after a 35-year run
For 35 years the Syracuse Cinephile Society's annual Cinefest confab has put the spotlight on examples of forgotten celluloid from Tinseltown's silent and early sound eras. But all good things must come to an end, as Cinefest takes its final bow on Thursday, March 19, through Sunday, March 22, at Liverpool's Holiday Inn, 441 Electronics Parkway.
Bill DeLapp interviews the voice of SpongeBob, Tom Kenny
Cartoon voice Tom Kenny discusses the new SpongeBob movie, memories of East Syracuse and more with entertainment analyst Bill DeLapp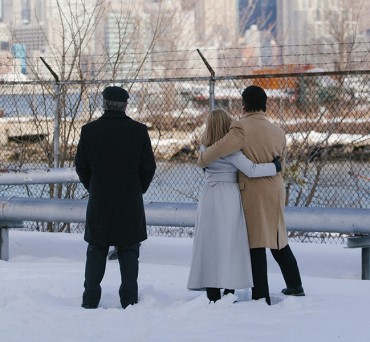 A Manhattan Crime Story by writer-director J.C. Chandor
Set during New York City's winter of 1981, writer-director J.C. Chandor's urban drama A Most Violent Year earns its title from some sobering statistics: The not-so-Fun City served as a troubling backdrop for rapes, robberies and more than 2,100 murders before the year ended.
'Isn't It Delicious' screens on Friday, Dec. 12 at Eastwood's Palace Theatre
A plume of cigarette smoke wafts provocatively through the air during the opening seconds of Isn't It Delicious, perhaps signaling that a film noir work is about to commence. Yet that puff comes from just one of the many cigarettes chain-smoked by Joan Weldon (Kathleen Chalfant), who likes her coffin nails with the filter tips defiantly ripped off.
Movie maniac Bill DeLapp runs down the yuletide's list of upcoming releases
Everything usually gets bunched up as the movie year comes to a close, and 2014 is no different. Family-friendly flicks, which have been in short supply for much of the year, are coming out in full force to greet kids getting out of school. And there is plenty of Oscar bait in the pipeline, as studios wait until the final weeks to push out features that could have award-winning potential.
Screening on Friday, Nov. 14, at Eastwood's Palace Theatre
Baldwinsville resident Evan Schoeberlein suffered from the bone tumor disease Ewing's sarcoma, passing away at age 25 in July 2008. Local audiences will get to honor his memory thanks to a movie directed by his younger brother Marc Schoeberlein, 25, during the world premiere of the docudrama My Brother and Me on Friday, Nov. 14, at Eastwood's Palace Theatre.
Cortland Repertory Theatre's 2015 Season
Light fare is on the summertime menu for Cortland Repertory Theatre's 2015 spritzy sixpack of selections, with nary a naval-gazing dramarama in sight.
A comedy from director Lynn Shelton
Wearing its sweetly oddball charm like a badge of honor, Laggies concerns a 28-year-old Seattle miss named Megan (Keira Knightley) who hasn't quite got the hang of adulthood. Megan's not quite a slacker (OK, so she's still a sign twirler for her tax adviser dad, played by Jeff Garlin), but she definitely has some emotional lag time compared to the rest of her gang.
Vilmos Zsigmond will speak on Tuesday, Nov. 11, 7:30 p.m.
It's not every day when an Academy Award-winning cinematographer visits Central New York. So it will be a special occasion indeed for a visit from Hungary's Vilmos Zsigmond, who will appear as part of the Syracuse International Film Festival's ongoing "FilmTalks" series on Tuesday, Nov. 11, at Le Moyne College.
Candid Photos from the SALT Awards
The 10th Annual SALT Awards (Syracuse Area Live Theater) took place at Syracuse Stage on Sunday, October 26. Syracuse New Times Associate Editor Bill DeLapp was on hand to capture some candid moments throughout the evening.