Syracuse Stage's upcoming season has all the shows your snobby brother in Rochester has never heard of
Don't just look at these three items of comfort food-- Peter Pan, To Kill a Mockingbird and The Santaland Diaries --and wheeze, "What? Again?" The other four productions announced for Syracuse Stage's 2015-2016 season are not only area premieres, but your snobby brother-in-law in Rochester has never heard of them.
Romeo & Juliet at CNY Playhouse
As a director Dan Rowlands made his reputation by taking well-worn properties, like Arsenic and Old Lace, and treating them as if they had just been discovered. So it is with Romeo and Juliet, now at the Central New York Playhouse in Shoppingtown.
Swimming in the Shallows at Kitchen Theater Company
Adam Bock was still an unknown playwright in February 2003, when Ithaca's Kitchen Theatre Company took a risk by slating his Swimming in the Shallows two years before its award-winning debut in New York City. Since then his work has been produced everywhere, he's won an Obie and further awards, and his name is commonly cited with such wits as Sarah Rule (The Clean House), Annie Baker (Circle Mirror Transformation) and David Henry Hwang (Chinglish).
Seussical: The Musical at The Redhouse
Redhouse Arts Center executive artistic director Stephen Svoboda was suffering near-crippling back pain last week. He was not there for the opening night of Seussical: The Musical, one of three components of the third annual District Festival.
Syracuse City Ballet presents Swan Lake May 15 + 16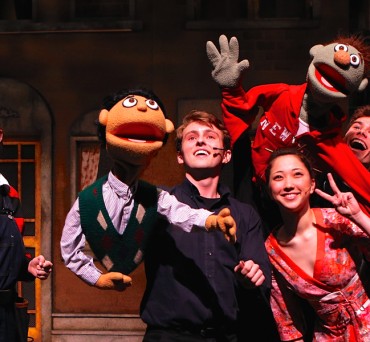 Avenue Q, the season finale from the Syracuse University Drama Department
The PBS children's series Sesame Street, launched in 1969, was an urban oasis where everyone got along, regardless of race or class, and every child could see himself or herself as special and could do anything. Every dream was worth pursuing.
'Glengarry Glen Ross' at CNY Playhouse
David Mamet did not become America's most imitated playwright by depicting well-spoken Galahads. His best and most characteristic work, Glengarry Glen Ross, is the rhetorical equivalent of Chuck Palahniuk's Fight Club.
(Review) God of Carnage at Covey Theatre Company
God of Carnage, Yasmina Reza's much-lauded black comedy, is not about God or religion at all. It does, however, have much to do with blood-letting combat.
The Resistible Rise of Arturo Ui at Le Moyne College
German modernist master Bertolt Brecht was fascinated with America, especially before he actually moved to the United States during World War II. Having fled the Nazis in 1941, he was stranded in Finland when he imagined that Adolf Hitler's consolidation of power in the previous decade could be retold as a cautionary tale by portraying the brutal ambitions of a Chicago-area gangster not unlike Al Capone.
James MacKillop reviews 'Other Desert Cities' at Syracuse Stage
"It was the liberals who ruined Hollywood with all their whining and preaching." So opines ever-blonde Polly Wyeth (Barbara Broughton), once a middle-level writer for MGM who now lives in elegant seclusion in a white-on-white showplace near Palm Springs.