'Glengarry Glen Ross' at CNY Playhouse
David Mamet did not become America's most imitated playwright by depicting well-spoken Galahads. His best and most characteristic work, Glengarry Glen Ross, is the rhetorical equivalent of Chuck Palahniuk's Fight Club.
(Review) God of Carnage at Covey Theatre Company
God of Carnage, Yasmina Reza's much-lauded black comedy, is not about God or religion at all. It does, however, have much to do with blood-letting combat.
The Resistible Rise of Arturo Ui at Le Moyne College
German modernist master Bertolt Brecht was fascinated with America, especially before he actually moved to the United States during World War II. Having fled the Nazis in 1941, he was stranded in Finland when he imagined that Adolf Hitler's consolidation of power in the previous decade could be retold as a cautionary tale by portraying the brutal ambitions of a Chicago-area gangster not unlike Al Capone.
James MacKillop reviews 'Other Desert Cities' at Syracuse Stage
"It was the liberals who ruined Hollywood with all their whining and preaching." So opines ever-blonde Polly Wyeth (Barbara Broughton), once a middle-level writer for MGM who now lives in elegant seclusion in a white-on-white showplace near Palm Springs.
Syracuse Opera's 'The Barber of Seville'
Gioachino Rossini's The Barber of Seville ranks ninth on Operabase's list of most-often performed operas worldwide. But it's No. 1 as a reliable deliverer of laughter.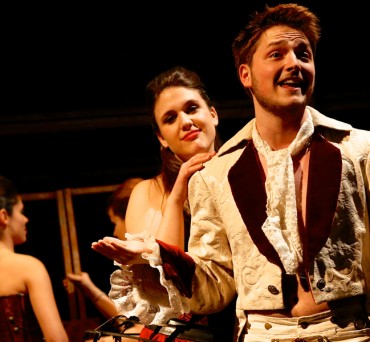 (Review) Measure for Measure by SU Drama Department
Defying the advertising truism that "Sex Sells," Shakespeare's dark comedy Measure for Measure is not performed very often. Yes, sex not love, as in a working brothel, its statuesque madam, her rascally pimp and a hypocritical Puritan brought low by his unbridled lust.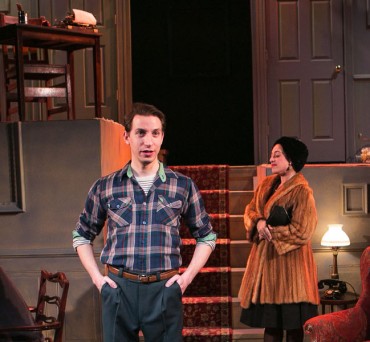 (Review) Neil Simon's Broadway Bound
Although set chronologically in the middle of the trio of Neil Simon's "BB" autobiographical plays, Broadway Bound was written and produced last. The playwright tells us why in the first scene: dirty laundry.
God's Favorite at CNY Playhouse
Even now in his old age, Neil Simon is still America's favorite comic playwright. We know many of his characters, like Felix and Oscar, as if they were family members.
Jekyll & Hyde: The Musical at Baldwinsville Theatre Guild
Baritone Henry Wilson brings many assets to sing romantic leads in heavyweight musicals. Many knew him from his band Mothercover, until he wowed everyone last winter as Jean Valjean in Baldwinsville Theatre Guild's smash production of Les Misérables.
(Review) Sizwe Banzi is Dead
For the first 45 minutes of the celebrated South African drama Sizwe Banzi is Dead, Syracuse Stage audiences may feel that they have stumbled on to a comedy duo from old-time vaudeville instead.