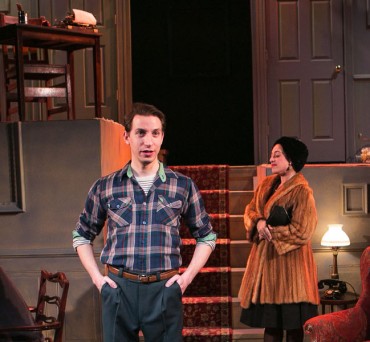 (Review) Neil Simon's Broadway Bound
Although set chronologically in the middle of the trio of Neil Simon's "BB" autobiographical plays, Broadway Bound was written and produced last. The playwright tells us why in the first scene: dirty laundry.
God's Favorite at CNY Playhouse
Even now in his old age, Neil Simon is still America's favorite comic playwright. We know many of his characters, like Felix and Oscar, as if they were family members.
Jekyll & Hyde: The Musical at Baldwinsville Theatre Guild
Baritone Henry Wilson brings many assets to sing romantic leads in heavyweight musicals. Many knew him from his band Mothercover, until he wowed everyone last winter as Jean Valjean in Baldwinsville Theatre Guild's smash production of Les Misérables.
(Review) Sizwe Banzi is Dead
For the first 45 minutes of the celebrated South African drama Sizwe Banzi is Dead, Syracuse Stage audiences may feel that they have stumbled on to a comedy duo from old-time vaudeville instead.
Terrence McNally's 'Lips Together, Teeth Apart,' performed by the Syracuse University Drama Department
The title of Terrence McNally's 1991 dour comic hit Lips Together, Teeth Apart, performed by students of the Syracuse University Drama Department, does not contain a sexual in-joke.
The 25th Annual Putnam County Spelling Bee at Le Moyne College
The title's long, but the show goes down easily. The Rachel Sheinkin-William Finn musical comedy The 25th Annual Putnam County Spelling Bee has had a batch of local community and professional productions since it burst upon the scene five years ago. But this one from Le Moyne College's Boot and Buskin troupe, with performers only a few years older than the spellers, is the first collegiate mounting.
Stage critic James MacKillop chats with John Kani, co-author of Syracuse Stage's apartheid-era work 'Sizwe Banzi is Dead'
"I was never a victim of apartheid," John Kani says with a wicked smile. An actor, as well as a playwright, novelist and director, Kani savors the momentary puzzlement of his table companions over morning coffee at Phoebe's restaurant.
Clybourne Park is a coup for Central New York Playhouse
Bruce Norris' Clybourne Park, a dark comedy-drama about history, race and real estate, is a triple-hitter, having copped both a Tony Award for Best Play and a Pulitzer Prize, and then an Olivier for the London production.
Syracuse's Ryan MacConnell talks about his experiences on tour with 'Flashdance the Musical'
James MacKillop reviews Syracuse Shakespeare Festival's 'Hamlet'
Now is the winter of the smartphone Hamlet.