The touring family show "Matilda: The Musical" makes a Salt City stop
Despite its quirky surrealism and origin with the Royal Shakespeare Company, Dennis Kelly and Tim Minchin's hit show Matilda: The Musical is aimed squarely at a wide audience niche: hip families. If your favorite recent shows were The Lion King and Wicked, this one's for you.
The Central New York Playhouse pays tribute to "Monty Python"
It was a weekend ritual in the late 1970s for many people to tune in to PBS for another surreal, irreverent, anarchic installment of Monty Python's Flying Circus. The imported series, which first ran on Britain's BBC from 1969 to 1974 for 45 episodes, left behind a slew of vivid memories.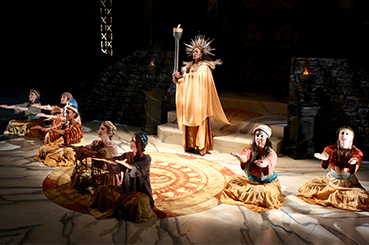 The SU Drama Department's take on "Agamemnon" is unique and complements the original
The Syracuse University Drama Department's rendition of Aeschylus' Agamemnon probably bears little resemblance to what the Athenians must have seen enacted at the Theater of Dionysius some 2,500 years ago. Yet the ancient Greeks might have enjoyed this vivid, colorful interpretation, which runs through Sunday, Nov. 15, at Syracuse Stage's Storch Theater.
The ancient Greek tragedy "Medea" is currently showing at the Redhouse Arts Center
As the old saying goes, "Hell hath no fury like a woman scorned." Ancient Greek myth, no stranger to strong emotions, has its share of violent women, understandably enraged by the dirt that life has dumped on them. But few go so far as Medea, who kills her own children to get back at her two-timing husband.
Syracuse Stage unleashes Steve Martin's comedy "The Underpants"
Keen audience members really do have some idea of what to expect when entering The Underpants at Syracuse Stage, even though many people have never heard of it. Steve Martin's farce ran in New York City for only a month 12 years ago and has appeared fleetingly at colleges and regional theaters in the interim.
"Pericles, Prince of Tyre" serves as Boot and Buskin Theatre Club's season opener
"A gloriously messy shipwreck of play." Those are director Matt Chiorini's words to describe William Shakespeare's Pericles, Prince of Tyre, an ironic defense for the Boot and Buskin Theatre Club's season opener at Le Moyne College, which runs through Saturday, Oct. 31.
The 2015 SALT Awards in photos
The 2015 SALT Awards occurred on Sunday, Oct. 25 at Syracuse Stage. Syracuse New Times photographer Michael Davis was there to capture the night in pictures.
Local players embrace Syracuse New Times theater awards
By James MacKillop and Bill DeLapp
The cult classic 'Little Shop of Horrors' brings the laughs at the Central New York Playhouse
Gardeners often battle invasive plants that seem to be trying for world conquest. But at least they don't yell for a steady diet of human flesh and blood like the monstrous (and chatty) plant in Little Shop of Horrors, the truly funny musical at Shoppingtown's Central New York Playhouse.
Theater impresario Richard Jay-Alexander recalls his Solvay roots and more
Chances are good that theater fans who know about epic productions such as Les Miserables and Miss Saigon also know about Richard Jay-Alexander, who ran producer Cameron Mackintosh's North American operation for 10 years. Jay-Alexander was at Le Moyne College during a whirlwind four-day September stint that included seminars and master classes with budding theater students on topics such as the business of theater.