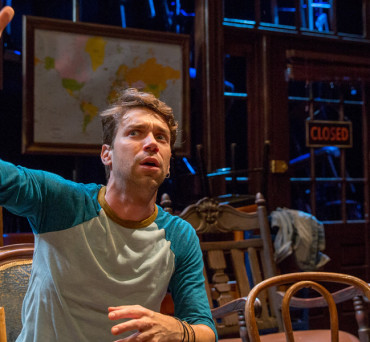 (Review) Lonely Planet at the Kitchen Theatre Company
People who use typewriters and answer the loud bells of heavy desk phones are still worth listening to. Steven Dietz's Lonely Planet, set specifically in 1991, employs light absurdist humor and extended metaphors before the audience at Ithaca's Kitchen Theatre Company figures out just where it's going.
(Review) The Ballad of the Sad Cafe at Le Moyne College's Coyne Center for the Performing Arts
Carson McCullers was the female Tennessee Williams, but with an even deeper taste for misfits. Despite her capacious gifts for theatrical dialogue, McCullers' 1951 novella The Ballad of the Sad Café was adapted for the stage by Edward Albee in 1965, crafting explosive encounters while remaining faithful to the original text. It took visionary director Matt Chiorini, of Le Moyne College's Boot and Buskin Theater Club, to know that this nearly forgotten treasure would make a great fit with a student company. The townies of Oklahoma (reset from Georgia by Chiorini) look as authentic as scenic designer Karel Blakeley's rough-hewn but imposing set, the men in scraggly redneck beards and the women in Montgomery Ward duds.
(Review) Central New York Playhouse's Evil Dead: The Musical
The Central New York Playhouse's area premiere of Evil Dead: The Musical arrives with a number of firsts. For starters, it's the first show to have its own designated "splatter zone," with seats tightly lined up together near the stage.
Syracuse Opera's Die Fledermaus
Writer Michelle Malia van Dalen reports on Syracuse Opera's 40th anniversary season,which kicks off this weekend with Die Fledermaus.
Appleseed Productions presents 'The Diary of Anne Frank'
Director Lois Haas takes three routes to refresh Appleseed Productions' version of The Diary of Anne Frank. One is small, dealing with the accents. With tutoring from voice coach Marcia Mele, all people confined in the secret upper room speak with muted German accents: "anyone" becomes "anyvun." This reminds us that we always think of Anne as Dutch; her vulnerable family had fled Germany to be in Holland. Such safety would vanish.
SU Drama throws a 'Parade'
The Book of Mormon coming to The Landmark Theatre
The edgy, irreverent, sometimes profane cartoon satire South Park has been a part of the landscape so long, some playgoers might feel it is a known quantity. Something happened, however, when that energy moved from the tube to the stage.
Syracuse Area Live Theater
The 10th Annual SALT Awards (Syracuse Area Live Theater) take place on Sunday October 26, 7:30pm at Syracuse Stage. This year's ceremony will be hosted by Rita Worlock and Carlos Clemenz, with special live performances by area theater companies and guest appearances throughout the evening.
James MacKillop reviews Salt City Center's 'Fiddler on the Roof.'
Almost a decade after leaving its South Crouse Avenue home, and many months of silence, Salt City Center for the Performing Arts - the Energizer bunny of local companies--is back on the boards with a heartfelt, frequently touching Fiddler on the Roof at the State Fairgrounds' Empire Theater.
James MacKillop reviews 'The Last (Potluck) Supper' at Merry-Go-Round Playhouse
Like the Catholic-based Nunsense franchise that preceded it, the series of five shows under the Lutheran-themed Church Basement Ladies banner is essentially vaudeville reborn. Any turn in the action can prompt a gag, a song or a spinoff skit.