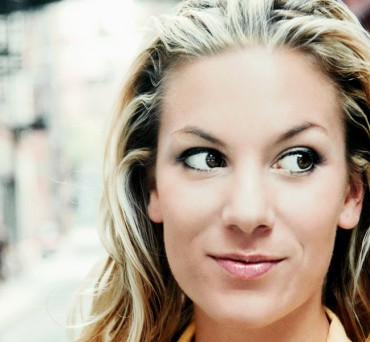 Jessimae Peluso is home for the holidays
When comedian Jessimae Peluso is home for the holidays, she likes spending time with her family. It's guaranteed to get her at least a couple minutes of material.
Stepping Out boasts nine roles for women and one for a man
It's something we're not supposed to say out loud but, even worse, should not be put in print: Most university drama departments are oversupplied with female talent.
Cortland Repertory Theatre's 2015 Season
Light fare is on the summertime menu for Cortland Repertory Theatre's 2015 spritzy sixpack of selections, with nary a naval-gazing dramarama in sight.
(Review) Salt City Center for the Performing Arts presents: Doubt
John Patrick Shanley's Tony Award- and Pulitzer Prize-winning Doubt is one of those rare plays where the mystery is not supposed to be solved. That's why people who see different productions compare notes and think they have seen different dramas entirely.
Stage critic James MacKillop recalls the legacy of the late Christine Lightcap, the pioneering impresario of local theater
In the early 1980s Christine Lightcap was singing the role of Nancy in a Landmark Theatre Wing production of Lionel Bart's Oliver. Getting into her big number, "As Long As He Needs Me," Lightcap leaned against the proscenium, putting her hand behind her. At that moment a brick came loose from the column in the 1928 former movie palace.
The First Lady of Syracuse Theater
Photos of Christine Lightcap and The Talent Company. (Syracuse New Times Archives)
(Review) Covey Theatre Company's Lincoln's Blood
There has been pent-up audience anticipation for Garrett Heater's new play Lincoln's Blood that fledgling playwrights die for. His previous works, including Lizzie Borden Took an Axe (2010), The Romanovs (2011) and Playing God (2012), have all been box office hits for Covey Theatre Company.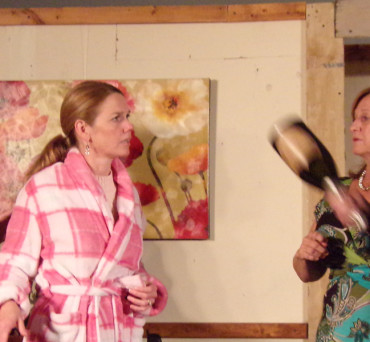 Onondaga Hillplayers' dinner theater production of Suitehearts
In recent years producer Jack Skillman's venerable Onondaga Hillplayers troupe has specialized in a theatrical oxymoron: the family-friendly sex comedy. This is when the situation sounds naughty, even French, but what you see never flouts community standards. That's because the new production, Suitehearts, an area premiere, is from William Van Zant and Jane Milmore, the king and queen of New Jersey dinner theater. When a virginal bride is seen walking around in her slip on her wedding night, she's still wearing a pink sweater underneath.
2014 SALT Awards Photo Gallery
A collection of photos from the 2014 SALT Awards (Syracuse Area Live Theater) at Syracuse Stage on Oct. 26.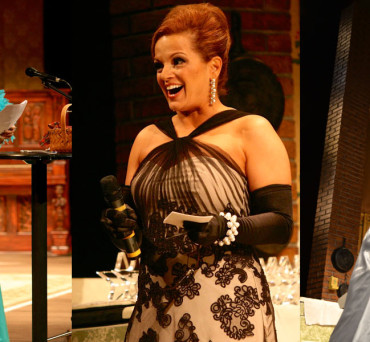 Pick your favorite dress to support the Vera House!
Vote for your favorite gown worn by Rita Worlock at the 2014 SALT Awards (Syracuse Area Live Theater) below. If we reach 100 votes or more, Rita Worlock will donate $100 to Vera House! Look at the selections below, then place your vote at the bottom of the page.