Concerts and surprises aplenty highlight the 12-day run of the New York State Fair, as previewed by Bill DeLapp
You never know who will show up at the annual New York State Fair, running Thursday, Aug. 21, through Labor Day Monday, Sept. 1. Since it's an election year, it's a safe bet that Gov. Andrew Cuomo should be hanging out on Governor's Day, which takes place on opening day. (Fairgoers with long memories will recall the many times that Nelson Rockefeller was a perennial no-show.) Yet even though Hillary Clinton has a new book to promote, and possible presidential aspirations down the road, nobody knows yet whether she'll be dropping by for a sausage sandwich.
Driscoll and Kouyate will headline a show on Friday, Aug. 22, 8 p.m., at the Westcott Theater.
So many musicians and bands fall victim to "trying too hard," by pushing flashy vocals, lyrics and instrumental licks as they flit in and out of genres. But Joe Driscoll and Sekou Kouyate push musical boundaries by not trying too hard.
Jessica Novak reviews new releases from The Flashing Astonishers, Donna Dennihy and Mike Ryan Coyotes.
Baird visits the Dinosaur Bar-B-Que on Monday, Aug. 25
Most people will recognize the name Dan Baird from the Georgia Satellites, the chart-topping 1980s-era rock band he fronted as lead singer and rhythm guitarist. But when Baird visits the Dinosaur Bar-B-Que on Monday, Aug. 25, he'll be rocking alongside Homemade Sin, a lineup that also features former Satellite drummer Mauro Magellan, bassist Micke Nilsson and the ever-animated guitarist Warner Hodges from Jason and the Scorchers.
The Skaneateles Festival presents a varied program of Gypsy-themed music Wednesday, Aug. 20, through Saturday, Aug. 23. The music ranges from works of Baroque composer Franz Joseph Haydn to those of contemporary composers Zoltan Kodaly and Miguel Yuste.
The schedule for week two includes a mixture of music played on traditional Chinese instruments and western masterworks inspired by eastern themes.
The Skaneateles Festival celebrates the second week of its 35th anniversary with a program of Eastern-inspired music beginning on Wednesday.
Alan Evans' New Group, Visits Funk 'n Waffles.
Central New York is a familiar place for Alan Evans. The multitalented dynamo has played with Soulive since 1999 with his brother Neal Evans and Eric Kranso and has ties to both Woodstock and Buffalo.
The Ridge is an amazing place to enjoy a meal and with the addition of Charley Orlando's performance, it was the perfect place to make your own sunshine.
As summers go, this has not been the sunniest. Rain and overcast skies have been par for the course this year and with the less than perfect weather for our much needed annual boost in vitamin D production, maybe our moods have not been as sunny either. Central New Yorkers are a resilient type of folk and we always seem to find our own way to make blue skies and bring a little joy into our lives. A fine way to do so is by the partaking of good music, good food and good company. I found a plethora of all three when I had the chance to see Charley Orlando perform at the tavern of The Ridge Golf Club in Chittenango on Wednesday July, 23rd as part of their summer music series.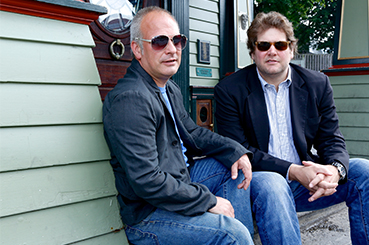 Keeping a band together for any period of time is a challenge. Keeping a band running for 15 years is a miracle.
Keeping a band together for any period of time is a challenge. Keeping a band running for 15 years is a miracle. The Tim Herron Corporation will celebrate 15 years with an outdoors performance at Coleman's Authentic Irish Pub on Thursday, Aug. 7 at 7 p.m.
Lauren Cavalli previews the 35th celebration of the Skaneateles Festival.
Skaneateles opens its homes and its town to world-class musicians and music lovers alike for four weeks of Brahms, Debussy, Mozart and other composers in the 35th celebration of the Skaneateles Festival.