The Palace Theatre will showcase "JACO"'s Northeast premiere
John Francis Anthony Pastorius III may not be a household name, but referencing his nickname "Jaco" may ring some bells.
New Marvel comic series the Secret Wars is set to release in December
Jeff Watkins' high school teachers used to punish him for bringing comics into the classroom. But now that he owns his own comic book store, Watkins roams high school hallways at will to give lectures on his favorite spandex-clad heroes.
Local area theaters are getting in the Halloween spirit
Thanks to Halloween falling on a Saturday, when kids and their parents will likely get their freak on during trick-or-treating and costume parties, local theaters and film clubs are jumping the gun with this week's horrifying attractions. Here's a rundown.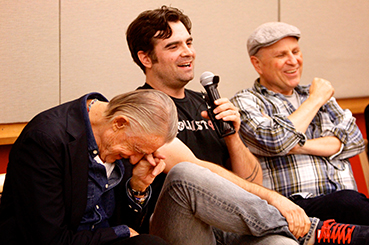 The moviemaker details his roots as a passionate film student at SU
Making his second visit to the 12th annual Syracuse International Film Festival, genre moviemaker Joe Lynch will screen Everly, starring Salma Hayek in a blood-soaked, claustrophobic shoot-em-up involving yakuza assassins. Lynch, 39, who filmed Everly during a 30-day shoot in Serbia, agreed with Hayek's wish that "as long as the emotions are real," the action thriller would be a positive experience.
Syracuse International Film Festival to show impactful documentary on the environment
Sven Huseby's grandson, Elias, was 5 when he became a central character in the 2009 documentary A Sea Change. The film by Barbara Ettinger, Huseby's wife, tackles the complicated-sounding concept "ocean acidification" through Huseby's letters and conversations with his grandson. He asks a simple question: "What if there were no fish?"
The Syracuse Cinephile Society proves that classic movie appreciation is alive and well
The Syracuse Cinephile Society began on a whim. Unhappy with the late-1960s film scene, friends Phil Serling and Sam Goldsman hatched a plan, which included renting the back room of a restaurant connected to the Regent Theatre on East Genesee Street so they could screen nostalgic pictures for a small following.
Capitolfest presents classic films the way they were meant to be seen
Rome's Capitol Theatre, 220 W. Dominick St., is still in expansion mode, with its recent addition of a boutique art-house venue with digital projection capabilities down the block, and more plans for a second art house, a café and a black-box theater space. But this weekend the theater returns to yesteryear for Capitolfest, the annual summertime salute to screen rarities from the silent and early sound eras.
Netflix-original documentary 'Tig' triggers laughter and warms hearts
Tig Notaro had breast cancer. She underwent a double mastectomy. Spoiler alert: she survived.
Amy Schumer has taken the world by storm with her unique and, at times, controversial brand of comedy
It would be silly of me to ask, "Hey, have you heard of Amy Schumer?" Of course you have. She's the 34-year-old comedian who sprang onto the scene in 2013 amid a spray of daisies and vagina jokes with her original Comedy Central series, Inside Amy Schumer. She's irreverent, controversial and convicted. Her first movie, Trainwreck, opened this weekend to nearly universal critical acclaim.
The film festival Slaughter in Syracuse will take place Saturday, July 11 at the Palace Theatre in Eastwood.
With the advertising tag line proclaiming "The Insanity is Back," Slaughter in Syracuse returns this year to share the most terrifying, bloody horror films created by underground filmmakers. The main event runs from noon until midnight on Saturday, July 11, at Eastwood's Palace Theater, 2384 James St. Several films in the lineup will have their world premieres.