The Jon Poussette-Dart band will play Saturday, Dec. 13
Everson Museum's 'Festival of Trees' through Dec. 14
In the early 1960's, the internationally renowned architect, I.M. Pei (John Fitzgerald Kennedy Library in Boston, Grand Louvre in Paris), began designs for an art museum to be located in Syracuse, New York (of all places). A big name for a small museum -- this is what matters. The Everson Museum of Art, in my opinion, could be one of the most underutilized places by the community in Central New York.
Beyond The Pale at Edgewood Gallery
A Syracuse-centric alternative to yuletide gift giving.
Not everyone is pushing electronics or gift cards during the holiday season. Several local venues also sell works by artists from Central New York, offering a Syracuse-centric alternative to yuletide gift giving.
Syracuse has an historic and appropriate link to Italy, one that pre-dates the influx of immigrants from that country during the late 19th and early 20th centuries. The city is the namesake of the ancient town on the Italian seacoast in Sicily called Siracusa.
Art writer Carl Mellor takes in a trio of diverse exhibits at the Everson Museum
The Everson Museum of Art's autumn exhibits are literally in the mix. One show speculates on links between our world and the afterlife, another features works by Syracuse potters, and a third presents single-channel videos, sound and video installations and other pieces created by artists in residence at Owego's Signal Culture. Clearly, each exhibition has its own identity.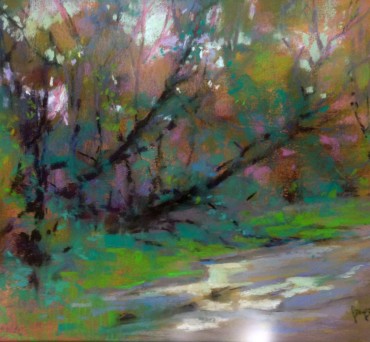 CommonSpace Crafts, an art gallery on 201 E. Jefferson St., opened on Sunday.
Commonspace Crafts hosted its grand opening on Sunday Nov. 9, featuring the work of eleven local artists. The gallery will show the artists' work for the next two months.
Dasher's Magical Gift will premiere on December 13th.
This story is published in association with CNY Arts
The Inevitable Coffee Ring
For years that span from childhood until the present, I've enjoyed The Joy of Painting, but I've never experienced the joy of actually painting. It's not the worst artistic outlet, but there is a personal awkwardness that presents itself when confronting the concept. Whether it was sitting on my grandmother's couch or the couch in the SUNY Oneonta Blodgett Hall suite, I received much enjoyment from that afro-topped Bob Ross. He was doing what he loved: painting, entertaining, teaching. He died of lymphoma in 1995.
The sixth annual Salt Market showcased 56 local artists Saturday at SKY Armory
More than 50 artists showcased their work at the six annual Salt Market in SKY Armory on Saturday. In a warehouse with Christmas lights strung from the ceiling, the crafters and designers sold their prints, knits, and jewelry amidst fresh scones and espresso.