Inclusive Or brings an elixir of catharsis with the release of their album
Inclusive Or releases their first album, Cocktails in Purgatory, on local label bettyElm Records. The Syracuse based band's line-up is made up of Trevor Grant (guitar, piano, and vocals), Tim Clark (keyboard), Mike Russo (bass guitar and vocals), Dave DelFavero (guitar), and Danny Capucilli (drums). Together the members of Inclusive Or have created a musical soundscape on their album that illustrates the psychological and philosophical plight in the everyday post-modern life. Inclusive Or's album release gives an unnerving sense of ennui while simultaneously being so self-aware of angst that they can admit their misanthropic tendencies with a wry smile of acceptance and disbelief.
Motion-controlled kiosks will be installed in the city.
Software developers and Connective Corridor planners gathered in a downtown Syracuse office recently for a demonstration of new, motion-controlled arts and culture kiosks that will be installed in the city.
The Syracuse Poster Project is accepting haiku submissions until Sept. 5
Artist Roger DeMuth recently went downtown to snap photos of buildings and to study the city's architectural details.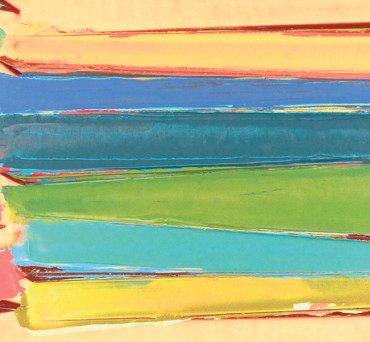 Visual Art takes center stage
The autumn local art season is definitely a varied affair. There are restrospectives showcasing work by a painter, a sculptor and one of the influential photographers of the 20th century. Several shows will either depict scenes from nature or interpret humans' relationship with the natural world. And artworks will portray cloudscapes, Columbus Circle and 1930s Czechoslovakia, among many other subjects.
Carl Mellor travels to Utica's Munson-Williams-Proctor to take in an impressive show of European paintings.
Hendrick van Somer's painting of Saint Jerome depicts him as old and gaunt, for a moment glancing away from the manuscript in front of him. With quill in hand, he spent years translating the Hebrew Bible into Latin. The painting places him in an isolated location, perhaps a cave on the edge of a desert. A contrast between shadow and light invigorates the painting and highlights Saint Jerome.
Colors of Summer opens at Gallery 4040
Color is a fundamental aspect of art, an ingredient serving many purposes. It conveys emotion, catches a viewer's attention, and plays other roles. Colors of Summer, a five-artist exhibit on display at Gallery 4040, certainly touches on color as a basic element but is much more interested in the quintet's creative strategies.
Lauren Cavalli previews the 35th celebration of the Skaneateles Festival.
Skaneateles opens its homes and its town to world-class musicians and music lovers alike for four weeks of Brahms, Debussy, Mozart and other composers in the 35th celebration of the Skaneateles Festival.
An introductory guide to the webcomic world
Considering the diversity of material and the quality of content that is provided for free, it's amazing that the webcomic doesn't get much more attention than it does.
Mary Poppins, The Grateful Dead and a ballerina. These were just some of the themes that artists brought to life in the Sidewalk Art Contest on Saturday.
Mary Poppins, The Grateful Dead and a ballerina. These were just some of the themes that artists brought to life in the Syracuse New Times and Family Times Street Painting Contest on Saturday.
Syracuse New Times Street Painting Photos
See Michael Davis photos from the 2014 Syracuse New Times Street Painting Competition!