The sixth annual Salt Market showcased 56 local artists Saturday at SKY Armory
More than 50 artists showcased their work at the six annual Salt Market in SKY Armory on Saturday. In a warehouse with Christmas lights strung from the ceiling, the crafters and designers sold their prints, knits, and jewelry amidst fresh scones and espresso.
Reigning as the top party school comes at a cost.
A group of Syracuse University and SUNY-ESF students have created a public art installation of Solo cups to address the environmental effects of waste and party culture in Syracuse.
Sixth Annual Salt Market to Showcase Artist's Work this Saturday
A collaborative space, where creative people could come together and share their expertise
Michael Giannattasio didn't realize he wanted to create a makerspace.
The Everson Museum of Art screened Julien's film to open this year's Urban Video Project series, "Celestial Navigation: A Year into the Afro Future."
Writer Carl Mellor finds much to admire in SU Art Galleries' salute to photographer Margaret Bourke-White
During her long career, Margaret Bourke-White demonstrated great flexibility as a photographer. She created images of steel mills, world leaders such as Winston Churchill and Franklin D. Roosevelt, wartime scenes and everyday people. Beyond that, she was a witness to history. At Syracuse University's SU Art Galleries, Margaret Bourke-White: Moments in History 1930-1945 not only presents a large portfolio of her work but also traces stages of her career.
Global Issues. Climate Matters. Social Change.
A group exhibition featuring more than 20 artists typically has differences and some commonality. That's certainly the case with Global Issues. Climate Matters. Social Change, the first-ever juried show in ArtRage Gallery's seven-year history. It includes work by painters, photographers and a videographer, by artists who create prints or etchings. What they share is a propensity for heading down diverse paths, for interpreting familiar themes in a distinctive idiom.
Motion-controlled kiosks will be installed in the city.
Software developers and Connective Corridor planners gathered in a downtown Syracuse office recently for a demonstration of new, motion-controlled arts and culture kiosks that will be installed in the city.
The Syracuse Poster Project is accepting haiku submissions until Sept. 5
Artist Roger DeMuth recently went downtown to snap photos of buildings and to study the city's architectural details.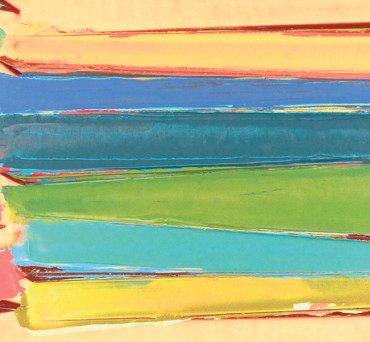 Visual Art takes center stage
The autumn local art season is definitely a varied affair. There are restrospectives showcasing work by a painter, a sculptor and one of the influential photographers of the 20th century. Several shows will either depict scenes from nature or interpret humans' relationship with the natural world. And artworks will portray cloudscapes, Columbus Circle and 1930s Czechoslovakia, among many other subjects.