The new ArtRage gallery displays compelling photos representative of the differing styles of South Sudan
The new display at ArtRage Gallery views a nation that gained its independence just four years ago. Impressions: South Sudan blends interpretive and documentary-style photos by Michelle Gabel and Bruce Strong, commentary by Liberia-based independent journalist Maureen Sieh, and information about South Sudanese who moved to Syracuse years ago but still return to their homeland to enhance health care and education.
Art On The Porches brings the work of local artists and musicians to the streets of the Strathmore neighborhood.
Ruskin Avenue in the eclectic neighborhood of Strathmore in Syracuse, NY will host its 16th annual Art on the Porches event on Saturday, June 20. Art on the Porches features over 30 local artists and around nine musicians as well as local food vendors. Sponsored by surrounding businesses like Gannon's Ice Cream, Art on the Porches has become a lively staple event within the Strathmore community.
The Creek Float returns for fifth year at Onondaga Creek.
A recently installed Connective Corridor public art project invites the public to interact to complete it.
"Let Us Continue" is a beautiful vector art mural that provides a visual timeline of Syracuse's civic and social history, focusing on the legacy of public works projects such as the Erie Canal.
'The Sum of its Parts' is on display through June 19 at the Edgewood Gallery
The Edgewood Gallery's current exhibition covers a lot of territory in a small space. The Sum of Its Parts shifts from whimsical sculptures to large abstract paintings, from paper collages to metal work. And it makes room for a slew of mixed-media works.
The annual Made in New York exhibit at Schweinfurth Memorial Art Center
The annual Made in New York exhibit at Auburn's Schweinfurth Memorial Art Center begins with the order imposed by jurors who choose works for the show and then transitions into a sprawling display hung on multiple walls. It features pieces by more than 50 artists who create oils, sculptures, photos, drawings and other media.
Here's a copy of the Connective Corridor public art scorecard
We're moving on the next steps in our public art call, and thanks for following along.
Let's talk public art on May 5 from 10 a.m.- Noon
You're invited to a Connective Corridor community conversation on public art May 5, 10 a.m. to noon SU Warehouse, Suite 405 (fourth floor conference suite) 350 West Fayette Street, Syracuse, NY
Arts writer Carl Mellor visits a new show by Juan Cruz, who has cut and reshaped his previous works
None of That: Nada de Eso, Juan Cruz's one-man show at La Casita Cultural Center, poses a fundamental question: Why would a talented artist take scissors and deliberately slice up a bunch of his paintings? For Cruz, that act isn't mutilation but an initial stage in a new creative process.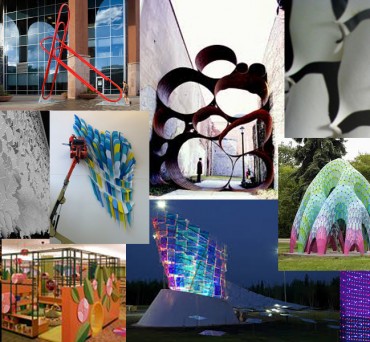 Six to eight finalists to be selected for the Connective Corridor's $650,000 call for public art
The jury will be interviewing these amazing artists who have made it to the next round to select six to eight finalists for the Connective Corridor's $650,000 call for public art – a partnership with Syracuse University's College of Visual and Performing Arts.